The Gramophone Collection: Busoni's transcription of Bach's Chaconne
Jed Distler
Tuesday, October 30, 2018
Jed Distler surveys a vast discography and discovers – and rediscovers – some remarkable interpretations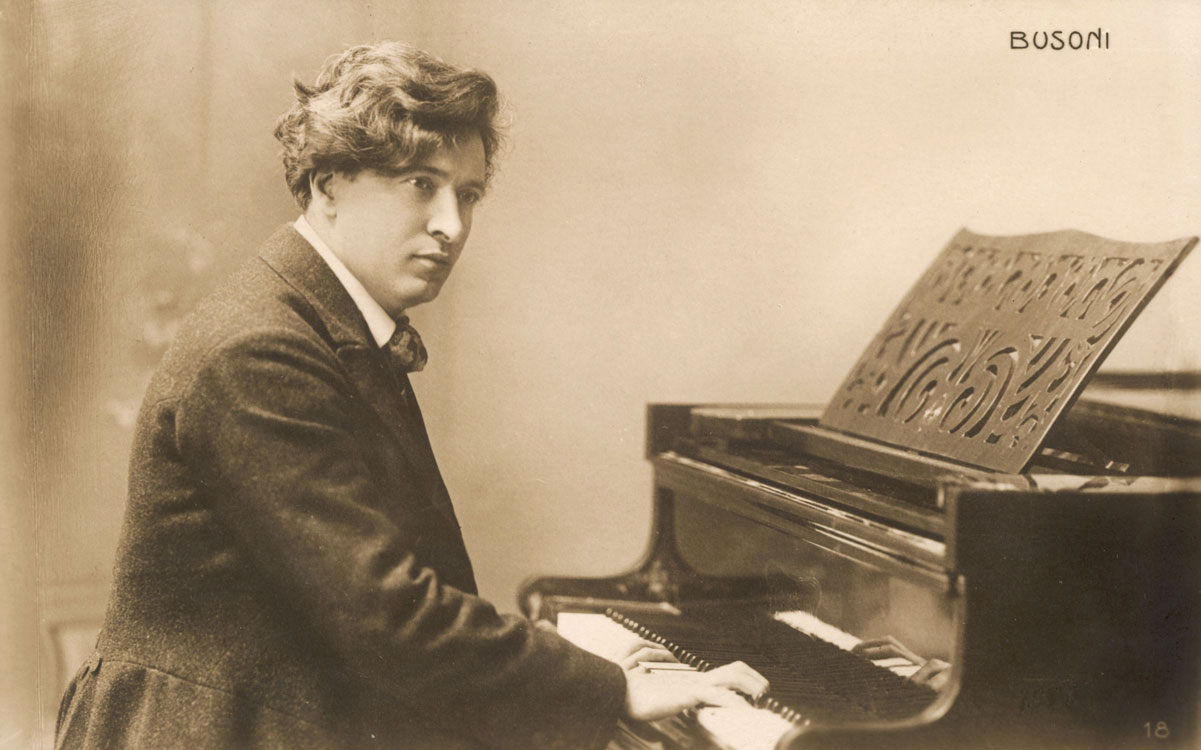 JS Bach's employment at the Cöthen court in the late 1710s and early 1720s coincided with one of his most fruitful creative periods. Many of his finest string compositions date from this time, including the Six Sonatas and Partitas for solo violin. The D minor Partita's concluding Chaconne has long stood as one of the instrument's longest, most iconic, most challenging and most fulfilling unaccompanied works. The composer constructs 64 variations on a basic four-bar theme, which commence in accordance with the theme's stern stateliness, yet grow more technically complex and emotionally varied as they unfold.
In a letter to Clara Schumann, Brahms famously described the music as 'a whole world of the deepest thoughts and most powerful feelings. If I imagined that I could have created, even conceived the piece, I am quite certain that the excess of excitement and earth-shattering experience would have driven me out of my mind. If one doesn't have the greatest violinist around, then it is well the most beautiful pleasure to simply listen to its sound in one's mind.' Indeed, Brahms made a piano left hand arrangement of the Chaconne which continues to find favour today. Ferruccio Busoni's piano transcription, however, has held forth in the repertoire for more than a century. It requires not just a pair of busy and accomplished hands, but also a level of artistry that can fuse architectural savvy, sustaining power and poetic introspection.
Premiere and first recordings
Busoni worked on his transcription while living in Boston between 1891 and 1892. He dedicated it to fellow pianist and composer Eugen d'Albert, who, unfortunately, found the work excessive and never performed it. Breitkopf & Härtel published it soon after Busoni's January 30, 1893, Boston premiere. For years Busoni continued to refine the text, and the revised version brought out in 1916 is the one most frequently favoured.
Busoni's own 1915 Welte-Mignon piano roll recording (available on Nimbus, 12/95) gives a fairly good idea about tempo relationships between sections, yet the lack of sufficient dynamic contrast, unstable rhythm and choppy phrasing seem far more indicative of the medium's limitations than of Busoni's actual pianism. Johana Harris's 1937 recording was the first available on disc, and her forthright, well-unified, technically commanding interpretation deserves reissue (it can be found on YouTube), as does Yvonne Loriod's similarly conceived if slightly dry and matter-of-fact version on Pathé 78s. APR, however, recently reissued Erik Then-Bergh's 1938 Electrola recording (2/17), which is unusually fervent and poised coming from a 22-year-old pianist.
1940s & '50s: strong contenders
Busoni's pupil and protégé Egon Petri recorded the Chaconne for American Columbia in 1945. Oddly, this recording never turned up on 78s; it first appeared on a 10-inch LP released in 1949, coupled with Beethoven's Op 10 No 2 Piano Sonata. Its relatively short 12-minute duration is less a reflection of speed than of Petri's straightforward pacing and minimum rhetorical wiggle room, notwithstanding the slower, more introspective variations' carefully meted out ritardandos. Some of his passagework, however, is surprisingly slapdash and casual. If Petri's Chaconne evokes a black-and-white landscape viewed from afar, Arturo Benedetti Michelangeli's 1948 EMI recording zooms in on a colourful castle designed in fastidious yet elegant detail. The 28-year-old pianist brings distinct timbral characteristics to each dynamic gradation and shapes the soft left-hand leggiero ma marcato octaves with a level of finesse beyond that of most mortal pianists' single-note lines. The staggering evenness, tonal sheen and sense of direction informing his unison scales and rapid runs still beggar belief after 70 years. Michelangeli's subsequent live versions would prove less driven in the climactic pedal point section and more flexible in general, yet without the 1948 recording's extraordinary laser-like projection.
Shura Cherkassky sheds more intimate light on Busoni's monumental edifice, with slower tempos at the outset, highlighted up-beats and effective use of the sostentuto pedal. Where Michelangeli pushes forwards, Cherkassky lingers, sometimes to the point of fidgeting, yet he never makes an ugly sound. What is more, Cherkassky's 1956 studio recording surpasses his later versions (1984, Nimbus; 1991, Decca) on account of EMI's warm, ample engineering and the pianist being in fresher, more youthful technical estate.
Agnelle Bundervoët's recording from two years before occupies a plausible middle ground between the Apollonian Michelangeli and the poetic Cherkassky. Bundervoët (1922-2015) is not exactly a household name among French pianists who came of age during and just after the war, yet her extremely rare LPs from the 1950s have gained a new lease of life via pianophile newsgroups, YouTube postings and semi-private reissues. My favourite 1950s-vintage Chaconne, however, features Grigory Ginzburg live on Christmas Day 1957 and personifies 'big' piano playing on every level.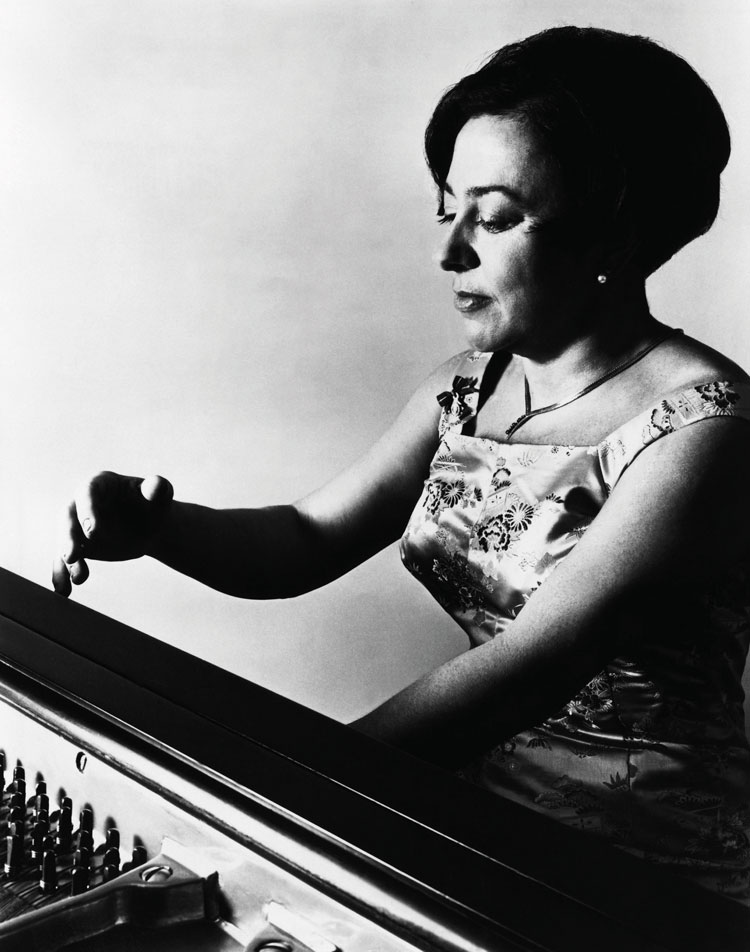 1970s revival brings promise
After a relative dry spell in the 1960s, Chaconne recordings began proliferating anew in the 1970s, starting with the 83-year-old Arthur Rubinsteinon top form. Not only does he take Busoni's abundant markings seriously, but also he shapes the melodies with both naturalness and inevitability, allowing the music to breathe without sacrificing one iota of backbone. Rubinstein being Rubinstein, one should expect those patented turns of phrase: that tiny lingering at the peak of a melody, a discreetly tapered line, an aristocratic rallentando and so forth.
Naturalness, however, never was Alexis Weissenberg's modus operandi. In his 1973 recording he fragments the maestoso theme by elongating certain beats ever so slightly past their boundaries, changes dynamics willy-nilly and mostly plays the alternating staccatissimo/legato sequences for effect. The steel-edged patina of his sonority grows unattractively clangorous and even brutal at fortissimo levels, with more than a few instances of overpedalling. The fingerwork, of course, conveys clockwork accuracy.
For a comparably volatile and mercurial interpretation, yet one that is born out of genuine musicality and an innate grasp of form, the first of Alicia de Larrocha's two Decca recordings (1973 and 1986) consistently captivates. She whips up momentous crescendos and some of the most fiery unison runs in history, while managing to sustain the booming basses and majestic pedal points via her masterful pedalling. Few pianists have been able to evoke both line and mass in this music to Larrocha's sophisticated degree. Her digital remake is more magisterial and conventional by comparison, and, to my mind, not as interesting. One caveat: several reissues of the analogue version have a tiny tape warble on the first chord; this flaw may well have been corrected for Decca's recently released complete Larrocha album collection.
Considering Jorge Bolet's legendary reputation among fellow pianists and piano mavens, his career proceeded in fits and starts. Only in the mid-1970s did everything come into focus, starting with RCA's release of his 1974 Carnegie Hall recital. Here Bolet chose the Chaconne as his opening salvo, and served it up in hearty, rhetorical arcs. While RCA's drab, close-up sonics are not a liability, they nevertheless give little hint of Bolet's enormous, all-encompassing sonority and wide dynamic range.
By contrast, Peter Rösel (1986) essentially is a classicist. He pays heed to Busoni's numerous expressive directives and myriad articulation distinctions, while unfolding Bach's narrative with energy, animation and tightly unified tempo relationships. Perhaps there's more weight and gravitas to Veronica Jochum's similar conception (1992), along with her ability to impart a unique character to each variation. There are no dead spots, no tempo miscalculations and no empty gestures in Jochum's multilevel artistry. Encountering her recording in preparing for this survey was a pleasant surprise. It's a pity that the piano's intonation slips on occasion, otherwise this would count among my top recommendations. In this context, Sequeira Costa a decade earlier sounds less striking on first hearing, but his aristocratic reserve and deep musicality grow on you over repeated encounters, not to mention the silken finish of his sweeping scales in the final pages. Moreover, Costa's weighty and colourful sonority comes through despite Marco Polo's slightly dry and dynamically constricted engineering. But Valerie Tryon's more generalised yet impeccably poised and direct interpretation in 1997 benefits from well-balanced sonics.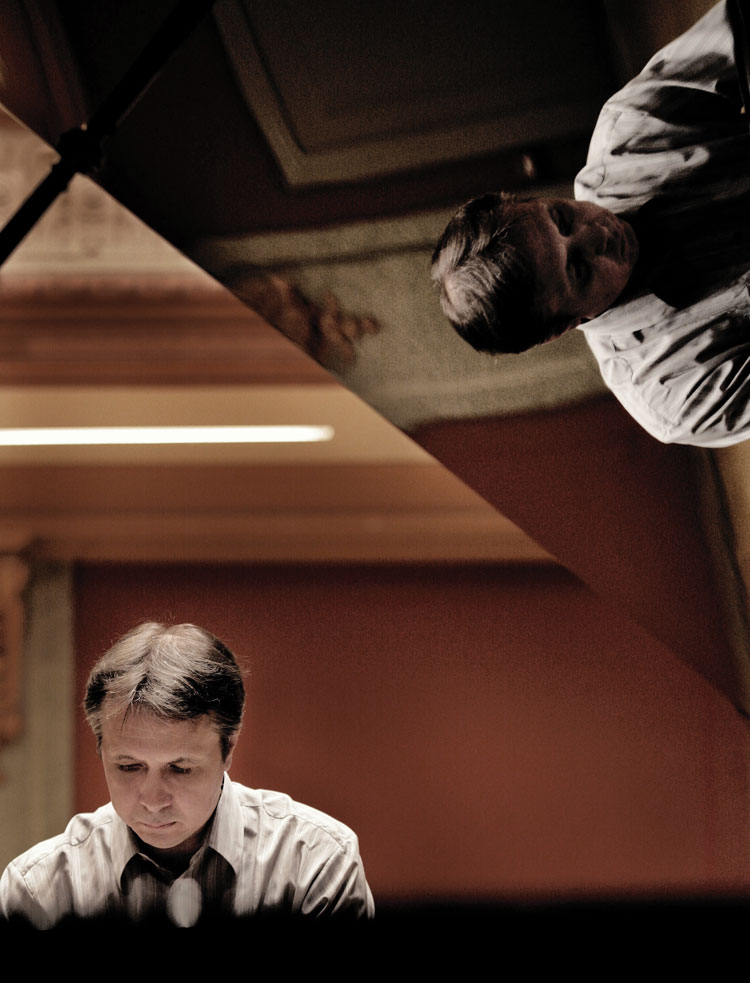 Post-millennium fruits
In 2008, Hélène Grimaud's mindful artistry beckons your attention in every bar. Listeners will find her additional levels of intensity either exhilarating or exhausting, her large sound less enveloping than penetrating. She evokes the piano writing's orchestral aura by shaping the busy textures in accordance with Busoni's dynamic perspectives. One case in point concerns the variation at bar 32, where Grimaud brings out the conversational flow between the quasi forte ground bass and the slurred staccato chords marked poco espressivo. In the long toccata-like 'string-crossing' sequence Grimaud takes on faith Busoni's più allargando and consequently generates a steady and often hypnotic momentum that leaps right into the tempo animato. And by emphasising into this section's concluding molto tenuto indications, Grimaud underlines the music's conclusive frame of reference, in contrast to the relatively austere major mode quasi Tromboni music up ahead.
Reviewing Freddy Kempf's 2010 Chaconne, I wrote: 'What may sound oddly emphatic or sectionalised has to do with Kempf's taking Busoni's articulation markings, expressive directives and tempo modifications on faith.' Yet Kempf's skittish musicality and the contrivances of his surface style draw more attention to the pianist than to the music. Mikhail Pletnev's similarly affettuoso conception, however, operates on a larger, grander scale in the live recording from his 2000 Carnegie Hall debut. His pianism takes the venue's fabled acoustics into account. Note, for example, how powerful pedal points sonorously open up and gorgeously congeal without the slightest banging. In turn, the pianist milks sustained lyrical diminuendos with ravishing pedal effects. Perhaps Pletnev's earlier studio recording (1996, Onyx – part of a collection of informal, non-edited 'warm-ups') is a tad clearer; it's certainly footloose with rubatos and tempo relationships, but the Carnegie version's dynamism and sense of occasion ultimately win out.
Like them or not, Kempf or Pletnev are pianists for whom no barrier exists between ideation and execution. So is Evgeny Kissin (1997). If musical considerations govern the intensity of Grimaud's pianism, Kissin's expressive aesthetic is orientated in virtuosity for its own sake. There's nothing remotely 'misurato' about his ricocheting détaché articulation of the staccato and marcatissimo sequences of octaves and chords. He milks most soft passages, and rides the sweeping loud paragraphs like a confident surfer catching one big wave after another. It's hard to resist the unfettered joy and kinetic physicality that Kissin's playing conveys, not to mention his astonishing technique, which keeps everything under control.
Like Kissin, Kun Woo Paik (2000) assembles the Chaconne in virtuoso blocks, according to the proverbial 'piano qua piano' guidebook. I once considered Paik's interpretation to be a 'poor man's Kissin' –all bluster and no finesse. Rehearing it after many years, I find Paik's extroverted drama and elemental derring-do far more engaging, convincing and (dare I say) fun to listen to.
The Brazilian pianist Simone Leitão (2017) is more line-orientated than Kissin or Paik, at least in the inner-voice or buried-countermelody department. Her generally rhapsodic approach embraces sudden shifts of voicing, changes in colour and oddball accents. While her fingerwork lacks the final degree of sheen in the work's most taxing passages, her restless recreative temperament certainly comes through.
James Rhodes's punk-rock persona and harrowing backstory often pull focus away from his superb all-round pianism and serious intent. When I revisited his 2008 Chaconne on his solo debut release (Signum), the detailed deliberation that once impressed me seemed studied and self-aware. I prefer his altogether swifter and more fluid live 2011 remake from Brighton. Here the pianist's leggiero ma marcato octaves in the Più mosso section starting at bar 40 take on a new-found refinement and spontaneity. A few battle scars in the poco a poco allargando arpeggios don't matter, and it's interesting how Rhodes takes Busoni's fff chordal ossia at this section's climax.
There's no disputing the remarkable finish, control and sheer beauty characterising Benjamin Grosvenor's pianism, and his innate feeling for Busoni's keyboard idiom is evident throughout the Chaconne (2015). The subtle melodic inflections that he brings out within the staccato octaves and repeated chords, for example, tend to elude other pianists. One can carp about Grosvenor telegraphing dynamics or reversing them, while his ritardandos at cadence points and phrase ends tend towards the generic and predictable. Yet these are quibbles, not criticisms. Nevertheless, Grosvenor's minute elongations of note values in the very opening lack the pinpointed timing and spacing produced by Alberto Reyes's seasoned hands (2015). Reyes sculpts the music with patient deliberation and a carefully scaled dynamic scheme where the peaks and valleys assiduously feed in and out of one another. Reyes's fusion of power and transparency rivets your attention, along with a hypnotic legato touch.
Off the beaten track
Since the Bach-Busoni Chaconne's discographical byways extend far beyond the scope of this survey, one should mention certain other worthy versions, some of which are a little harder to find. There's Alexander Brailowsky's 1953 Chaconne (RCA Victor, 11/96; now available as a BnF Collection download) and Reine Gianoli's 1950 session (Westminster, 2/55 – nla; but you can hear it on YouTube). Rosalyn Tureck revived it for her 1992 Buenos Aires recital (VAI, 8/93), and one can't but be impressed by the 77-year-old veteran's strong command and immense concentration. Thomas Labé (1993, Dorian) is usually fleet yet cannily organised, in contrast with Christopher O'Riley's arrestingly measured, Klemperer-like grip on the music in 1987 (Centaur, 10/89), while Bernd Glemser's cogent linear trajectory and expressive intelligence prove rewardingly satisfying: all that's missing is that last degree of exultation (2006, Oehms Classics). And the scintillating Lise de la Salle (recorded in 2017; Naïve, 3/18) splits the difference between Grimaud's probity and Kissin's bravura.
Selecting an overall first choice from so many persuasive contenders is not easy if one must choose a more or less 'modern' recording. That leaves Michelangeli out of the running, yet occupying a class of his own in an ivory (pun intended) tower looking down on most mortal piano players. Rubinstein's Chaconne is an oasis of normality, health and generosity, as well as the place where Rösel hangs out. If I want a dark and intimate tone poem, I put on Reyes. If I want a dark and intense evening at the theatre, I'll make sure Grimaud is starring. But for a Chaconne performance that brings together the fiery and the tender, the smouldering and the reposeful, and the simple and the complex, my overall choice is Larrocha's first Decca version.
Recommendations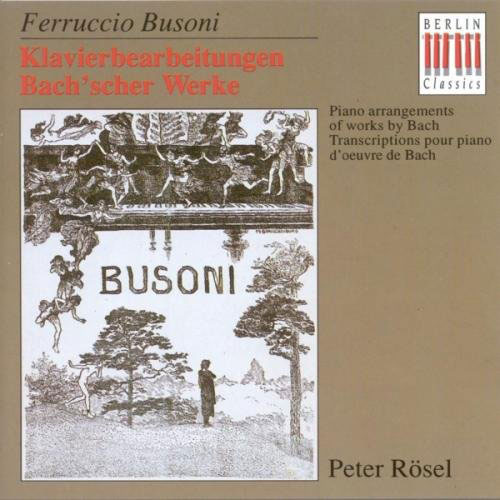 The Classicist
Peter Rösel pf
(Berlin Classics)
Rösel channels his remarkable yet mindful virtuosity primarily towards musical ends. He navigates Busoni's gothic sound stage without getting lost in transit, and always keeps in play Bach's unifying architecture and meticulous workmanship.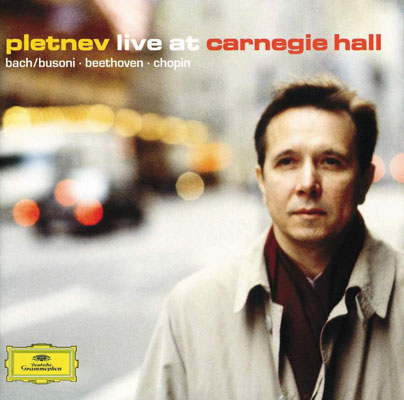 The Showman
Mikhail Pletnev pf
(DG)
Pletnev's Bach-Busoni in the true grand manner proves that big pianism's golden age did not disappear with Horowitz. At all dynamic levels his sonority penetrates with full-bodied definition, and there's plenty of dramatic contrast and long-lined sweep.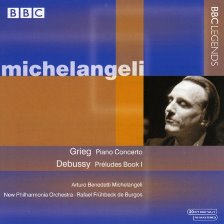 Historic Choice
Arturo Benedetti Michelangeli pf
(Warner Classics)
The young Michelangeli's 1948 studio traversal personifies lapidarian artifice and unflappable artistry, embodies the utmost in pianistic finish, specificity and nuance, and conveys a kind of musical expressive economy that defies time.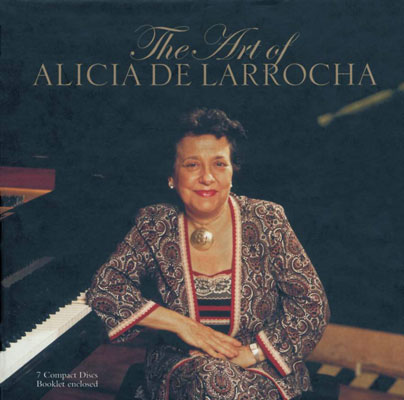 Top Choice
Alicia de Larrocha pf
(Decca)
You get seduced then swept up into the vortex of Larrocha's fieriness and outsized sonorities. Yet repeated hearings reveal carefully contoured textures, assiduous transitions and other elements that reflect high levels of both technical and musical precision.
Selected discography
Recording Date / Artist / Record company (review date)
1945 Egon Petri APR APR7701 (12/15)
1948 Arturo Benedetti Michelangeli Warner Classics 2564 61548-8 (2/50R, 10/15)
1954 Agnelle Bundervoët Tahra TAH653/4 (12/55R, 4/09)
1956 Shura Cherkassky First Hand FHR04 (8/09)
1970 Arthur Rubinstein RCA 09026 63068-2
1973 Alicia de Larrocha Decca 473 813-2DC7; (41 CDs) 483 4120
1973 Alexis Weissenberg EMI/Warner Classics 679086-2 (6/12)
1974 Jorge Bolet RCA 88843 01472-2 (12/14)
1982 Sequeira Costa Marco Polo 8 220153
1986 Peter Rösel Berlin Classics 0038192ART
1992 Veronica Jochum GM Recordings GM2042
1997 Evgeny Kissin RCA 88875 12720-2 (12/98R)
1997 Valerie Tryon CBC MVCD1126
2000 Kun Woo Paik Decca 467 358-2DH
2000 Mikhail Pletnev DG 471 157-2GH2 (5/01)
2008 Hélène Grimaud DG 477 7978GH (2/09)
2010 Freddy Kempf BIS BIS-SACD1810 (7/11)
2011 James Rhodes Signum SIGCD308 (9/12)
2015 Benjamin Grosvenor Decca 483 0255DH (11/16)
2015 Alberto Reyes VAI VAIA1284 (7/17)
2017 Simone Leitão MSR Classics MS1665 (2/18)
This article originally appeared in the Award 2018 issue of Gramophone magazine. To find out more about subscribing, please visit: gramophone.co.uk/subscribe