The Platinum Jubilee: the Queen's reign in music
Jack Pepper
Wednesday, June 1, 2022
The second instalment of our bumper Platinum Playlist explores the composers and new pieces inspired by the Monarch
Composers have never been very far away from The Queen. Her Great-Great Grandfather, Prince Albert, was a composer. As a toddler, she was the inspiration for one of Edward Elgar's final compositions, his Nursery Suite; the then-Master of The King's Musick dedicated the collection to Princess Elizabeth, her new-born sister Margaret and their mother, using melodies he had composed in his own youth.
In 1947, Arnold Bax wrote his Morning Song, 'Maytime In Sussex' to mark her 21st Birthday (recorded by the Bournemouth Symphony Orchestra for Naxos in 2011). Bax and Ernest Bullock later formed an advisory committee to help shape the music for her Coronation, which saw nine contemporary composers contribute ten new pieces.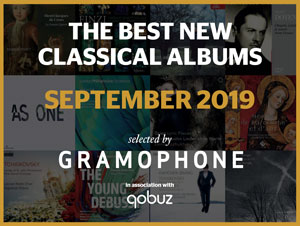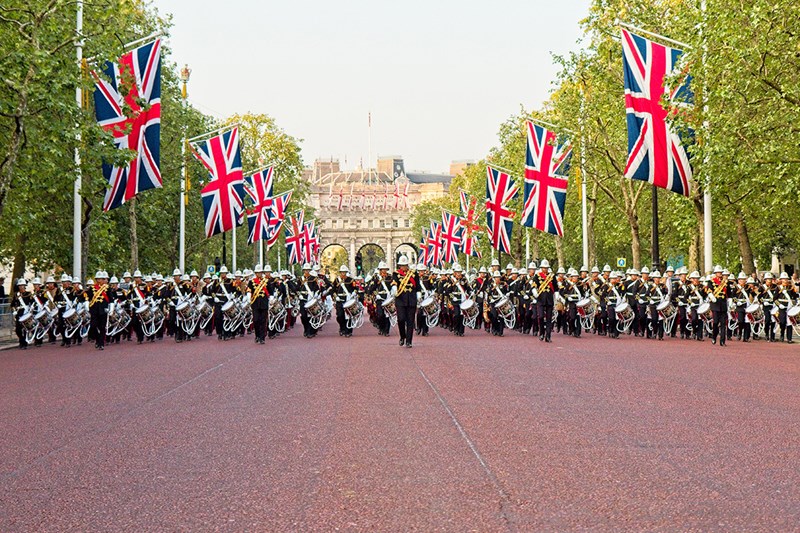 Music has played a major role in the Queen's reign, and will play a major one in the Jubilee: The Royal Marines Band on the Mall
In the 1970s, personal letters and a private commission from The Queen helped Benjamin Britten return to composing (with A Birthday Hansel) after he endured heart surgery and suffered a stroke.
There is a clear public-facing relationship with composers, too. The post of Master of The Queen's Music dates back to 1626; whilst there are no firm duties, the musician in question is expected to write new pieces for key events. The Queen's reign has seen four incumbents, who between them represent quite a striking variety of musical styles and backgrounds: Arthur Bliss, Malcolm Williamson, Peter Maxwell Davies and Judith Weir.
With the appointment of Judith Weir in 2014 – the first female Master of The Queen's Music – the Monarch showed herself to be a champion of women composers at precisely the moment gender equality in classical music was rightly coming into the spotlight.
Indeed, this position can become a channel for the issues of the day and support the musical fabric of the UK. Weir has been a tireless supporter of school music teachers, amateur ensembles and rural festivals; she has written pieces for school and community groups in Aberdeen, Wandsworth, Dover and Barnsley.
Whilst all this might seem the definition of 'the establishment', it's worth pointing out that the Master of The Queen's Music position has sometimes raised eyebrows. The appointment of the frequently-anti-establishment Peter Maxwell Davies in 2004 surprised many. He continued to be a political voice, speaking out against the war in Iraq and the declining quality of UK arts education.
It's interesting to note that, when interviewed by The Daily Telegraph in 2010, Maxwell Davies said he had been converted to monarchism; he commented that the monarchy 'represents continuity, tradition and stability'. In the context of the pandemic, such continuity and stability have come to hold ever-greater significance.
The Platinum Jubilee – as my playlist below will highlight – is sparking lots of new writing. Nine months ago, British-Israeli composer Loretta Kay-Feld was contacted by a member of the Royal Family familiar with her work; they made a personal request that she write some music for The Queen to mark her Jubilee.
Following some cliffside walks for inspiration, Kay-Feld penned two pieces: 70 Years A Queen and The Queen's Soliloquy. It brings Kay-Feld's own musical story full circle, since she performed for The Royal Family as a child as part of the youth charity Variety.
One contemporary writer much in demand from The Queen is Debbie Wiseman. She was the composer, musical director and co-conductor of the Royal Windsor Horse Show in May 2022; A Galop Through History welcomed a cast of thousands, drawn from around the world – from Azerbaijan to Oman, Norway to Ireland – performing alongside thousands of horses, all to the accompaniment of a 75-piece tri-service military orchestra (augmented by string players from the National Symphony Orchestra). Oh, and 100 bagpipers and drummers joined them for segments, too.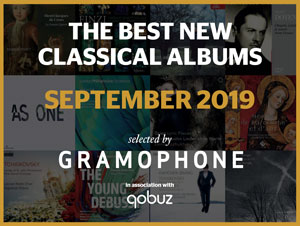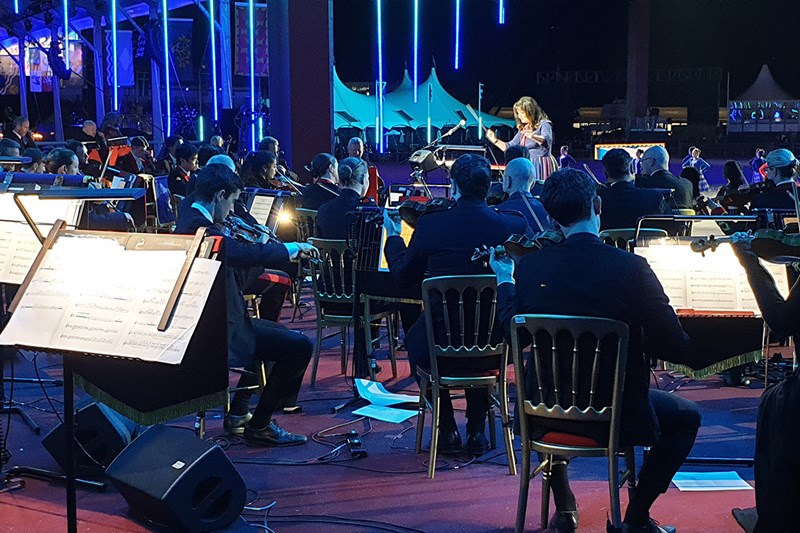 Debbie Wiseman conducting at the Royal Windsor Horse Show
The vast scale and outdoor staging didn't straitjacket the composition, though; in the midst of rehearsals a few weeks ago, Debbie told me that 'it's very well amplified across the arena, so even though it's huge, you can still be lyrical. There are lyrical moments, quieter moments, and there's underscore beneath the narration.'  
I asked if Her Majesty ever drops into rehearsals.'If she comes into the rehearsals, she'll be wearing a headscarf and you'll be very unaware that she's there. I remember once – I think it was at the 90th Birthday – we were sitting in one of the stands and then we saw this little lady with a headscarf and big padded jacket walking around, and didn't take any notice of it. And then as we turned round again, we noticed it was The Queen. So she was having a little sneak preview in her back garden! So there are opportunities for her to come in and listen, and she's fully briefed on what's going on.'
Having written for so many Royal events, Wiseman admits the Platinum Jubilee is an extra magical opportunity: 'this is a very special one. We haven't had a monarch on the throne for seventy years, and it's not going to happen again. It's a very unique occasion.'
As we celebrate 70 years of The Queen's reign, we are also able to celebrate 70 years of brilliant composers and eclectic creativity. Here are some of the highlights of music written during – and because of – Her Majesty's reign, with sounds from the Coronation right up to the last few weeks …
A Platinum Jubilee listening list
1953: Gordon Jacob – Fanfare & National Anthem
There's a wonderful picture online of Gordon Jacob donning his court dress and sabre, ready to attend the Coronation at which his arrangement of the National Anthem would be premiered. Written in a single day, his version is still heard at state events to welcome the arrival of the Monarch.
It's fitting that the National Anthem should be arranged by this composer, who had done so much for his country … in music and beyond. Jacob served in the infantry in World War One and became a Prisoner of War; he was one of just 60 who survived in his battalion of 800, and he lost his closest brother at the Somme. In the musical world, he was an influential teacher who spent four decades lecturing at the Royal College of Music (of which The Queen is Patron); Jacob's pupils included Malcolm Arnold, Ruth Gipps and Imogen Holst.
1953: William Walton – Coronation Te Deum
Premiered at the Coronation, this hymn of praise accompanied The Queen as she processed out of Westminster Abbey. It was one of two major contributions from Walton, the other being his Orb and Sceptre March, commissioned by Arts Council England and dedicated to The Queen (an unusual honour, given that personal dedications were rarely permitted by The Royal Family); rousing though that is, I feel his second contribution deserves an equally wide airing.
This album is one of my favourites of recent years. It celebrates music from the four coronations of the 20th century; it's a well-researched recreation of a Coronation's awe-inspiring music-making, where over 400 voices from choirs across London and beyond would have joined forces with a full symphony orchestra and military trumpeters. The performances here are equally visceral and full of conviction: everything this music requires to pack a punch. Surely one reason for its volcanic energy is the inclusion of several hundred young singers, drawn from Gabrieli's choral training programme, Gabrieli Roar. They certainly put the roar – and the raw – into this truly epic recording. This music – and the occasion – deserve nothing less.
1953: Arnold Bax – Coronation March
Bax may have been appointed Master of the King's Music during George VI's reign and died in 1953, but he played a prominent role in The Queen's early relationship with new music. Not only did he write a piece for her 21st Birthday, but also a Royal Fanfare for her wedding to Philip Mountbatten in 1947, the first piece of the service (which you can hear on this same album, courtesy of the Philip Jones Brass Ensemble). One of Bax's final works was this Coronation March. Bax passed away just four months later. His music marked many of the major milestones in The Queen's early life; in his own way, he represents that period of transition and change. Both classical music and monarchy represent this paradox of change and continuity; one era and one face give way to another, yet simultaneously there remains a remarkable timelessness where past traditions are carried over and memories kept alive.
1953: John Ireland – The Hills, from A Garland for The Queen
Was the Coronation one of the greatest single concerts of British new music in recent times? It's starting to look that way … especially with this set of works, where the Arts Council chose to honour the new Monarch by commissioning not one but ten leading British musicians. Each set words by contemporary British poets. Herbert Howells set the words of Walter de la Mare; Gerald Finzi chose the work of Siegfried Sassoon's friend, Edmund Blunden; Ursula Wood's words were set to music by her husband, Ralph Vaughan Williams (meaning RVW enjoyed two world premieres in 24 hours, with the Coronation service itself featuring his iconic arrangement of The Old Hundredth Psalm, whilst this song contribution was first heard on the eve of the big day). The collection was created as a sibling to The Triumphs of Oriana, a madrigal collection published in 1601 to celebrate Elizabeth I. In this cycle, then, the Elizabethan Age comes full circle.
Nestled in the middle of this song collection is a gentle gem from John Ireland. He sets the words of James Kirkup, who contributes lines that seem ever-more pertinent following The Queen's seventy years on the throne: 'how constant are the hills'. To me, this setting beautifully demonstrates the old adage that 'less is more'.
1953: William Harris – Let My Prayer Come Up
Another Coronation premiere, this from a composer with a touching personal connection to the new Queen. William Henry Harris was the organist of St George's Chapel at Windsor Castle from 1933 to 1961. This meant he provided music for the funeral of George V in 1936 and for the Coronation of George VI in 1937. He also played an important role in the musical education of the teenage Elizabeth and Margaret; the sisters spent the Second World War at Windsor and are said to have joined the weekly choir practise under Harris's tutelage. This surely makes William Harris one of the few – or only? – people to be able to say they have conducted The Queen! So at home did the Princesses feel that they even brought jars of honey as a gift for the choristers. It was, therefore, a touching personal gesture that Harris was invited to compose music for her Coronation; if anyone can lay claim to being the 'family musician' of the time, and indeed Her Majesty's music teacher, surely Harris is the one. The Queen appointed him to the Royal Victorian Order in 1954.
This recording also holds another layer of meaning, since its conductor Martin Neary sang at the Coronation as a treble in Her Majesty's Chapel Royal. He would go on to work as the organist and Master of the Choristers at Westminster Abbey, 1988-98, with whom he recorded this not-your-average childhood memory.
1953: Elizabeth Maconchy – Proud Thames, Coronation Overture
London Philharmonic Orchestra / Vernon Handley (Cond); 'Elizabeth Maconchy', Lyrita, 2007
We'll move beyond 1953 shortly, don't panic, but the Coronation period saw such a flourishing of new work from interesting British writers, it would be criminal to brush past! This piece is a tribute to the River Thames; it won a 1952 competition for a new work to celebrate the upcoming Coronation.
Maconchy's overture feels like one big crescendo. It begins with a hesitant call-and-response between woodwind and brass, suggestive of the slowly bubbling water. This builds and builds, until we reach a brass-crowned climax. Has the River overflowed?! The Thames has never sounded quite so tense …
Listen out for an airing to mark the Platinum Jubilee; the BBC National Orchestra of Wales and Martyn Brabbins are taking this piece to the Aldeburgh Festival, performing it at Snape Maltings Concert Hall – which The Queen herself originally opened in 1967 – on Thursday 16th June.
1953 / 1967: Benjamin Britten – Gloriana Symphonic Suite, 2nd movement
I mention the Aldeburgh Festival, which brings us nicely to Benjamin Britten. The Monarch personally approached him to become Master of The Queen's Music in 1975, however the composer declined as by this time his health was in a fragile state. He enjoyed a close relationship with The Queen, having lunch at Buckingham Palace and even staying at Sandringham; The Queen Mother's lady-in-waiting was known to play piano duets with him. In 1961, Britten made his memorable arrangement of the National Anthem for the Leeds Festival. Rewind further and Britten wrote his opera Gloriana – which explores love versus duty in the world of Elizabeth I – to mark the 1953 Coronation. It was to be staged at the Royal Opera House; ahead of its premiere, The Queen and Prince Philip observed a private reading of the piece with two singers and Britten at the piano. Although notices for the opera were poor, The Queen apparently applauded for a full eight minutes at the end.
Over the years, Britten extracted several concert pieces from the opera. This movement is a wistful, floating lute song; the recording has a crystal clarity, where every solo line sparkles and instruments seem simply to float on the air.
Another live music footnote for your diary: the City of Birmingham Symphony Orchestra under Ludovic Morlot will be performing the Symphonic Suite from Gloriana as another aspect of the Aldeburgh Festival's Jubilee celebrations, on Saturday 18th June.
1974: Arthur Bliss – Shield of Faith: The Lord Is Risen
Arthur Bliss became Master of The Queen's Music in 1953, the year of Her Majesty's Coronation (apparently much to the relief of William Walton, who didn't want to have the knock on his door). Bliss's first official duty was to compose the Processional for the Coronation. Just one year later, his Welcome The Queen was written to mark the Monarch's return from a mammoth six-month tour of the Commonwealth. You can hear Bliss conducting the Philharmonia plus chorus and vocal soloists in this work ('Bliss Conducts Bliss', Warner, 2006), whilst a concert band arrangement was recorded by The Band of The Grenadier Guards to mark the Diamond Jubilee (Warner, 2012).
We're in the 1970s with this, though; Bliss's final cantata, Shield of Faith, was written just one year before his death. It was commissioned to mark 500 years of St George's Chapel at Windsor Castle; poetry from each of the five centuries of the Chapel's history is set to music of frequently-strident energy. There's an especially sprightly organ introduction to this opening movement.
1976/77: Benjamin Britten – Welcome Ode
Just two months before his death in 1976, Britten approved his Welcome Ode for inclusion in the Silver Jubilee celebrations the next year. The Dedication reads: 'Written for the occasion of Her Majesty The Queen's Silver Jubilee visit to Ipswich on 11th July 1977'. Scored for a young person's chorus and orchestra, it underlines Britten's steadfast commitment to community and young musicians, a powerful and appropriate concluding gesture from a key musical figure of The Queen's reign. 
2002: Shirley J Thompson – New Nation Rising, A 21st Century Symphony, 4th Movement, New Nation Rising
Shirley J Thompson is no stranger to Royal performances. She performed for The Queen at Westminster Abbey in 1999 and appeared at The Queen's Summer Party at Buckingham Palace in 2001. More recently, in January 2019, Shirley received an OBE for Services to Music.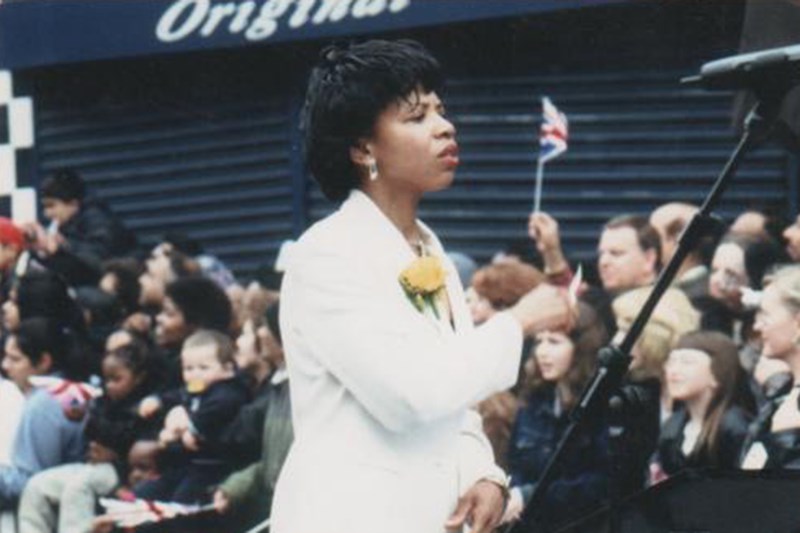 Shirley J Thompson, helping celebrate the Golden Jubilee in 2001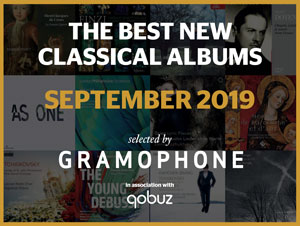 One particular Royal piece not only celebrated history, but made it; with New Nation Rising: A 21st Century Symphony, Thompson became the first woman in Europe to have composed and conducted a symphony in the last 40 years. It was commissioned to celebrate The Queen's Golden Jubilee in 2002. It rises to the grandeur of the occasion with an epic brief: to tell the story of London's 1000-year history, through music. Each movement depicts a different period in London's story, taking us from 'Marshes, Hamlets and Roaming Cows' to the modern era in its final movement, 'New Nation Rising'. In this, the musical eclecticism of the 21st century is reflected in the inclusion of a rapper and dhol drummers. With a combined force of over 200 musicians, this is a colourful, inclusive and ambitious work entirely fitting for a similarly-unifying and epic Jubilee.
2012: Debbie Wiseman – Jubilee Gigue (The Queen's Diamond Jubilee Pageant)
What could be more British than a choir sailing past The Royal Family and beneath Tower Bridge singing Land of Hope and Glory totally drenched by pouring rain? My 12-year-old self was stood next to the London Eye as 1000 vessels sailed past; it was London's largest river pageant in over three centuries, all in honour of The Queen's Diamond Jubilee. The last vessel to reach Tower Bridge was the barge carrying (casually) the London Philharmonic Orchestra and the Royal College of Music Chamber Choir. You can seek out their appropriately-water-drenched riverside rendition of Land of Hope and Glory on YouTube.
Also on the River was the Academy of Ancient Music, performing Handel's Water Music. That had been written by Handel for performance on the River Thames for King George I in 1717; for The Queen's Diamond Jubilee, 11 contemporary British composers were invited to write the new Water Music. Anne Dudley, Jocelyn Pook and Gavin Greenaway all contributed. Debbie Wiseman's contribution nearly never happened; this was her first piece for a Royal occasion and the email asking if she'd like to be involved landed in her spam inbox, going unnoticed for a long period. The invitation was spotted in the nick of time. Handel's Suite in G major concludes with a Gigue; Wiseman's nod to her Handelian precedent likewise gets our toes tapping…
2013: Bob Chilcott – The King Shall Rejoice
The Dean and Chapter of Westminster commissioned this anthem to mark sixty years since the Coronation. It was performed by The Choir of Westminster Abbey and the Children and Gentlemen of the Chapel Royal in the anniversary service at Westminster Abbey. Chilcott draws on two texts; the optimistic opening of Psalm 21 had been set by Handel for one of his Coronation Anthems, whilst the second text is an adapted version of the same Psalm verses set by William Byrd to honour Queen Elizabeth I. Chilcott offers buoyant dance rhythms but also plenty of contrast, with the choir at one point dividing into two antiphonal groups.
2022 brings new music from Chilcott to mark the Platinum Jubilee; O Lord, make thy servant Elizabeth our Queen will be a reflection on a piece of the same name by William Byrd.
2021: Debbie Wiseman – Elizabeth II, The Music of Kings & Queens
National Symphony Orchestra / Debbie Wiseman (Cond); 'The Music of Kings & Queens', Universal, 2021
To reflect on Her Majesty's 95th Birthday last year, Debbie Wiseman released this album of original music that tells the story of Britain through 12 monarchs. National treasures Helen Mirren and Damian Lewis narrate, in a journey that takes us from William I to the current Queen. Launched with a Fanfare to Queen Elizabeth II, we come full circle by concluding with a grand brass-dominated Elizabeth II. The album jumped straight to Number One in the UK Classical Chart.
The Platinum Jubilee has certainly kept Debbie Wiseman occupied. As well as her new music for the Royal Windsor Horse Show, her anthem Beacon of Brightest Light was premiered in March to mark the Jubilee; it was heard at the Commonwealth Day Service at Westminster Abbey, and found inspiration from the young leaders of The Queen's Commonwealth Trust.
2022: Thomas Hewitt Jones – In Our Service
This brings us neatly to the many new pieces written for this landmark Platinum Jubilee, including this gem that choirs all around the Commonwealth will be singing.
The Queen is Patron of the educational charity The Royal School of Church Music (RSCM), who have commissioned Thomas Hewitt Jones to pen this anthem that speaks of dedication and duty. The words quote key speeches given by The Queen over the years. The piece was designed to be learned in an afternoon, so that cathedral and church choirs, choral societies, chamber choirs, community ensembles, congregations and schools can all participate; thousands of singers are already due to be performing it across the Commonwealth. The music can be downloaded from the RSCM online shop: rscmshop.com; choirs are encouraged to share how and when they perform it, using the hashtags #RSCMplatinum and #InOurService.
Hewitt Jones told me: 'The brief was one of the most difficult I've ever had to undertake as a writer; it needed to be something which choirs all over the world could sing, be inclusive, melodic and meaningful, be of the moment and yet lasting, and lastly (but most importantly) have integrity.'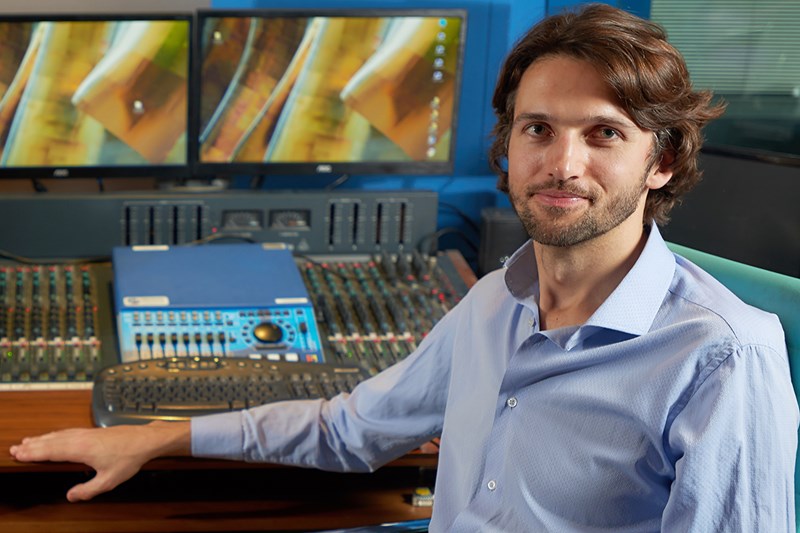 Thomas Hewitt Jones: his anthem speaks of dedication and duty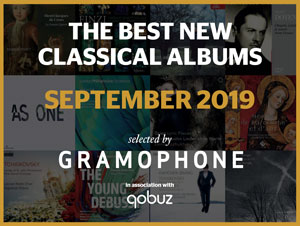 Setting words taken from The Queen's speeches provided some memorable musical opportunities: 'As I found my way into the text and began to marry words with music, I decided that during the later parts of the text that were intensely emotive (particularly "Grief is the price we pay for love", which The Queen said after the passing of Prince Philip), I could really dial up the chromaticism to bring across the importance and true message of that phrase.' Just as Handel paints words with music, the freshest work for the latest Royal occasion does the same.
It's a poignant contribution from Hewitt Jones that feels both powerfully relevant to the here and now, but also speaks to universal and timeless emotions like love and loss; it is at once a piece for The Queen and a piece for us all. Tommy put it best when he said to me: 'The Queen has shown such incredible steadfast service to her country during her 70-year reign. For me, she represents attributes which many of us would do well to learn from: most notably a quiet, loving constancy which is easy to forget in today's fleeting, trend-driven world.'
2022: Vincent Atueyi Chinemelu and Lucy Kiely – A Life Lived With Grace
Royal events have traditionally been celebrated by the lighting of beacons. For the Platinum Jubilee, over 1500 beacons will be lit across the UK and UK Overseas Territories, as well as one in each of the Commonwealth capital cities. To accompany this epic worldwide beacon-lighting ceremony, there will be not one but three brand-new pieces.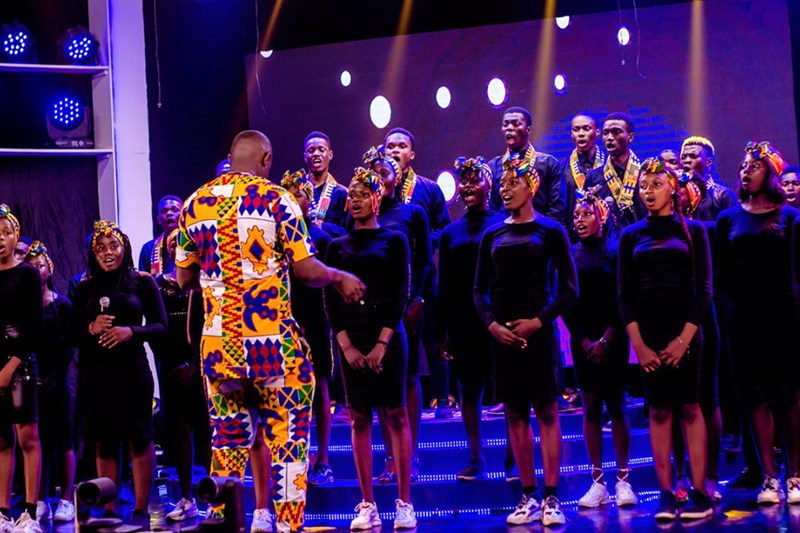 The Ave Maria Choir Clegg, from Nigeria: one of the choirs taking part in the Commonwealth Resounds project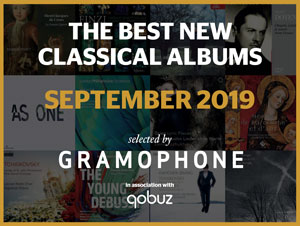 A Commonwealth-wide competition was launched in June 2021 to find a new Jubilee Song for the Commonwealth. It was the brainchild of Master of the Queen's Music, Judith Weir, and two Norfolk music teachers, Alison Cox (founder and chair of Commonwealth Resounds, promoting music education in over fifty countries) and Stephen Miles. Anyone was welcome to enter, from children to professional writers.
Among the adjudicators was the baritone and composer Roderick Williams. In the end, the music has been written by 38-year-old Vincent Atueyi Chinemelu, who is an ordained Roman Catholic Priest in Nigeria and who has over 100 religious and secular vocal compositions to his name (he also plays six instruments!); the words come from 30-year-old Australian jazz-based singer-songwriter Lucy Kiely, from Sydney. The song was made available online in January so that choirs across the world could register, download and learn, ready to perform 'together' when the beacons are lit on Thursday 2nd June.
That's just one part of the beacon music! During the lighting ceremony, individual pipers and pipe bands are encouraged to play a specially-composed pipe tune from Piper Stuart Liddell, who is the Pipe Major of the World Champion Pipe Band, Inveraray and District. Again, the sheet music is available to download online, and you can register a piper or band by emailing info@leedspipeband.org.uk.
But choirs and pipes all around the world aren't quite enough, so add to this a newly-composed bugle call, Majesty; Northern Ireland's Bugler Sergeant A.W. Carlisle has written it so that buglers of all ages and abilities can take part.
If you play all three new pieces at the same time, you can achieve an Ivesian experimental blend. But that might not be the intended idea.
The sheet music and registration links for these pieces can all be found here: queensjubileebeacons.com
2022: Erland Cooper – Music For Growing Flowers, Superbloom
The Tower of London is frequently a hub of creative responses to major national occasions, and the Platinum Jubilee is no different. Between June and September, twenty million flowers will be blooming in the moat, accompanied by new music from Scottish composer Erland Cooper. His work will be played continuously through speakers, with three spatial mixes that will change throughout the day; in Cooper's words, the music aims to 'rebalance the dominant city noises'. The installation will open on Wednesday 1st June, the day before the extended Jubilee Bank Holiday Weekend; Cooper's music will be released as a digital EP that day, whilst a mini-album – complete with packets of UK-native wildflower seeds – will be released on the 19th August. You can see the Superbloom installation from 1st June to 18th September 2022. Combining as it does a historic building, the beauty of the natural world, electronic and digital innovation, space and music, this is a 21st century tribute that will doubtless – like this unique Jubilee – live long in the memory.
The Queen's historic 70-year reign has witnessed a vast range of compositional creativity that speaks to the continued ingenuity and imagination of musicians. As a country, I feel Britain often plays down or fails to fully appreciate its cultural standing and impact; many talented British composers past and present remain strangely out of our spotlight. This Platinum Jubilee, we celebrate the Monarch's unprecedented service, and have a chance to recognise the fantastic talents of the musicians around her. Of all the ways to celebrate, surely music is among the most powerful.
Jack Pepper is a composer, broadcaster and writer
Welcome to

Gramophone

...
We have been writing about classical music for our dedicated and knowledgeable readers since 1923 and we would love you to join them.
Subscribing to Gramophone is easy, you can choose how you want to enjoy each new issue (our beautifully produced printed magazine or the digital edition, or both) and also whether you would like access to our complete digital archive (stretching back to our very first issue in April 1923) and unparalleled Reviews Database, covering 50,000 albums and written by leading experts in their field.
To find the perfect subscription for you, simply visit: gramophone.co.uk/subscribe