Top 10 Rameau recordings
David Vickers
Wednesday, May 11, 2016
David Vickers recommends 10 of the Rameau's works and their best recordings
Jean-Philippe Rameau, the Dijon-born theorist, keyboardist and composer is the greatest French composer of the entire Baroque era, though he did not produce his first opera, Hippolyte et Aricie (1733), until he was 50. His mature career spanned three decades, during which he mastered and innovated distinctly French operatic genres such as the serious tragédie en musique (Hippolyte et Aricie, Dardanus, Les Boréades), charmingly diverse opéra-ballet (Les Indes galantes, Les fêtes d'Hébé) and witty comédie lyrique (Les paladins).
Controversy was never far away. An anonymous satirical response to Hippolyte et Aricie printed in the Mercure de France in May 1734 is the earliest known description of music as 'baroque' – a pejorative term. The critic complained that the 'misshaped' composition lacked coherent melody, was overly dissonant and changed key and metre too much. Five years later, a poem by Jean-Baptiste Rousseau attacked Dardanus, calling Rameau a 'distiller of baroque [ie bizarre] chords' – even though the poet had not actually experienced the opera first hand. Deplored at first by conservative Lullistes for being too Italianate, Rameau was later robustly criticised for not being Italian enough during the Querelle des Bouffons (the dispute during the early 1750s over the respective merits of French and Italian opera). He was also controversial for his theoretical writings, which grew increasingly cranky (he had a tendency to alienate friends who had once been ardent supporters).
Many major works have not yet been published in adequately reliable scores: the old so-called Oeuvres complètes was supervised with the best of intentions by Saint-Saëns, but its corrupted content was often reorchestrated by editors including Dukas and d'Indy (even artists such as Nikolaus Harnoncourt and Frans Brüggen fell foul of these bad old editions). Some major masterpieces have never had a consistently excellent recording (Marc Minkowski's Platée is a curate's egg), and there are intriguing works that are still unrecorded (Les fêtes de Polymnie and Acante et Céphise spring to mind). The pioneers of the Dutch-Flemish school of Gustav Leonhardt and Sigiswald Kuijken, and some English and French contemporaries (Charles Farncombe, Jean-Claude Malgoire), all paved the way for some of the artists in the pantheon constructed here.
Naturally, any Ramellian Top 10 could be devoted entirely to the discography of Les Arts Florissants: their Harmonia Mundi back catalogue has just been reissued in a commemorative box-set, and their Gramophone Award-winning set of Rameau's motets (Erato) gives a tantalising glimpse of the composer's church music from his itinerant years before settling in Paris. However, it is not healthy for William Christie to inadvertently acquire hegemony, so my selection is designed to allow a broad cross-section of Rameau's genius in different genres, all performed outstandingly by several generations of performers: the vanguard, the consolidators and the newcomers.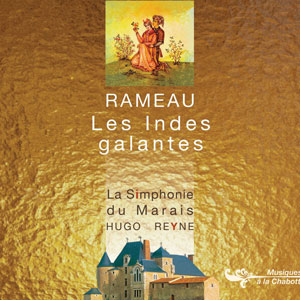 Les Indes galantes
Soloists; Le Choeur du Marais; La Simphonie du Marais / Hugo Reyne
(Musiques à la Chabotterie)
Four exotic entrées (Turkish, Peruvian, Persian and Native American) compare the attitudes towards love by 'savages' with the behaviour of their civilised European counterparts – sometimes to the detriment of the latter. Les Arts Florissants (Opus Arte) on DVD is essential viewing, but Hugo Reyne supervises the most musically pleasing interpretation in this new version recorded live at Vienna's Konzerthaus.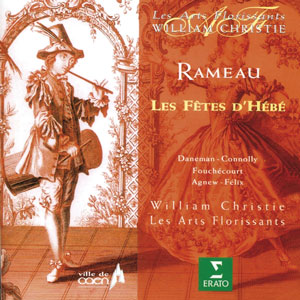 Les fêtes d'Hébé
Soloists; Les Arts Florissants / William Christie
(Erato)
The lyrical talents ('La poésie', 'La musique' and 'La danse') entertain Hébé on the banks of the Seine. In 'La musique', Sarah Connolly's Iphise has a spectacular ariette with trumpet and drums ('Éclatante trompette') that bursts into a thrillingly bellicose chorus. In 'La danse', Jean-Paul Fouchécourt's agile Mercure is understandably infatuated with Sophie Daneman's sweetly innocent Églé, and a plethora of charms in pastoral and ballet music are illustrated by Les Arts Florissants' suitably lyrical playing.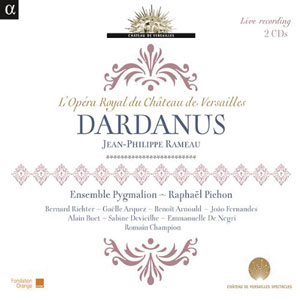 Dardanus
Soloists; Ensemble Pygmalion / Raphaël Pichon
(Alpha)
This accomplished live concert performance is a long overdue recording of the 1744 version, although the edition incorporates other subsequent revisions. Raphaël Pichon's tempos flow naturally, the sustained orchestral playing is warmly sonorous and the choir is excellent. Bernard Richter's ardent haute-contre is imploringly lyrical in Dardanus's prison scene 'Lieux funestes', and the eloquent cast of young French singers suggests that the next generation is ready to continue the Ramellian renaissance.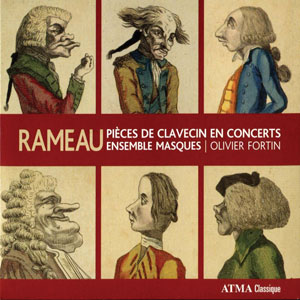 Pièces de clavecin en concerts
Ensembles Masques / Olivier Fortin
(ATMA Classique)
Rather than the harpsichord providing continuo support to soloists, Rameau's five 'concerts' function in the opposite direction. Fortin's 'solo' harpsichord parts form vivacious dialogues with Mélisande Corriveau (bass viol) and an upper part alternating between Sophie Gent (violin) and Anne Thivierge (flute), whose involvement benefits softly feminine pieces such as 'La Cupis'. For a version that features the violin throughout, try Rousset, Terakado and Uemura (Harmonia Mundi).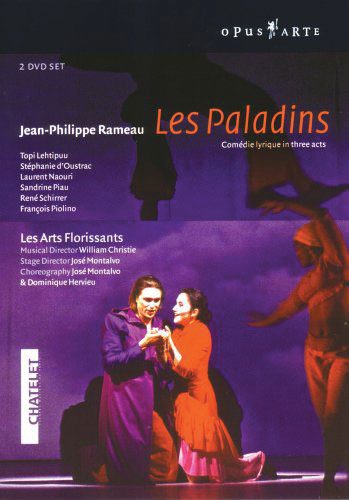 Les paladins
Soloists; Les Arts Florissants / William Christie
(Opus Arte)
Dropped after only 15 performances, this zany comédie lyrique was Rameau's biggest flop. José Montalvo's livewire staging uses multimedia and dancing (street dance/classical ballet fusion) to affectionately narrate this fable. Jiggling full-frontal nudity from dancers may not be for everyone, but there is fantastic comedy, and exceptional singing from the young paladin Atis (Topi Lehtipuu), his beloved Argie (Stéphanie d'Oustrac), her cowardly gaoler Orcan (Laurent Naouri) and her confidante Nérine (Sandrine Piau).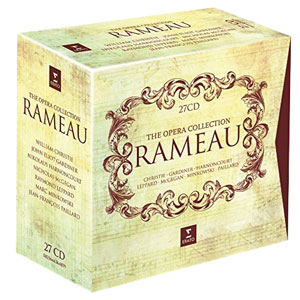 Les Boréades
Soloists; Monteverdi Choir; English Baroque Soloists / John Eliot Gardiner
(Erato)
Rameau's astonishing final masterpiece was rehearsed by the Paris Opéra during 1764 but abandoned after his death. It remained unstaged until John Eliot Gardiner conducted his own edition at Aix-en-Provence in 1982. Thanks to Gardiner's surety of rhythmical characterisation, stylish textures from the English Baroque Soloists, elegant precision from the Monteverdi Choir and a fine cast led by Jennifer Smith and Philip Langridge at their freshest, this remains a seminal achievement.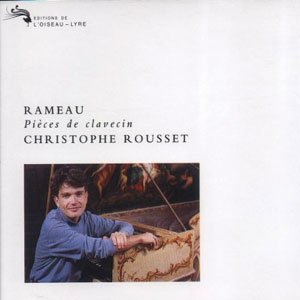 Pièces de clavecin
Christophe Rousset
(Decca L'Oiseau-Lyre)
An exceptional survey of Rameau's harpsichord works, from his earliest music (printed in 1706) to his fully developed mature suites (1724, 1728). Rousset plays with imaginative fantasy and judicious dance-like tempos, always allowing elegance and clear harmonic purpose. Two different instruments and temperaments are used to reflect the development of Rameau's keyboard writing, including a perfectly preserved instrument said to have belonged to his patron Popelinière.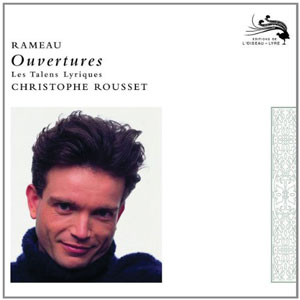 Overtures
Les Talens Lyriques / Christophe Rousset
(Decca L'Oiseau-Lyre)
Les Talens Lyriques (named after the alternative title of Rameau's Les fêtes d'Hébé) play brilliantly in these stylistically and texturally varied opera overtures: the Voltaire collaboration Le temple de la Gloire yields thrilling pairs of horns and trumpets; a muffled drum and fizzing shocks across the orchestra evoke chaos transforming into the four elements of earth, air, fire and water in Zaïs; and thumping timpani illustrate celebratory cannon fire in Acante et Céphise.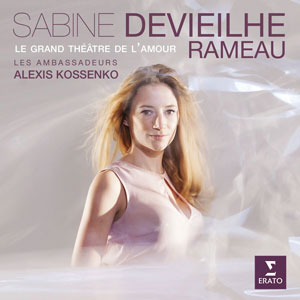 'Le grand théâtre de l'amour'
Sabine Devieilhe sop et al Les Ambassadeurs / Alexsis Kossenko
(Erato)
A journey through diverse experiences of love: not just soprano ariettes from the stage works, but also entire scenes featuring other soloists, choruses and orchestral divertissements. Télaïre's plaintive lament 'Tristes apprêts' (Castor et Pollux) receives the finest account I've ever heard, and Devieilhe's lithe singing doesn't over-egg the comedy in La Folie's 'Aux langueurs d'Apollon Daphné se refusa' (a caustic parody of Italian virtuosity in Platée).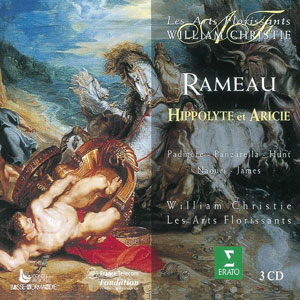 Hippolyte et Aricie
Soloists; Les Arts Florissants / William Christie
(Erato)
Influenced by Racine, this tragédie en musique explores the tragic consequences of King Theseus's rage upon getting the wrong end of the stick about his wife Phaedra's incestuous lust for her stepson Hippolyte (who, much to her displeasure, is in love with Aricie). Every nuance of dramatic intensity and musical characterisation is brought to life viscerally in this revelatory performance. Lorraine Hunt's gripping Phaedra and Laurent Naouri's anguished Theseus are sensational, and the titular lovers Mark Padmore and Anne-Maria Panzarella are no slouches either. Rameau's scintillatingly kaleidoscopic score inspires what's probably Les Arts Florissants' greatest recording.
This article originally appeared in the October 2014 issue of Gramophone.