Video of the Day: coronasolfège for 6
Monday, November 30, 2020
Héloïse Werner has expanded her brilliant lockdown invention for ensemble: Gesualdo Six take up the challenge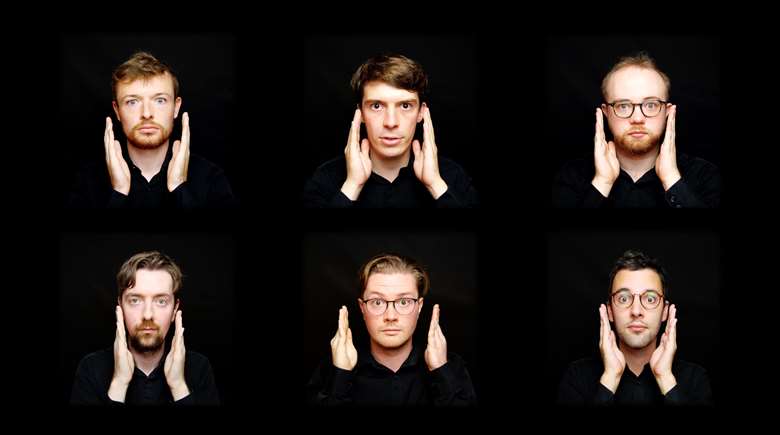 First encounters with Coronasolfege - the brilliant invention of soprano and composer Héloïse Werner - probably follow a similar path. First you're intrigued, secondly fascinated, and thirdly inspired to give it a go - at which point you discover just how incredibly hard it is. So who better to show you exactly how the challenge should be faced than acclaimed choral group The Gesualdo Six, who have recorded a video of a piece written especially for them. But before you watch it, an introduction and explanation from Héloïse Werner...
Coronasolfege was born at the start of lockdown in March 2020. Just like every other musician in the world, all my performances suddenly got cancelled and I was stuck at home with nothing to do. I needed to find something to keep myself occupied. I started experimenting with creating rhythms and short melodies only using my face (eyes, teeth, voice) and my hands (on my cheeks). I came up with a simple 30-second composition where my eyes, teeth, voice and hands each go in different but repeated rhythms: eyes in crotchets, teeth in quavers, voice in triplets and hands in semiquavers. I filmed it, posted it on Twitter and Coronasolfege was born.
To my surprise, a huge amount of people interacted with it online and I thought - this is fun, why not carry on! So throughout the lockdown and after, I kept going, creating 35 Coronasolfege videos, and counting. They are all available to watch here: heloisewerner.com/coronasolfege/
Creating these Coronasolfege videos gave me a sense of purpose - each one was like a mini challenge. My main goal with them was to cheer people up so each video is upbeat and sometimes funny. Alongside the rhythmic games and melodic ear-worms, I also enjoyed creating comical characters using word-plays and props.
This project has been a lovely way to be socially engaged with people from all over the world during the difficult periods of isolation. I taught Coronasolfege through the CoMA Online Summer School, and it gave me the idea of expanding this concept to other performers. So I wrote this new piece for the wonderful Gesualdo Six - I hope you enjoy the result…
coronasolfège for 6 Music by Héloïse Werner
Performed by The Gesualdo Six
Audio by Josh Cooter
Video by Owain Park