Video of the Day: Sandbox Percussion & Matt McBane
Hattie Butterworth
Monday, September 26, 2022
Sandbox Percussion & Matt McBane perform 'Groundswell' from their latest album 'Bathymetry', released on November 4, which draws on various strains of classical minimalism and modern electronic music production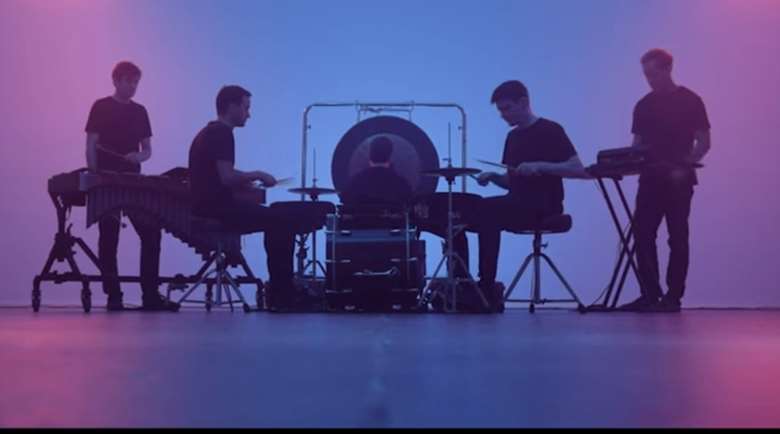 Grammy-nominated percussion quartet Sandbox Percussion's latest collaboration with composer Matt McBane introduces the world of analog synthesizer through their album, Bathymetry, released on 4 November. It draws on various strains of classical minimalism and modern electronic music production, taking influence the world of YouTube ASMR (autonomous sensory meridian response) and ambient modular synth.
An initial single 'Groundswell' is available to watch below, scored for two drum sets (panned left and right), Moog analog synthesizer, vibraphone, and tam-tam. Over the track's 7 minutes, according to the artists 'two big waves of sound are formed as layers of interlocking patterns of cycling polymeters build up and then recede in an ecstatic meditation'.
The word 'bathymetry' essentially means 'the surface of the ocean floor', and the bass synthesizer interacts with the treble percussion in a way reminiscent of how the ocean floor shapes the waves passing above. The album was composed and produced, and the synthesizer was performed by Matt McBane, the percussion was performed by Sandbox Percussion, and the album was recorded and mixed by Joseph Branciforte.
This album is the follow-up to Sandbox Percussion's 2021 twice Grammy-nominated, and Pulitzer Prize finalist album with Andy Akiho, 'Seven Pillars'.
You can listen to Bathymetry below and via Apple Music: