Video(s) of the Day: remembering lockdown London
Wednesday, December 2, 2020
Two new works for dancers and LSO musicians explore the silent City's creative energy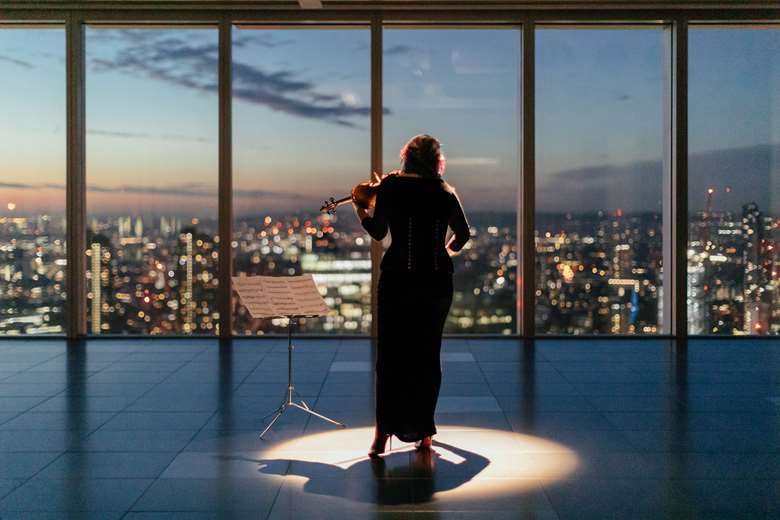 How will we remember lockdown London? Empty streets, closed shops, silent stages, absent workers? Or a thought-provoking period that encourages us to look afresh at an area and community we thought we knew, but perhaps took for granted?
Two fascinating creative responses, both haunting and uplifting, have come in the form of films co-commissioned by Culture Mile and Brookfield Properties, drawing on a collaboration between musicians from the London Symphony Orchestra, composers, dancers and videographers.
The first film, PLAY: Rising, was composed by Darren Bloom and directed by Antonia Luxem, and features LSO violinist Maxine Kwok performing on the 34th floor of 100 Bishopsgate while dancer Marie Astrid Mence responds. 'My starting point for this film was asking myself: how does it feel to perform in a locked-down world?' says Luxem. 'I wanted the answer to this to be something positive and dreamy, to communicate a sense of renewal. I was interested in exploring our longing to connect with other human beings, even when that's practically impossible because we're in the midst of a global pandemic'.
'This film is also about renewing our relationship to space - personal spaces such as our flats or offices, but also the space offered by the city to a community of people. When there's a sudden change of status quo, we are forced to reconsider our surroundings and form new bonds with them. That's what our artists do here - Maxine Kwok when she plays her violin as if she were on a stage, and Marie Astrid Mence when she communicates with Maxine through the rhythm of her body,' Luxem added.
The second film, called Play: The Spell & The Promise, was composed by Jasmin Kent Rodgman and directed by Lexi Kiddo, and filmed in London Wall Place next to the Barbican, a place where ancient and modern architecture meet. LSO flautist Gareth Davies performs in the resonant acoustic of a vacant industrial space, while dancers Salomé Pressac and Faye Stoeser, choreographed by Harry Price, perform in the gardens outside, reacting to the music. 'We get to dip in and out of the real world and something that is more beautiful and expressionistic, like a contemporary fairytale,' wrote Kiddo.
Both films have been released ahead of PLAY – a music festival to be hosted by Brookfield Properties, taking place at London Wall Place in May 2021.