We knew Leonard Bernstein
Jon Tolansky
Friday, July 13, 2018
Special interviews with those who collaborated with Leonard Bernstein, including Marin Alsop and Thomas Hampson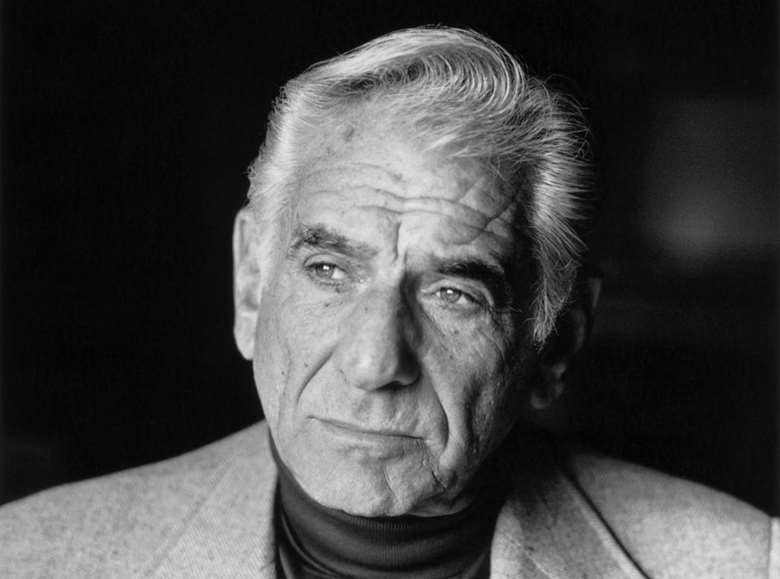 This special feature, produced to mark the centenary of Leonard Bernstein includes rare audio interviews with a few of Bernstein's close friends and collaborators.
The interviewees in this feature recollect the powerful influence Leonard Bernstein exerted as a performer, composer, educator and mentor. The earliest memories here go back to the period of Bernstein's 11-year music-directorship of the New York Philharmonic Orchestra, which he assumed in 1958. Stanley Drucker, the Orchestra's former long-time Principal Clarinet, looked back on the era in a conversation in April 1993.
Interview 1 - Stanley Drucker
(Music extracts: Mahler Symphony No 7, first movement, and Mendelssohn's Ruy Blas. New York Philharmonic, Sony Classical)
The brilliance, flexibility and discipline of the New York Philharmonic's playing in the Bernstein era gave the Orchestra its highest status since its famous days when Arturo Toscanini was the Music Director. And as was the case wherever he conducted throughout his career, his communication with the audience was a vital part of the electric tension he created at concerts, as Stanley Drucker and the conductor Derek Gleeson, who sang with Bernstein in the Wiener Jeunesse-Chor recall.
Interview 2 – Stanley Drucker & Derek Gleeson:
(Music extract: Mahler Symphony No 2, fifth movement. Israel Philharmonic Orchestra. Sony Classical)
The extract from the last movement of Mahler's Resurrection Symphony above is from the event in July 1967 when Leonard Bernstein gave a concert on Mount Scopus in celebration of the reunification of Jerusalem after the Six-Day War. The orchestra was the Israel Philharmonic, and Thomas Martin, later to become the Principal Double Bass of the London Symphony Orchestra, was just ending his tenure with the Israel Philharmonic. He remembers his very first encounter with Bernstein.
Interview 3: Thomas Martin
(Music extract: Mahler Symphony No 2, fifth movement. Israel Philharmonic Orchestra. Sony Classical)
Leonard Bernstein felt especially close to four orchestras – the Israel Philharmonic, the New York Philharmonic, the Vienna Philharmonic, and the London Symphony, which first played for him in 1966. There were tensions during his first London Symphony Orchestra rehearsals when he was sometimes vociferously critical, but before long the players and he established a close and fruitful relationship, and in due course the orchestra was to elect him its Honorary President. Martin Gatt, the Orchestra's former Principal Bassoon, recalls the personal rapport the players felt with him.
Interview 4: Martin Gatt, Thomas Martin & Bernstein in rehearsal
(Music extracts: 1) Verdi Requiem. Soloists with the LSO and Chorus. Sony Classical. 2) Rehearsal recording of Copland's Sympony No 3, second movement. Tanglewood Music Centre Orchestra, courtesy of classical.org).
The rehearsal of Copland's Third Symphony with the Tangelwood Music Centre Orchestra heard above can be seen in full on classical.org.
Although Bernstein was in the frailest health only two months before his death, his inspirational communication and his vivid conducting gestures are instantly gripping. By then he could not muster the famed physical energy of earlier years, but still his remarkable conducting technique was all there: a synthesis of virtuoso baton transparency and spontaneously free body language. In that way it combined great control with extreme expressiveness – and, in the company of his friend Carlos Kleiber and also Gennady Rozhdestvensky, he could even maintain his control when he appeared to dispense with it, as Martin Gatt and Derek Gleeson explain:
Interview 5: Martin Gatt & Derek Gleeson
(Music extract: Haydn Symphony No 88, fourth movement. Vienna Philharmonic Orchestra. Deutsche Grammophon)
Bernstein's outstanding success as an artist and personality in Vienna reflected his profound global enlightenment, and his deep immersion in a vast range of international cultures paid special dividends for singers who performed operas with him. Mezzo-soprano Marilyn Horne recalls his influence when she sang her recording of Bizet's Carmen in 1973.
Interview 6: Marilyn Horne
(Music extract: Bizet's Carmen, 'Seguidilla'. Marilyn Horne, Metropolitan Opera. DG)
Leonard Bernstein recorded Tchaikovsky's Sixth Symphony three times, in 1953, 1964 and 1986. Famously in his final recording he broke all known records of sustaining an exceptionally slow speed in the last movement. The New York Philharmonic Orchestra's former Co-Principal Timpanist and Percussionist Morris Lang, remembers how – and why:
Interview 7: Morris Lang
(Music extract: Tchaikovsky Symphony No 6, fourth movement. New York Philharmonic Orchestra. Deutsche Grammophon)
It was in the same year in which Leonard Bernstein conducted that recording of Tchaikovsky's Sixth Symphony that he listened to the baritone Thomas Hampson who was auditioning for him. Out of the audition was born a profound mentorship that Thomas Hampson describes:
Interview 8: Thomas Hampson
(Music extract: Mahler's Kindertotenlieder. Thomas Hampson, Vienna Philharmonic Orchestra. Deutsche Grammophon)
As was the case with Thomas Hampson, Bernstein's influence on the conductor Marin Alsop extended far and wide beyond the immediate dimension of the music they discussed, as she explains:
Interview 9: Marin Alsop
(Music extract: Boulez Improvisation 1 sur Mallarmé – introductory talk by Leonard Bernstein, and performance with Marni Nixon and members of the New York Philharmonic Orchestra)
Leonard Bernstein included Boulez's Improvisation 1 Sur Mallarmé in a contemporary music concert with the New York Philharmonic Orchestra as part of one of his series of televised events in 1960. His introductions won over enormous numbers of new people to classical music, as Thomas Martin remembers.
Interview 10: Thomas Martin
Aside from the unique lucidity and imagination in his presentation, one reason why Bernstein had such deep insight and awareness into the compositional processes in the works he discussed was that he was himself a profoundly preoccupied composer. For him, composing was a crucial element of his life and raison d'être, nearly always confronting, as he said on a number of occasions, crises of faith and searching for the core of faith. This was every bit as central in West Side Story, which he once said was 'highly critical of America', as it was in his three symphonies, with which it might be said that he invested his most personally autobiographical writing. Marin Alsop concludes this centenary memoir of Leonard Bernstein by contextualising his compositions within the overriding humanitarian driving force that lay behind all the extraordinarily diverse arms of his art.
Interview 11: Marin Alsop
(Music extract: Bernstein's Symphony No 3, finale. Israel Philharmonic Orchestra. Deutsche Grammophon)