Welcome to the New Streaming: introducing STAGE+
Sponsored
Thursday, October 19, 2023
DG's new single destination for watching, listening and exploring classical music proves that streaming is changing for the better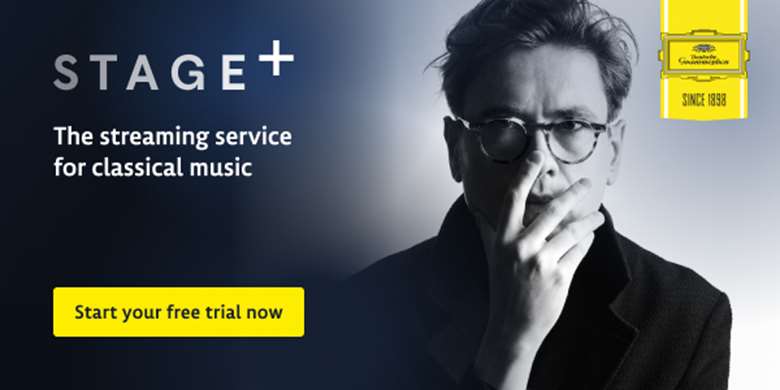 It's been a long wait, but at last, classical streaming is coming of age. Out with the confusing, the inconsistent, the variable and the limited. In with the comprehensive, the clear, and the one-stop-shop. No surprises that it's Deutsche Grammophon setting the agenda, as it has since 1898.
After the upheavals of digitalization and the pandemic, we expect something more versatile and thorough from recorded media, and STAGE+ promises to provide it. This is your essential destination for classical music video and audio in a multitude of forms: albums, filmed performances, live concerts and operas on screen, documentaries, interviews and more. STAGE+ offers 'limitless creative and curatorial possibilities'. To deliver that, it has gathered all its best content in one continuously updated digital space.
Whether streaming an album, tuning in to a live event or catching up on some of the most talked-about recent opera productions or festival appearances, STAGE+ promises the very best, in line with its parent company's 125-year reputation for quality. 
Performances are presented in up to 4k video or Dolby Atmos or Lossless audio. The STAGE+ app already works with your Phillips, Sony or Hisense Smart TV and will soon be installed on more. Most importantly – and as always – STAGE+ will bring you artists right out of the top drawer.  
Those artists come from inside and outside DG's stable, from the past and from the present. Want to re-acquaint yourself with Bernstein's Vienna Philharmonic Beethoven cycle? You can. Want to check in on great performances from Kleiber, Karajan and Böhm? No problem. Eager to hear that Rachmaninov marathon from Yuja Wang, Gustavo Dudamel and the Los Angeles Philharmonic that has been the talk of so many towns recently? It's there.
The platform adds to its 400+ catalogue of performances every week with live streams from around the world. You can eavesdrop on Rafael Payare's blossoming tenure at the Orchestre symphonique de Montréal, Renaud Capuçon's performances at the Salzburg Festival, John Williams conducting his masterful scores in Tokyo or Janine Jansen performing with the Czech Philharmonic. Documentaries take you inside the creative minds of artists from Anne-Sophie Mutter to Max Richter. For excitement and intrigue, nothing beats following major music competitions like the Busoni Competition, in real time, from Round 1 to the Grand Final.
DG continues to lead in the field of meticulously recorded classical music. STAGE+ offers you those recordings to stream, but with benefits. If you enjoyed Fabio Luisi's Gramophone Recording of the Year Award-winning performances of Carl Nielsen's symphonies – available to stream, naturally – you can watch the series of Nielsen Festival concerts that followed, recorded live in Copenhagen in April 2023.  
Are you a Víkingur Ólafsson fan? Stream his exceptional studio recording of Bach's Goldberg Variations, watch him live in recital and spend 45 minutes in his company courtesy of the documentary Scenes from Afar.
STAGE+ will offer exclusive or privileged access to some of the most prestigious events in the classical music calendar. Already available to stream are Jay Scheib's 2023 production of Parsifal at the Bayreuth Festival under Pablo Heras-Casado – part of the most comprehensive catalogue of modern audio-visual performance from the Wagner festival available digitally. Add to that filmed performances from prestige events that take you inside some of the most beautiful, iconic theatres and concert halls around the world – new and old.
A changing world needs an up-to-date approach to streaming. But with technological developments have come artistic shifts. As well as taking you to Bayreuth, Salzburg and LA, STAGE+ will lead curious listeners and viewers into the fascinating, emerging classical music scenes of Iceland, Japan and Korea. From Reykjavík to Budapest, from Prague to Seoul, the platform will ensure you experience the most important classical musicians of this century and the last – whether or not you know them yet.
Find out more about STAGE+: stage-plus.com