Wilhelm Kempff, a profile by Stephen Plaistow (Gramophone, May 2004)
James McCarthy
Wednesday, May 8, 2013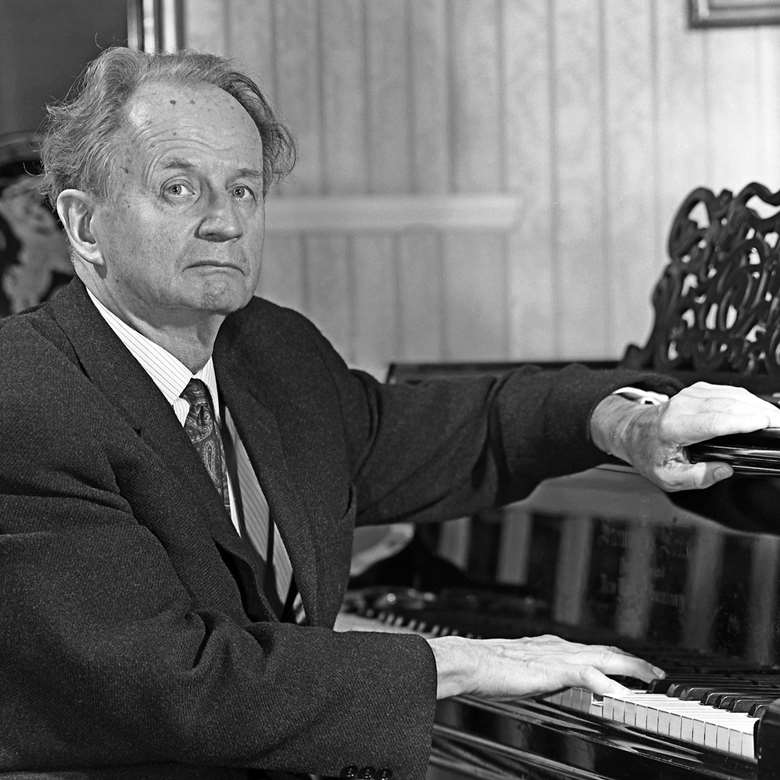 Wilhelm Kempff had a long career which blossomed through two decades after the deaths of Artur Schnabel and Edwin Fischer in the 1950s. Yet he never carried the flame for the Austro-German repertory quite as they did, or as Alfred Brendel has done in our own time. Earlier he had worked with such conductors as Nikisch and Furtwängler, but among celebrated German players who were reestablishing themselves after World War II the brilliant and mercurial Gieseking and the ever reliable Backhaus were often preferred to him. Kempff was not renowned for reliability. As he admitted, there were times in his life when he was a casual worker and should have practised more.
In fact, he was very much his own man, enriching the tradition which had nurtured and nourished him in often surprising ways. You could never mistake him – his luminous sound was instantly recognisable – but he was variable and unpredictable. Above all he was spontaneous. He played a great deal and liked recording, but in an age which came to put such value on high polish he was sometimes undervalued. In his youth he had been quite dashing, but there is agreement that the full distinction of his musical personality emerged only in the 1950s, in his middle age. In Germany it was really only in his later years that he was venerated. Alfred Brendel told me that the critics had sometimes given him quite a hard time – that was the case in this country too. It was as though his face didn't quite fit. As Yehudi Menuhin, one of his partners in chamber music, put it: 'a pianist who remained true to the age when clock and metro-nome had not yet taken over the organic rhythm of the music and who was truer to our age in his self-discipline'. Through periods of changing ideologies, Kempff continued the lifetime's work of being an artist, as he saw it. Menuhin thought him the noblest exponent of the German tradition.
Early days and Joachim
Brahms and Clara Schumann were alive when Kempff was born, and it was Joseph Joachim who advised on the young man's musical education. He played to Busoni, heard Eugen d'Albert, one of Liszt's greatest pupils, and his own teacher, Heinrich Barth (also Artur Rubinstein's), had been a prize pupil of Hans von Bülow, Liszt's son-in-law. More pertinent than all that name-dropping is the fact that on his entry to the Berlin Conservatory (at the age of nine) it was into a musical world in which the great German 19th- century traditions of piano playing and composition were still vital.
His recording career spanned 60 years, all of it for DG save for an important period in the 1950s, in the early years of the LP, when he made records for Decca at its West Hampstead studios in London. My information is that his first 78 was of Beethoven's Ecossaises and one of the Op 33 Bagatelles. I've heard another from the 1920s of the Schumann Toccata, slightly cut and driven flat out in order to fit a four-minute side. Schumann as well as Beethoven had been close to Kempff since his boyhood, but performing bravura pieces didn't really interest him and they eventually fell from his repertoire.
Acclaim for his Beethoven playing came early: his début with the Berlin Philharmonic and Nikisch was in the Fourth Concerto, in 1918, and he had included the Hammerklavier Sonata in his first Berlin recital. A date of 1926 is given for the beginning of his first sonata cycle for DG, which if true would put it several years ahead of Schnabel's enterprise for HMV. But Schnabel completed his cycle and Kempff didn't, not quite. Two complete ones were to follow, however, the second a stereo remake in the mid-1960s. Unlike Schnabel and Fischer, Kempff was quite at ease in the studio, unperturbed by the technical processes. There, as on the platform, the inspiration of the moment was all-important and his performances sought to communicate new discoveries. Not that there was anything frivolous in his pursuit of spontaneity; what he did, if impulsive, was driven always by artistic will.
Beethoven, a passion for life
His Beethoven was magisterial but human – not god-like. He saw himself as the medium of the music's transmission, and when on song it was the music itself which seemed to be playing. Favouring neither very slow nor very quick tempos, he could grade line and sound over wondrously long spans, as if bar-lines didn't exist, and lay out a slow movement as if painting a canvas, inviting us into a space and making us aware of the highs and lows, the movement, the shadows and the quality of the light. He played like a composer, and indeed he was one. His colouring went always with the movement of the harmony and he kept larger shapes as sharply in focus as the detail. It is, I think, essentially an intimate, lyrical scale of performance, though far from a circumscribed one; his sonority had easy access to strong statements. He was a master at making his tone and cantabile carry even at the softest dynamic. Perhaps that is something his pupil Mitsuko Uchida got from him.
His exceptionally successful career as a concerto player reveals another side to him. Brendel remembers visits to Munich in the 1950s to hear him in the Beethoven concertos, which were 'full of wonderful things'. His two Beethoven cycles with the Berlin Philharmonic from the 1950s and '60s, respectively, have achieved near-classic status and rarely been absent from the catalogue. The stereo version with Ferdinand Leitner is the better known, but I've recently enjoyed renewing acquaintance with the earlier, conducted by Paul van Kempen. Kempff's playing has a fine range of sound and does not lack power, but it is a complete rhetoric of persuasion and authority, vivid even when speaking quietly, and one senses the orchestra being led and inspired to make a discourse with him. It was in the 1950s that he produced some of his best work, and the concerto recordings from this decade also include a Schumann Concerto with the LSO and Josef Krips, treated as a delectable narrative from start to finish, two Mozart concertos, an impressive Brahms No 1 with Konwitschny and the Staatskapelle Dresden, and the two Liszt concertos. The Liszt were with the LSO again, on an occasion when his relaxed pianism and distinction in this composer did not find receptive partners, alas, and the performances come into focus only when Anatole Fistoulari isn't trying to sex them up. Bad old days and an opportunity missed.
But they were good days for a player at the height of his powers who had a large repertoire, a phenomenal musical memory and a well-stocked mind. The long-playing record was a recent invention and new catalogues needed to be assembled, and later, of course, new stereo recordings as well. Kempff was just the kind of artist companies were keen to work with. The Liszt solo pieces he set down on LP for Decca in the '50s, along with much Brahms, some Schumann and some Schubert, have found their way, many of them, into the three representations of Kempff in the Great Pianists of the 20th Century series. Brendel recalls that Kempff's concerts and recordings of the '50s 'disclosed to me what Liszt's music was about: no-one played the Legends or the Gondoliera like him. And no-one else at that time presented a Schubert sonata as a work that orchestrally filled large halls.' In Liszt, as in Schumann, it was Kempff's perception that their inspirations nearly always derived from a poetic or literary idea which it is the function of the pianist's virtuosity to serve, not to exploit. Their compositions are hard for every pianist, but he did not regard the difficult numbers as virtuoso challenges to be confronted and despatched. Always the music had to be paramount, and beautiful sound, and a control of singing voices under the fingers that should follow Liszt, Schumann – anyone – instinctively in the exploration of the piano's potential.
Indian summers
No doubt the pieces in Liszt's Italian books of Années de pèlerinage – recollections of that country's visual arts and poetry – particularly appealed to him, the cultivated German who felt the Drang nach Süden, the pull of the South, and spent a lot of his later life in Italy, at Positano, playing and teaching. Every summer he held courses on Beethoven there, quite privately, to young players of special ability he wanted to encourage. Definitely not the kind of public master classes with people paying for admission and TV cameras everywhere. I'm told he had a garden of exquisite beauty and knew every flower, every stone, every bird-call and all the formations he observed in the night sky.
The three CDs in the BBC Legends series are documents of what he sounded like towards the end of his Indian summer and have many treasurable things. They derive from recitals in London at the Queen Elizabeth Hall, recorded for broadcast, some of which I produced. My head of department, who did not like his playing, used to question why I was always so keen to record 'Hitler's favourite pianist', but I'm glad I got my way. Not much time to talk but on the last occasion I remember his inquiry about the best way to get to Kew Gardens, a visit planned for the following morning. I remember too my surprise, and I probably gave over-detailed instructions about the North London line, but now it all seems to fit.
It is a large discography, and uneven, but when the right wind blew Kempff could produce playing in which energy and grace were held in ideal balance – in which indeed he appeared to do little but to miss nothing, free as a bird. It is playing which tends to stay with you, if you respond to it at all, like Schnabel's and Edwin Fischer's and Cortot's, and in the years since his death his stock, like theirs, has continued to rise.
Click here to subscribe to the Gramophone Archive, featuring every page of every issue of Gramophone since April 1923