Contemporary composer: Augusta Read Thomas
Richard Whitehouse
Monday, March 20, 2017
This composer's career may have been spent in teaching but her music is hardly staid and academic, argues Richard Whitehouse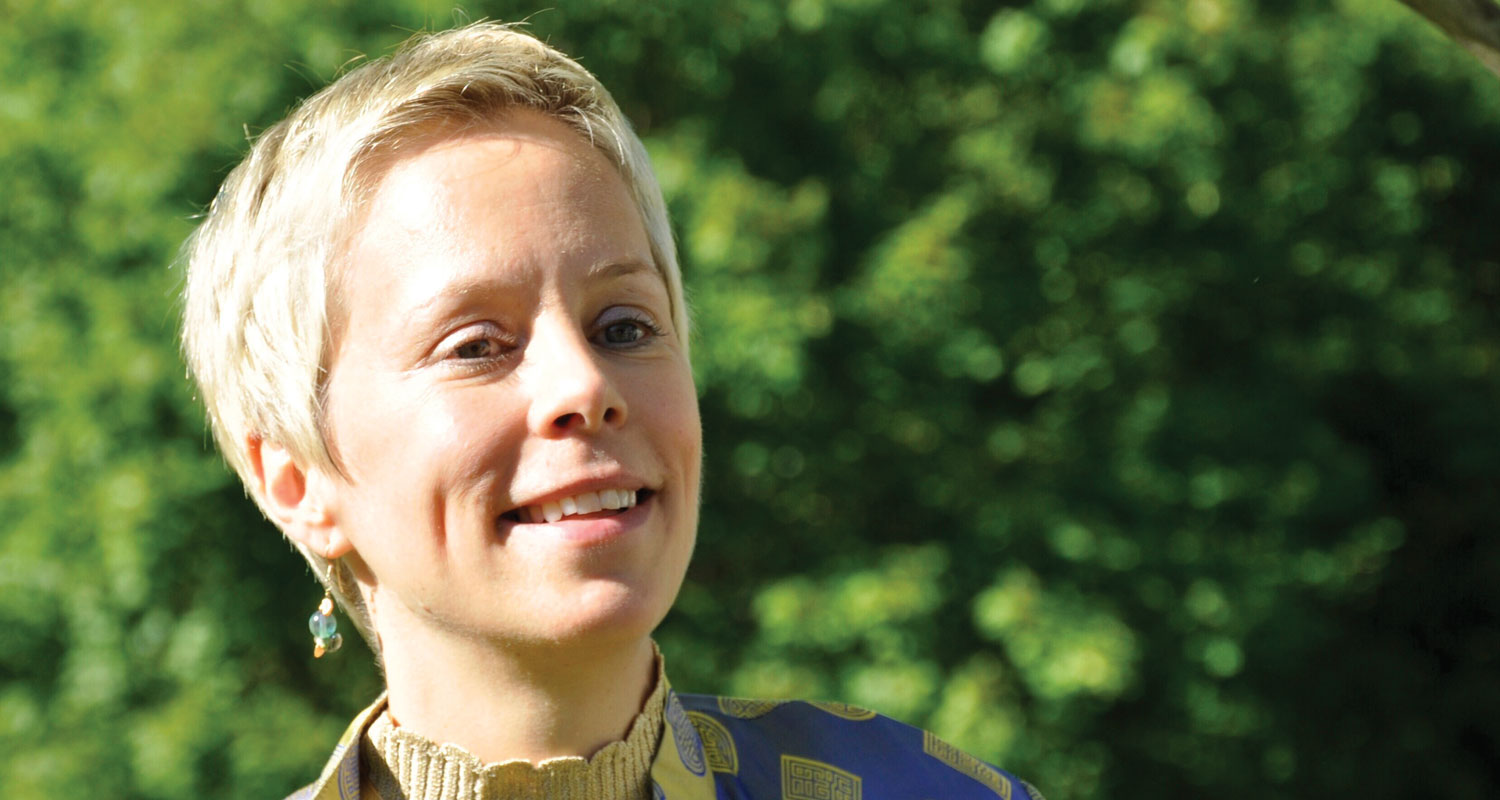 American classical music this past quarter-century has been dominated by the minimalist aesthetic that came to the fore as a reaction against the modernist thinking which had previously held sway. Currently it represents a virtual lingua franca in terms of its influence on mainstream composers. Others, however, have looked back (not in anger and still less out of nostalgia) to an era in which aspects of modernism were linked to a freely evolving tonality so that new possibilities were opened up for exploration. Only recently has this approach regained prominence, with Augusta Read Thomas being among its leading exponents.
Born in Glen Cove, Long Island, in April 1964, Thomas studied at Yale University and later at the Royal Academy of Music in London and Chicago's Northwestern University. To speak of influences is often unnecessarily subjective, yet two composers with whom she came into contact during this period were to leave their mark on her music in the most direct and positive sense. From Jacob Druckman (1928-96) she absorbed the value of instrumental colour as a formal and expressive component rather than just an external dressing, while in Donald Erb (1927-2008) she had the example of an orchestrator who was second to none in this respect among American composers of his generation. What this gave to Thomas's music from the outset was its clarity of conception and precision of gesture (whether in the briefest of instrumental miniatures or in large-scale orchestral works), which act as the focus for her often intricate textures and iridescent harmonies – thereby ensuring that her work exudes an immediacy and a communicativeness whatever its degree of complexity and dissonance.
This leads on to the criticism – disguised as observation – that her music is academic or staid as to its intrinsic qualities. Such an epithet has often been applied to composers whose careers have been spent in teaching (thereby supposing that writing for films or commercial concerns were guarantees of artistic freedom or integrity), and while Thomas has long been committed to education (having taught at the Eastman School of Music and Northwestern University and more recently having been appointed University Professor of Composition at the University of Chicago), this hardly equates with her freedom of musical thinking with its avoidance, or at least its radical reassessment, of traditional formal models and its embracing of elements derived from jazz and improvisation. In her own words, 'Although my music is highly notated…I like [it] to have the feeling that it is organically being self-propelled…As if we listeners are…overhearing a captured improvisation.'
Another reason why Thomas's music has been easy to underrate is its sheer consistency. There are few minor or peripheral works in her now sizeable catalogue, while the achievement of her major pieces is seldom outstripped by their ambition. Whereas others of her contemporaries, moreover, have tended either to fulfil their high-profile commissions with a uniformity that borders on dullness, or to attempt changes in stylistic direction with an obviousness that borders on the superficial, Thomas has stayed true to those principles evident in her earliest acknowledged works – so making the trajectory of her output one of incremental and subtle evolution, which in turn enhances its sense of being an integrated and self-sustaining unity.
Thomas's recorded profile used not to be a little curious in that although numerous of her works had been made available commercially, a majority of these tended to appear as part of multicomposer discs or miscellanies – and this made acquiring her music a lengthy as well as an expensive process. The composer seems to have recognised this, having subsequently issued five discs under her own auspices (which enjoyed only a limited circulation) and then, more recently, having come to an arrangement with Nimbus that has so far seen the release of three discs which, when taken together, afford a representative overview of her output.
The first of these focuses on her music for orchestra, the second on chamber and piano works, while the third is a portrait drawn in large part from a concert to mark her 50th birthday and presented by the New Haven Symphony Orchestra – with whom Thomas was Composer-in-Residence. One piece from each of the discs has been selected here to illustrate the range and diversity of her output, besides all being significant and worthwhile compositions in their own right.
Words of the Sea (1995-96) is a symphonic suite that recalls more progressive aspects of post-war American music in its purposeful and virtuosic trajectory towards a luminous apotheosis. Assuredly an orchestral showpiece with substance, it gets an account of unstinting panache by the Chicago Symphony Orchestra (with whom Thomas was Composer-in-Residence from 1997 to 2006) directed by Pierre Boulez, who has been a consistent advocate of Thomas's music during recent years. Starlight Ribbons (2013) is her most extended piece for solo piano, and one amounting to what might be termed a 'rhapsody' in which a wealth of allusions (though never quotations, as such) to other composers have been integrated by dint of her resourceful and idiomatic writing for this instrument – not least as realised here by Daniel Schlosberg. Finally, the song-cycle Absolute Ocean (2008) has recourse to ee cummings (a poet with whom Thomas has a deep affinity), setting three of his poems for soprano and an orchestra in which the obbligato role for harp comes to the fore during a sensuous interlude – for the Debussian line-up of flute, harp, violin and viola – prior to the final song, 'open your heart', whose mingling of poignancy and ecstasy ranks among the most affecting vocal works of recent years. Any of these pieces would make an ideal point of entry into Thomas's music.
From among the major works that still await recording, perhaps the most important is Helios choros (Sun God Dancers), a triptych for orchestra which was written during 2006-7 and is also envisioned as a ballet. London audiences had the chance to hear some of this when the central part was performed at the Barbican by the London Symphony Orchestra (who co-commissioned it) with Daniel Harding in December 2008. Taking as its starting point the legend of the sun god and his chariot-rides across the sky as evoked by the 'chorus' in ancient Greek drama, its sophisticated use of sizeable forces makes it a 'concerto for orchestra' in all but name, while the formal follow-through has a cohesion that might reasonably be called symphonic. The energetic opening section makes use of motifs which are resourcefully deployed in the slower music that ensues, followed by a 'scherzo' of heady velocity, then an 'intermezzo' of teasing reticence, before being capped by a final section whose culmination in propulsive rhythmic unisons makes for a decisive rounding-off and also a powerful transition to what follows.
Helios choros is a real achievement, then, in representing a distinctive present-day figure at something like full stretch. With any luck the work will find its way to commercial release, underlining Thomas's creativity as she embarks on her sixth decade – and with her reputation surely destined to make her one of the leading composers in the first half of the 21st century.
Recommended recordings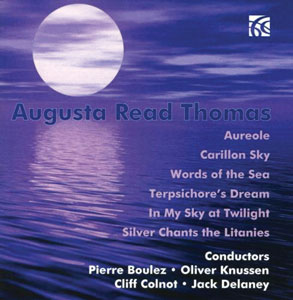 Selected works for orchestra (incl Words of the Sea)
Various artists
Nimbus Alliance (4/14)
The six pieces here make for a viable perspective on Thomas's music across almost two decades. With artists such as Pierre Boulez and Oliver Knussen taking charge, the excellence of the performances is assured.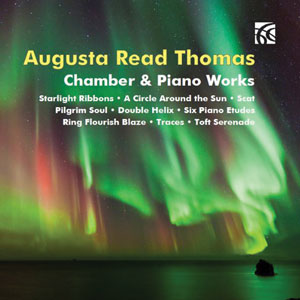 'Chamber & Piano Works' (incl Starlight Ribbons)
Various artists
Nimbus Alliance (8/14)
This disc of chamber and piano works reaffirms the consistency as well as the versatility of Thomas's idiom. The performances are again unfailingly responsive to her finely wrought and bracingly immediate language.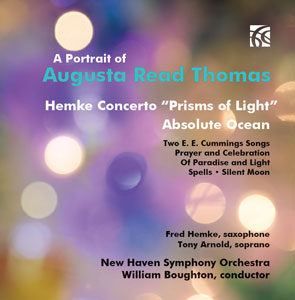 'A Portrait of Augusta Read Thomas' (incl Absolute Ocean)
Various artists
Nimbus Alliance
This latest Nimbus release presents a well-rounded 'portrait' of Thomas. Six of the works included here were given at a 50th-birthday concert by the New Haven Symphony Orchestra, in itself a conspectus of her wide-ranging output from the past decade.
This article originally appeared in the September 2014 issue of Gramophone. To find out more about subscribing, please visit: gramophone.co.uk/subscribe
Thomas facts
Born

April 24, 1964, in Glen Cove, NY

1983-87

Studies with Alan Stout at Northwestern University

1986-89

Studies with Oliver Knussen at Tanglewood

1988

Completes studies with Jacob Druckman at Yale University

1989

Postgraduate studies with Paul Patterson at theRoyal Academy of Music

1993-2001

Assistant then Associate Professor at Eastman School of Music

1997-2006

Mead Composer-in-Residence with Chicago SO

Sept 8, 2001

UK premiere of Aurora by Daniel Barenboim and Chicago SO at the BBC Proms

2001-06

Appointed Wyatt Professor of Music at Northwestern University

Dec 14, 2008

World premiere of Helios Choros II by Daniel Harding and London SO at Barbican Hall

May 2009

Inducted into American Academy of Arts and Letters

Sept 9, 2009

UK Premiere of Third Violin Concerto by Frank Peter Zimmermann and BBC SO / Bělohlávek at the Proms

2009-11

MUSICALIVE Composer-in-Residence with New Haven SO

2009

Artistic Director of Contemporary Music Festival, Tanglewood

2011-present

Professor of Composition at University of Chicago