To say that Nicola Benedetti's life hasn't slowed down since our last chat for Gramophone back in 2016 (July issue) is an understatement. That previous occasion was linked to her first 'non-mass-market-appeal' album for Decca, of Shostakovich and Glazunov concertos; and with a packed concert diary, plus a crammed education portfolio that combined her work as BBC Ten Pieces Ambassador and Sistema Scotland board member with running her own Benedetti Sessions masterclasses and workshops, her only sliver of free time was her lunch break after a photoshoot for a high-end fashion magazine (we ended up doing the interview in the studio's dark, concrete-walled holding room, which was so cold that Benedetti eventually had to wrap herself in both her own biker jacket and her PA's woollen overcoat).
Fast forward to the present day and things are even busier. In terms of concerts, her diary is featuring an increasing number of major international dates, such as her Orchestre de Paris debut last summer under the baton of Karina Canellakis. To her previous educational activities, she can now add roles with the National Children's Orchestras of Great Britain, the National Youth Orchestras of Scotland, the Music in Secondary Schools Trust and the Royal Conservatoire of Scotland, alongside the launch of 'With Nicky', her YouTube tutorial series, and most recently, her very own charitable organisation, the Benedetti Foundation. But until now, there have been no albums since that Shostakovich disc – suggesting, perhaps, that nowadays Benedetti will only record something if she has something very specific to say. And the fact that the recording we're discussing today, over tea in a cosy west London cafe, is of two pieces (Violin Concerto and Fiddle Dance Suite) written for her by jazz supremo Wynton Marsalis surely supports this idea.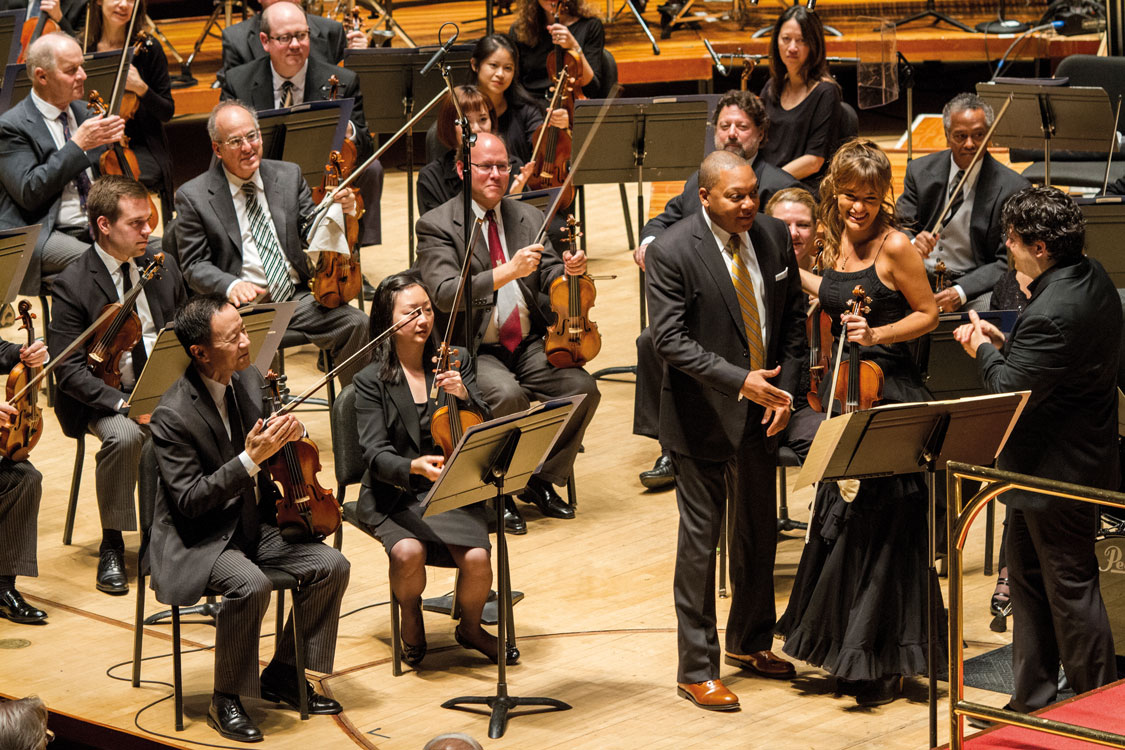 Captured in concert for the album: a triumphant composer, soloist and conductor united on the Verizon Hall stage (photo: Luigi Beverelli)
The concerto (four movements drawing on Western classical music from the Baroque through to the 21st century, plus Marsalis and Benedetti's combination of African American, Celtic, folk and dance musical roots) is a story of past and progress. 'I've known Wynton and his music since I was 17,' she tells me when I ask how the work came about, 'and his sound world has a very unique mix of influences. To have somebody who has actually studied – from both a compositional standpoint and a playing standpoint – the music of Haydn, Bartók and Shostakovich and, equally, that of Duke Ellington, Miles Davis, Art Blakey and all the jazz musicians that he has played with, is unusual.'
A turning point came in 2012, when Benedetti went to see Sir Simon Rattle conduct the LSO in the British premiere of Marsalis's Swing Symphony. 'There was something about the vibration in the hall once that piece finished that I'd never experienced in a concert hall before,' she recalls. 'When I think of uplifting music, it's usually quite virtuosic and proud, whereas this work has a very different type of uplift. Wynton describes dance as a show of freedom in the face of adversity, and there was something of that feeling in us all that night. From that moment on I was determined that he should write more for symphony orchestra and more for the violin. So it was two years of me and many people I work with trying to get him to agree to do it. First he was going to write a solo violin piece. Then eventually he agreed to a concerto, at which point we set about getting orchestras to commission him to do it.'
'For me, uplifting music is usually quite virtuosic and proud, whereas Wynton's music has a very different type of uplift'
Six commissioning bodies were subsequently found: the LSO, Ravinia, the LA Phil, the National Symphony Orchestra (Washington DC), the Gewandhausorchester Leipzig and the Netherlands Radio Philharmonic Orchestra. The resulting piece (completed in 2015) has already been performed 15 times between its November 2015 premiere with the LSO under James Gaffigan at the Barbican and the making of this recording – and not just by its commissioners, either. Benedetti's forthcoming performances are with orchestras such as the Lucerne Symphony Orchestra, the Gothenburg Symphony and the Orchestre de Paris, while the recording is with the Philadelphia Orchestra (conductor Cristian Măcelaru had performed the concerto six times previously). 'There were just lots of different connections,' Benedetti explains. 'I had performed with the Philadelphia, although not this piece; they wanted to play it, and Cristian has an amazing relationship with them. We did a pretty intensive week of rehearsals followed by two recorded performances, so the recording of the concerto is as-live.'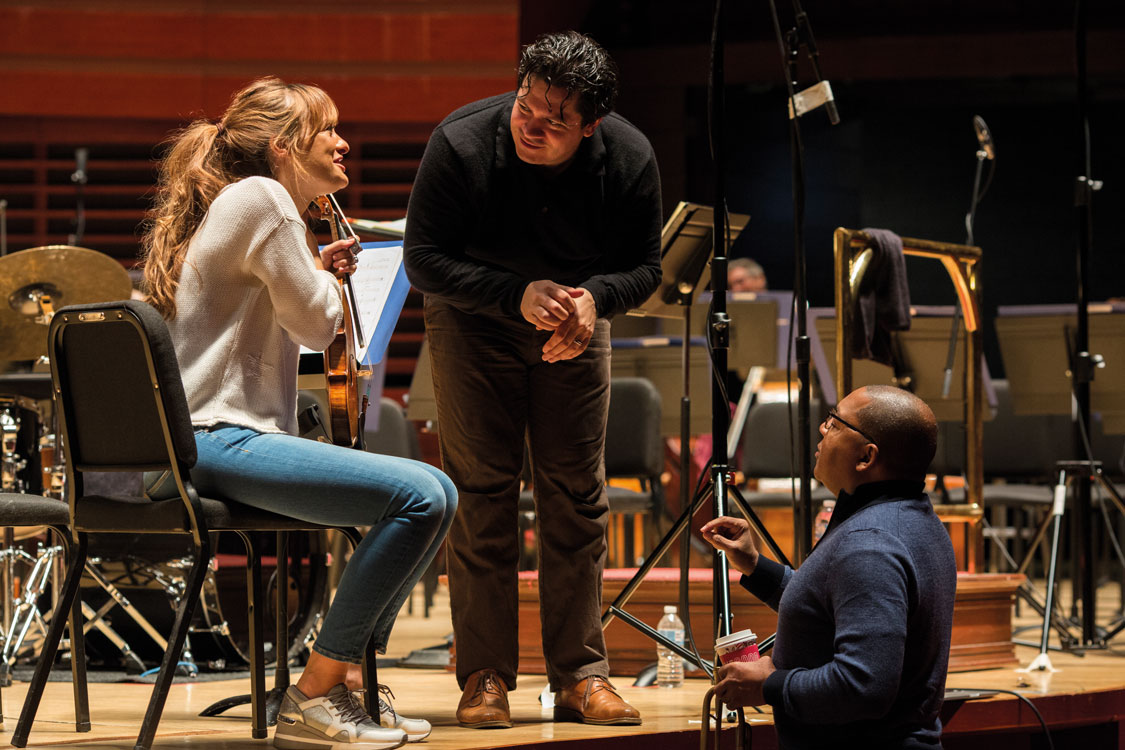 Benedetti with conductor Cristian Măcelaru and composer Wynton Marsalis during rehearsals of Marsalis's Violin Concerto in Philadelphia in early November 2017 (photo: Luigi Beverelli)
Technically, the concerto puts the soloist through their paces, and future violinists can blame Benedetti for that. 'The first thing Wynton sent me was way too easy and I told him so,' she says flatly. 'I spend all my time working on pieces that I cannot sight-read. You can't really sight-read Brahms's Concerto; it takes you a while to sound remotely decent playing it. So I said that he had to make this one of those pieces that I would look at and think, "Help! I may not be able to play this", and then with hours of work I would be able to. So he set about doing exactly that.'
There's also the challenge of achieving non-classical tonal colours. Benedetti gives an example: 'In the first movement, the section just before the main theme's final recapitulation is a slow kind of a cold blues, and to help me try to get that warmth and coldness at the same time in the sound, Wynton sent me a load of different Miles Davis recordings.' So how do you do it, I ask? 'It's all things at once,' she returns, bringing an imaginary violin up to her shoulder to demonstrate. 'You can try to play with less vibrato, but still have warmth in your sound; you want to have a kind of a pull through your sound, like a kind of longing – but not soupy, all-out expression; so essentially you have to be really, really controlled, and not do what you feel like doing.'
The Fiddle Dance Suite for solo violin, composed more recently, in 2018 (and recorded in the UK, at the Menuhin Hall, in March this year), represents more meetings of Marsalis and Benedetti's respective cultures. 'This is like an exercise in how similar African American is to Celtic,' she begins, before breaking off and laughing. 'Which sounds really funny! But it is actually fascinating. Wynton talks about the relationship between fiddling and slavery – that you could get the most money for a slave who could fiddle – and in fact there are endless connections and commonalities. To think that a strathspey could actually relate to the blues! And yet the fourth movement of the suite, "Nicola's Strathspey", is my favourite one of all – combining the tonality and the sensibility of the blues with a strathspey rhythm and form just works so well.'
Does this non-classical language therefore mean that these two works sit slightly separately from the rest of her repertoire then? No, says Benedetti. 'Learning some of the styles felt further away,' she admits, 'but they don't now that I've actually learnt them. The pieces don't feel different from my other repertoire, any more than Vivaldi feels different from Shostakovich. This is just another cloak.' OK, but are these works perhaps tapping into what appears to be a growing eclecticism in how people listen to music these days? 'I would say that people are a little more open to different styles of music,' Benedetti concurs, 'but what I'm really interested in is always capturing those who listen with a real consciousness and curiosity. So linking that to Wynton, I think his music is a beautiful exploration of how supposedly "crossing genres" is actually a much more honest portrayal of anybody living in a country like America or a city like London today – of how our history has made current members of society the way they are and look. His concerto is a portrayal of so much more than just music.'
She hasn't finished, though: 'I don't really like apologising for the look and gender and race of the people who have written most of the music that we celebrate, though,' she adds, thoughtfully. 'It's just a fact that in our European history the people who were able to take their skills to the nth degree, or to study something or to effect change, were often white men, and I don't think that lessens the power of their music. To then link that to Wynton, I think his music is likewise of a level that can be studied, owned and enjoyed by anybody who looks like anything.'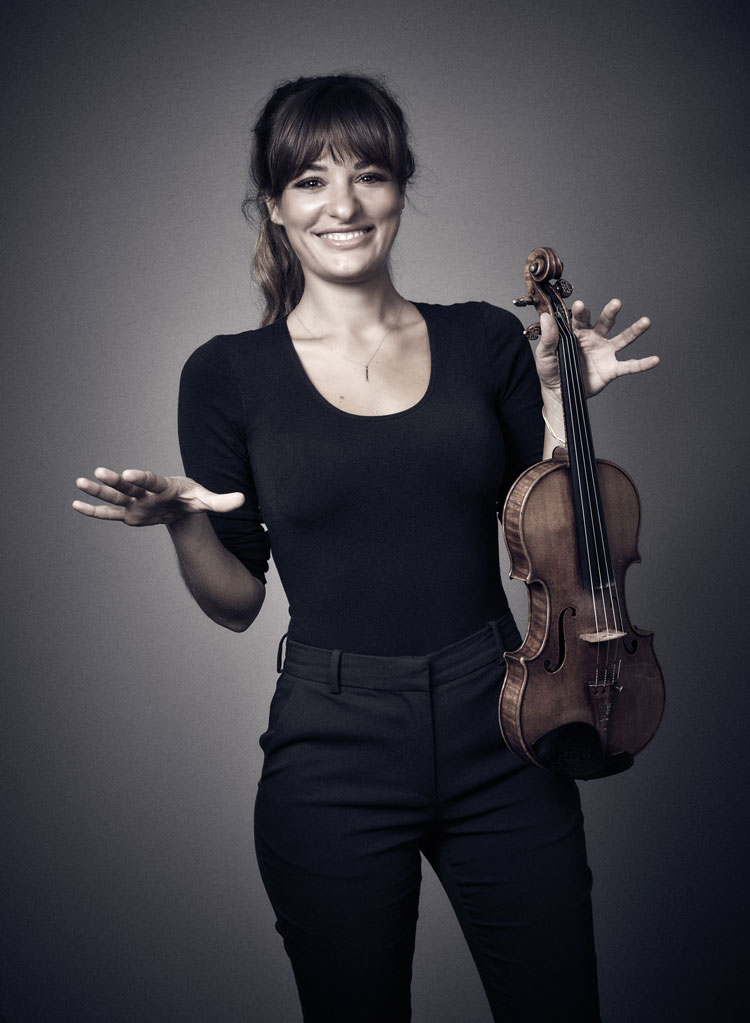 We move on to talk about the Benedetti Foundation, a series of orchestra-based weekend workshops designed to inspire and address the needs of young players and teachers by showcasing the highest-quality work currently being carried out in both fields. 'The first year we will focus on strings only,' she outlines, 'because we have to start somewhere – so start where your home is. We have a complete two-day course for teachers, and for students we have a class for those literally just starting to play, an intermediate orchestra for Grades 3–6, and an advanced orchestra for Grade 6 upwards.' Unsurprisingly, the foundation is partnering with charities, thereby ensuring a fair socio-economic representation 'to see what a true societal cross-section looks and feels like'. As a follow-up, teachers and students will then be directed towards Benedetti's 'With Nicky' YouTube series, which is currently covering multiple aspects of violin technique, but will eventually branch out to include other instruments and general musicianship.
There are also Benedetti Foundation ambassadors – college and university students who combine phenomenal playing with an interest in 'the passing on of what music-making can look like'. As Benedetti explains, 'We want to try to see if we can make any headway in looking at another style of vocation within music performance and music teaching which binds rather than separates out those two categories – one that shows there is unbelievable power in an incredibly high-quality performance, but that performance can also take place in a school hall.'
'I still feel like my playing is improving all the time, and that's what's most important to me'
Benedetti once said to me that were she not a violinist she would be a campaigner. Is she doing all this because she feels it's a musician's moral duty? Her answer is voiced slowly and carefully: 'I think there are some rare people in the world who, through pure and absolute dedication to just playing their instrument, have gifted us with some of the most powerful music-making our world has known. But I would venture to say that if we can help create a different and exciting environment within which many more musicians felt that they would want to participate, I think many more would.'
But how does she have the time to combine all this with her career as a performer? 'I think I have enough love, and therefore energy, for all of it,' she begins. 'But it won't work if I'm not also intelligent about it. One thing I've really learnt with regard to playing is that at this stage of my life, having practised for thousands of hours, how I play is more related to my state of mind than it is to practising for more thousands of hours.'
We've overrun. Both of us need to be elsewhere. But as we pack our bags I finish by asking her where she feels she is right now, overall. 'I still feel like my playing is improving all the time, and that's what's most important to me,' she says. 'The rest – well, if people like it, great; if they don't, also great. I have cherished, wonderful relationships with a lot of conductors now, and also with many orchestras. So I'd say I'm fairly happy in my career.' She pauses, then adds, 'If you want to call it that.' I'd say we do.
Nicola Benedetti's album of music by Wynton Marsalis is out now on Decca Classics. Read the review here.
This interview originally appeared in the August 2019 issue of Gramophone. Subscribe to Gramophone, the world's leading classical music magazine, today!