'Restless traveller': an exclusive interview with pianist Alexei Lubimov
Peter Quantrill
Wednesday, April 2, 2014
On the eve of a rare UK appearance, the enigmatic Russian pianist talks to Peter Quantrill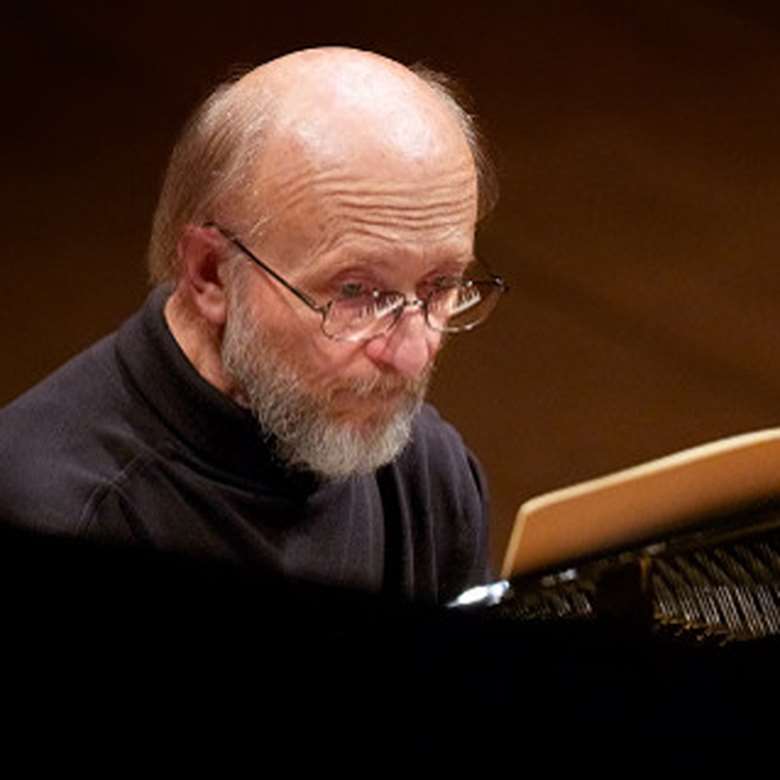 'It's a typical programme for me,' says Alexei Lubimov of the quite untypical programme he's playing at the Institut Français on April 4, to open the Institut's now annual festival, It's All About Piano. 'From my youth I was mixing modern and classical pieces. Doing this in the Soviet Union at the beginning of the 1970s was certainly unusual, but I was deeply influenced by Maria Yudina – she wasn't my teacher, but my actual teacher, Anna Artobolevskaya introduced me to her, and soon I was with her, turning pages for her at her concerts, talking with her back at her flat. I followed or imitated her style instinctively.' Yudina has an almost hallowed reputation nowadays as an artist whose deep personal and religious convictions made her work outside the rigid Soviet system of musical accomplishment, famously standing up to Stalin and performing the widest range of music including the modernists such as the Second Viennese School composers condemned as 'Formalist' by the Soviet authorities. It's clear that such principles rubbed off on Lubimov, who in his twenties formed a path-breaking Russian ensemble, Music for the 20th century, which gave many Russian premieres of new music alongside Baroque works. This appetite for cultural experience spans four languages, with English as the last of them.
His forthcoming recital is no less bold in its way, with the appearance of enclosed Russian dolls: minimalist miniatures by Pärt (Partita, Diagrams and For Alina) and Satie (Ogivies) within classics by the two giants of the first half of the 20th century, the Sonata by Stravinsky and Suite by Schoenberg, these being bookended by two mature piano sonatas by Mozart (K311 and K457). It's clear, talking to him, that the recital represents the artistic principles and philosophy that he holds most dear, and which has led him on a journey in a quite different direction from the virtuosos trotting the globe with Romantic concertos. 'It's not that I want to avoid Romantic music,' says Lubimov, 'but I often feel that Chopin, Liszt, Brahms and their contemporaries are heard so often, I want to do something different.
'The programme is very mixed, like a kind of salad, trying to avoid just one way of playing. The Satie is a small reverence for French music at a French festival. I don't perform him so often' – though Lubimov did make a richly allusive recording of the rarely performed piano cycle Le fils des Etoiles. 'I came to him through Cage. Early Satie has very strong ideas behind the sound-façade, not just anti-Romanticism but avoiding personal emotion and working in very simplified forms, like the Ogives, which are built like cross forms in a cathedral. The form is non-developmental, more like a state of mind, sometimes drifting.'
Just as Yudina turned Lubimov's classical pianistic education (at the hands not just of Artobolevskaya but the doyen of Russian teachers, Heinrich Neuhaus) in a more radical direction, contact with a contemporary generation of composers within the Soviet Union proved decisive. Arvo Pärt was one of the most famous composers to reject not only the strictures of a Communist aesthetic but also the complexities of Western modernism to reconnect with long-buried religious and spiritual feelings that demanded a new simplicity of expression. 'Pärt discovered medieval music for his own purposes, just as Stravinsky discovered Renaissance music such as Gesualdo. For them the world was empty. Pärt based his music on strict polyphonic lines and the Partita is very neo-classical.'
Pärt is just one of a generation of composers such as Silvestrov and Martynov championed both in concert and on record by Lubimov. 'Martynov is one of the most impressive minimalists in Russia, but also Alexander Rabinovitch' – whom we are more accustomed to hear as Martha Argerich's duet partner. 'All these composers broke from the avant-garde in the 1970s, but they can't be considered minimalist in the American tradition. Instead they base their music on rich, Romantic 19th-century clichés. A work such as Silvestrov's Kitsch-musik tries to analyse the Romantic emotion in itself. All these composers, made their own discovery of religious mysticism, looking beyond tonal relations towards the cosmos, to reach a point where the music is not just either construction or pleasure, but a sign of a more universal language. There is a deeply based eschatology in the Russian psyche, a sense that our lives are part of a much bigger cosmos, and this isn't expressed as a position so much as a vision. After the modernist, highly individualistic music of the 20th century, there is now a wish or tendency to come back to roots or sources of music. Not just notes. And yet there is a certain irony to the transformations of a composer like Silvestrov. I like the position of irony, bringing distance, suggesting something serious and yet not-serious.'
This credo inevitably made its mark on Lubimov the performer. 'I became interested in Buddhist and Oriental literature which I used to read in samizdat translations, because of course this kind of thought was almost banned in Soviet Russia. I met Stockhausen in Brussels in 1968. I was 24. And he performed Hymnen and Aus der Sieben Tagen with his ensemble. He sent me books on Sri Aurobindo while I was there. The next important impulse came from books on Cage. I was consumed with trying to get the feeling of a new state of mind, both while performing and not performing. So I did collaborations with dance groups, that were like experiments on ourselves, and they opened up much more freedom as to our view of the music we performed. I turned to composers who were going on the same path. East Asian and Indonesian music became for me a great experience in life and in performing, and so all this influences me when I come to plan a concert programme. I can't say whether it has an influence on my performances of Mozart or Brahms – that's for others to judge – but it certainly influences my programming.'
It's worth noting that Lubimov by no means disdains the 20th-century modernists that Pärt and others rejected through creative necessity – indeed, he gave the first Russian performances of works by Boulez and Ligeti, and sees Schoenberg and Stravinsky as playing a central role in the connection of music from the past to the future. 'These composers build on a tradition and open new doors. The Schoenberg Suite is absolutely opposite to Satie's aesthetic, maybe because of his intellectual position, the struggle and argument you hear in his music. But of course the Suite's neo-Baroque forms, symbolically using 12-tone rows alongside B-A-C-H, show his own reverence for previous traditions. When I heard Gould play Schoenberg in the 1970s, and did so myself, we would concentrate on the avant-garde aspects of him. Now I try to find the traditionalist in Schoenberg, to make as clear as possible the details of his music which related to late-Romanticism and Classicism.
'The Sonata and Serenade by Stravinsky are more modest than the famous ballets from the same period and rarely played, but they are a condensation of his style and way of thinking. The second movement of the Sonata is absolutely fantastic, a personal transformation of forms from the past. Maybe he meant it in an ironic way, but now we can just play this music – certainly I try to play it very seriously. Whereas for me the Suite by Schoenberg is much more ironic in its distortion of Baroque forms through radical, 12-tone processes. Maybe the "Gavotte" and "Minuet" as titles look much more humorous to us now than they did to Schoenberg, I don't know!'
Lubimov is speaking from intimate knowledge of the relationship between these composers and the pre-Classical past, having entirely forsaken the piano for three years (1979–82) in order to study harpsichord and fortepiano, 'which needed entirely new learning of acoustic and touch.' His Russian recordings that came from this study are available in frustratingly spotty patches, but a Spotify search will turn up a fascinating recital, 'Golden Classics [of] Russian Clavichords', surveying Russian composers in the pre-Glinka era such as Karaulov, Trutovsky and the Bortnyansky (1751–1825) who may be relatively familiar to Western listeners but only for his choral music.
And if record buyers come across Lubimov's name in the current catalogues, it tends to be for the classics of the Austro-German canon on original instruments – surely a far cry from their ironised reflection in the works of Silvestrov and Martynov? 'There is not only one stance. I want to find plurality,' he counters. 'I have the position of a traveller.'
'Of course if I just performed two kinds of music in a concert,' continues Lubimov, 'I would try to perform on two different instruments. But now I'm not so strict about which instrument I would perform which music on, though for seven or eight years now I haven't played Beethoven on modern pianos. I can't get a feeling of it at all on modern instruments. I am tired of trying, and there is always something missing – colour, articulation, texture. His piano writing often uses more imitation of an orchestral texture, which doesn't work on a modern piano, whereas you can get the richness of the texture on a fortepiano. Mozart is somehow easier. In his music I can get a different vision on different instruments. When playing Mozart I try to use all the possibilities of the modern piano but still respecting Classical structures, with a rhetorical and not a singing way of making the music. I want to perform him as a contemporary composer.'
Concert Details
7pm, April 4, Institut Français, South Kensington, London. Visit It's All About Piano for information. Lubimov will also be giving a talk and performing at Pushkin House on April 3.
Recommended Recordings
Beethoven Sonatas, Op 109–111 (Zig-Zag Territoires)
'Imagine the highly inflected, pianistically oriented and sectionalised Beethoven-playing one often heard from Soviet artists such as Maria Grinberg…or the younger Gilels or Richter, apply it to an authentic 1828 Alios Graff model instrument, and you've largely got the gist of Alexei Lubimov's interpretations…' Read review
Debussy Preludes (ECM New Series)
'The constantly shifting, shimmering palette of colours he conjures up (try 'La cathédrale engloutie' and, from Book 2, 'La terrasse des audiences du clair de lune' and 'Feux d'artifice') make this a thought-provoking rival...' Read review
'Der Bote' (ECM New Series)
'Undemonstrative playing from Lubimov' a questing pianist whose appearances in the West have become a welcome occurrence in the post-­Soviet era...' Read review