Adam Walker on French music for flute
Friday, April 9, 2021
The acclaimed flautist explores his two new albums released on Chandos Records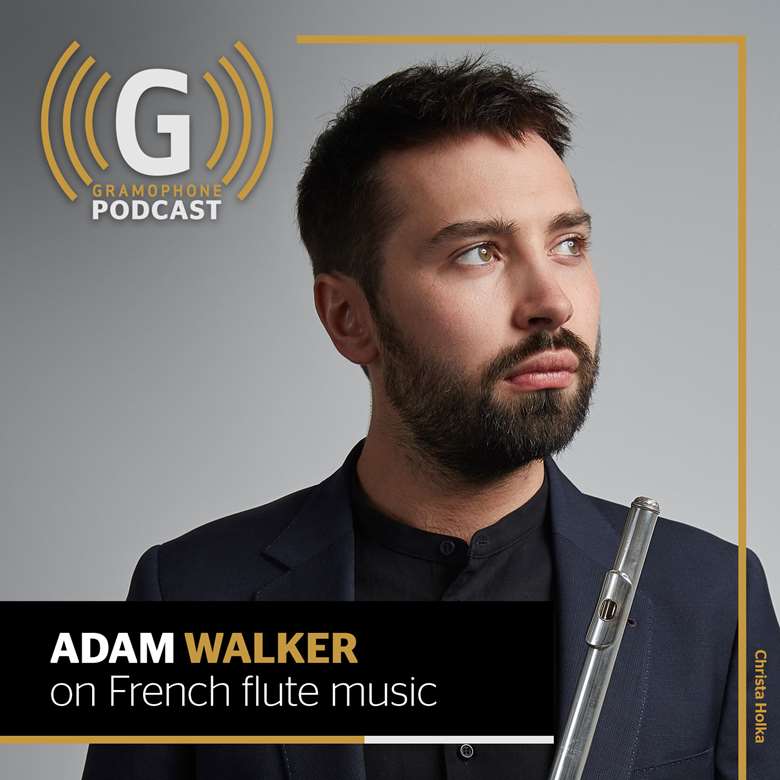 This week's podcast sees acclaimed flautist Adam Walker join Gramophone Editor Martin Cullingford to talk about his two new albums of French music, both released on Chandos Records. The first, 'French Works for Flute', sees him joined by pianist James Baillieu in music by Franck, Widor, Saint‑Saëns and Duruflé - that last work also featuring viola player Timothy Ridout. The second album, 'Belle Époque', features Walker's Orsino Ensemble joined by pianist Pavel Kolesnikov in an eclectic programme of French music for wind ensemble. 
Gramophone Podcasts are presented in association with Wigmore Hall, where the music continues despite lockdown with two streamed concerts on weekdays (find full details of the week's concerts at the bottom of this page). To watch, or donate, please visit the Wigmore Hall's website.
You can listen to the Podcast below. To hear other Gramophone podcasts, or to subscribe for free to new editions, search for 'Gramophone Magazine' in your Podcast application of choice, or visit Gramophone's page on Apple Music podcasts. 
WIGMORE HALL CONCERTS (April 12-15)
Monday, April 12, 1.00pm
Benjamin Appl bar
James Baillieu pf
Kagel Der Turm zu Babel - Hebrew
R Schumann Belsatzar, Op 57
F Mendelssohn Ach, die Augen sind es wieder
C Schumann Sechs Lieder, Op 13 - No 2 Sie liebten sich beide
A Mahler Five Songs – Ich wandle unter Blumen
Ingeborg von Bronsart Die Loreley
N Boulanger O schwöre nicht
Josephine Lang Das Traumbild
R Schumann Dichterliebe, Op 48

Monday April 12, 7.30pm
Imogen Cooper pf 
Beethoven 33 Variations in C on a waltz by Diabelli, Op 120
Tuesday April 13, 1.00pm
Elaine Mitchener vocalist 
Gordon Mackay vn 
Mira Benjamin vn 
Bridget Carey va 
Anton Lukoszevieze vc 
Neil Charles db
Mingus String Quartet No 1 (with voice)
Wolff I like to think of Harriet Tubman 
J Lee Mingus Meditations Written by Jeanne Lee & Dave Holland
B Patterson Duet for voice and string instrument(s)
Archie Shepp Blasé
EMP T.B.C. (after NH Pritichard)
Katalin Ladik Genesis - 06
Louise Bourgeois Insomnia drawings
Tuesday April 13, 7.30pm
Trish Clowes sax
Ross Stanley pf 
Trish Clowes Free to Fall
Joe Cutler Hawaii Hawaii Hawaii (adaptation of highlights from the 3rd movement of the saxophone concerto)
Ross Stanley Avoidance
Ellington Prelude to a Kiss
Dupré Adaptation of third prelude from 3 Preludes et Fugues
Ross Stanley New work
Vivaldi Sleep from The Four Seasons (adaptation of the slow movement of 'Autumn') arranged byTrish Clowes arranged by Ross Stanley
Trish Clowes Decently Ripped (for Wayne Shorter)
Farrés 3 Palabras
Trish Clowes A view with a room
Traditional The Month of January
Wednesday April 14, 7.30pm
Chiaroscuro Quartet 
Alina Ibragimova vn 
Pablo Hernán Benedi vn 
Emilie Hörnlund va 
Claire Thirion vc 
Haydn String Quartet in C, Op 33 No 3 'The Bird'
Schubert String Quartet in A minor D804 'Rosamunde'
Thursday April 15, 12.00pm
Author Lucasta Miller is joined by John Mullan, professor of English at University College London, for a discussion about the life and works of John Keats, drawing on material from Miller's recent book Keats: A Brief Life in Nine Poems and One Epitaph, with readings from leading poetry and prose performer Ruth Rosen.
Thursday April 15, 7.30pm
Chiaroscuro Quartet 
Alina Ibragimova vn
Pablo Hernán Benedi vn
Emilie Hörnlund va
Claire Thirion vc
Purcell Fantasia a 4 No 7 in C minor Z738. Fantasia a 4 No. 11 in G Z742
Haydn String Quartet in B minor Op 33 No 1
Mendelssohn String Quartet in E flat Op 12