Anne Dudley on how a new piano inspired her lockdown album
Friday, April 29, 2022
'Crossing the Bar', inspired by the poem by Tennyson, emerged from the solitude enforced by the pandemic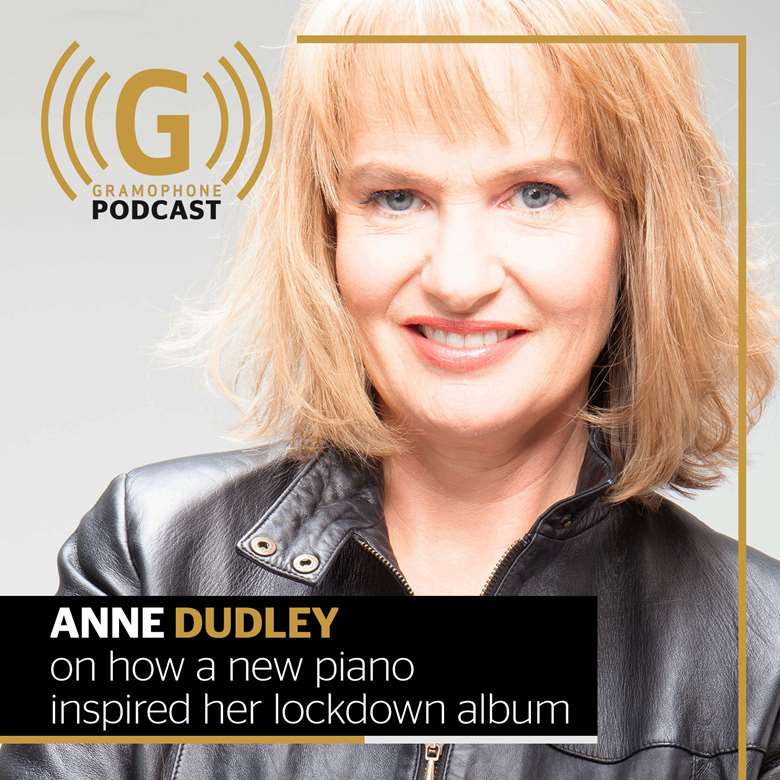 The Oscar-winning composer Anne Dudley has just released an album, 'Crossing the Bar', created during lockdown and prompted by her acquiring a new piano. Gramophone's James Jolly went to speak to her at Angel Studios in Islington about the album, but also about her work in music across so many different genres.
Gramophone Podcasts are presented in association with Wigmore Hall. To see details of concerts for the week starting April 30, please scroll down.
You can listen to the Podcast above. To hear other Gramophone podcasts, or to subscribe for free to new editions, search for 'Gramophone' in your Podcast App of choice, or visit Gramophone's page on Apple Music podcasts.
You can also listen to 'Crossing the Bar' in lossless audio on Apple Music:
WIGMORE HALL CONCERTS APRIL 30-May 6               
Saturday April 30, 1pm
Leonard Elschenbroich vc  
Alexei Grynyuk pf
Beethoven Cello Sonatas – G minor, Op 5 No 2; A, Op 69                 
Saturday April 30, 7.30pm
Leonard Elschenbroich vc  
Alexei Grynyuk pf
Beethoven Cello Sonatas – F, Op 5 No 1; C, Op 102 No 1; F, Op 17; D, Op 102 No 2                
Sunday May 1, 11.30am
Castalian Quartet
Mendelssohn String Quartets – E flat; No 6 in F minor, Op 80              
Sunday May 1, 3pm
'BBC Cardiff Singer Recitals'
Angharad Lyddon mez        
Llŷr Williams pf    
Schubert Der Blumenbrief, D622. Heidenröslein, D257. Am Bach im Frühling, D361            
Brahms Von ewiger, Op 43 No 1      
Schumann Liederkreis Op 39 – Waldesgespräch
Quilter Love's philosophy Op 3 – No. 1, Love's philosophy; No 2, Now sleeps the crimson petal       
Vaughan Williams The House of Life – Silent Noon      
Ireland Sea Fever
Elgar Sea Pictures, Op 37 – Where corals lie
Clarke The Seal Man            
Hahn Chansons grises – L'heure exquise; Rêverie; Quand je fus pris au pavillon   
Fauré Le papillon et la fleur Op 1 No 1           
Gounod Viens, les gazons sont verts                
Williams Gwynfyd. Pan Ddaw'r Nos. Mai                    
Sunday May 1, 7.30pm
Jakub Józef Orliński counterten        
Michał Biel pf       
Fux Il fonte della salute aperto dalla grazia nel Calvario – Non t'amo per il ciel     
Purcell Incidental music for Oedipus, King of Thebes Z583 – Music for a while; Fairest Isle; Cold Song; Strike the viol, touch the lute     
Czyż Pożegnania  
Purcell The Tempest, Z631 – Your awful voice I hear; If music be the food of love                
Karłowicz Nie płacz nade mną Op 3 No 7. Z erotyków Op 3 No 2.  Mów do mnie jeszcze Op 3 No 1. Śpi w blaskach nocy Op 3 No 5. Przed nocą wieczną Op 3 No 6. Na spokojnym, ciemnym morzu Op 3 No 4. W wieczorną ciszę Op 3 No 8. Smutną jest dusza moja Op 1 No 6. Skąd pierwsze gwiazdy Op 1 No 2. Czasem gdy długo na pół sennie marze. Zaczarowana królewna Op 3 No 10    
Moniuszko Łza. Prząśniczka               
Handel Amen, Alleluia in D minor, HWV269 
Monday May 2, 1pm LIVE STREAM
Julian Bliss Septet                 
Celebrating Gershwin                 
Tuesday May 3, 7.30pm
Tenebrae                
Górecki Totus Tuus, Op 60
Parsons Ave Maria               
Bruckner Ave Maria             
Stravinsky Ave Maria           
Britten A Hymn to the Virgin              
Clarke Ave Maria 
Grieg Ave, maris stella        
Bax Mater ora Filium           
Owain Park Ave maris stella               
Tavener 5 Anthems from The Veil of the Temple – Mother of God, here I stand  
Cesis Stabat Mater               
Gregorian Chant Tota pulchra es     
Verdi Laudi alla Vergine Maria          
Gregorian Chant Ave Regina caelorum            
Giles Swayne Magnificat Op. 33       
Gregorian Chant Salve Regina           
Poulenc Salve Regina          
Margaret Rizza Ave generosa            
Wednesday May 4, 11am & 12.30pm
Gabrielė Sutkutė pf              
For Crying Out Loud! Informal concerts for parents or carers and their babies up to 1 year old
Wednesday May 4,  7.30pm
'Beyond the borders: Music and Musicians of the New Europe'
Anna Bonitatibus mez         
Simon Lepper pf  
Mozart Oiseaux, si tous les ans, K307. Un moto di gioia K579   
Cherubini Romances du Roman d'Estelle – Arbre charmant, qui me rappelle; Vous qui loin d'une amante   
Haydn She never told her love, HXXVIa 34. Fidelity, HXXVIa 30
Dussek L'Adieu     
Colbran Quel cor che mi prometti. Mi lagnerò tacendo               
Salieri In questa tomba oscura (second setting). In questa tomba oscura (first setting)       
Crescentini Ore spietate. Ombra adorata aspetta       
Spontini Le premier baiser. O des infortunés déesse tutélaire
Paer Io d'amore, oh Dio mi moro. Fra l'onda che infida minaccia             
Clementi Melodies of Different Nations – If sighing could recall the years; I've not said how much I love her
Beethoven Schöne Minka, ich muss scheiden, WoO158a. La tiranna se embarca, WoO158a              
Szymanowska 6 Minuets – Minuet No 1; Se spiegar potessi, oh Dio!      
Schubert Guarda, che bianca luna D688 No 2 – Guarda, che bianca luna. Wandrers Nachtlied, D224             
Rossini Preghiera 'Deh tu pietoso cielo'. Addio ai viennesi      
At the Ukrainian Catholic Cathedral (Duke St, London W1K 5BQ)
Thursday May 5, 7.30pm   
Wigmore Hall Fundraising Concert for Ukraine
Ailish Tynan soprano

Helen Charlston mezzo-soprano

Mark Padmore tenor

Elizabeth Kenny lute

Olivia Jageurs harp

Irène Duval violin

Vivo Vocal Quartet
 (Sini Simonen, Hannah Dawson vns Hélène Clément va Christopher Graves vc)

Wigmore Hall presents an evening of fundraising and music for Ukraine at its neighbour, the Ukrainian Catholic Cathedral, featuring special guest artists at the invitation of John Gilhooly. All ticket sale proceeds from this event will go to direct aid partners on the ground, a network including CAFOD and the British Red Cross. There will also be the opportunity to donate on the night. All participating artists are kindly donating their fees for this concert, so that all ticket sales can go directly to supporting those who need it most.
Schubert Ellens Gesang III D839, 'Ave Maria'. Am Tage aller Seelen, D343
Purcell Dido and Aeneas – Dido's Lament, 'When I am laid in earth'
JS Bach Partita No 2 in D minor for solo violin, BWV1004 – Sarabande
Beethoven String Quartet No 15 in A minor, Op 132 – Molto adagio
Thursday May 5, 7.30pm
Ayanna Witter-Johnson voice, vc, pf, composition
Jess Gillam sax
Solem Quartet
Ligeti Quartet
Nitin Sawhney pf
Héloïse Werner sop
Andrea Baker mez
Marianne Schofield db
Thea Sayer db
Darren Bloom conductor
Witter-Johnson Earth. Mento Mood. Ain't I A Woman? Draw the Line. Brown Sounds. Lumina Rhythm 
Witter-Johnson/Sawhney Movement Variation II
Witter-Johnson Island Suite. Wooden Woman. DreamCity. Equinox     
Friday May 6, 10.15am & 11.45am
Lucy Drever workshop leader            
Chamber Tots: 3,2,1...Take off! Music-making workshop for children aged 1-2 (10.15am) and 3-5 (11.45am) and their parents or carers
Friday May 6, 7.30pm
Christian Tetzlaff vn             
JS Bach Partita No 2 in D minor for solo violin, BWV1004                
Nielsen Preludio e presto, Op 52      
Bartók Sonata for solo violin, BB124