Benjamin Grosvenor on the piano music of Liszt
Friday, February 19, 2021
As he releases a new all-Liszt album on Decca, the young British pianist talks about his programme and how he came to the music of this piano Titan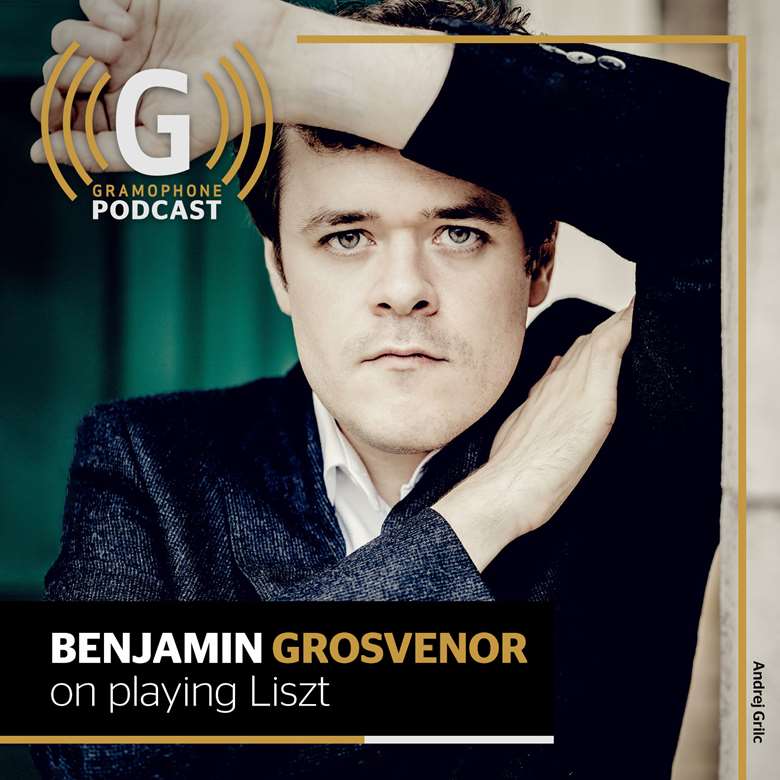 Benjamin Grosvenor's new Decca album focuses on one composer, Franz Liszt. The recording includes the B minor Sonata as well as the Petrarch Sonnets, the Réminiscences de Norma and some shorter works. Gramophone's Reviews Editor, Tim Parry, caught up with Benjamin for this new Gramophone Podcast.
Grosvenor, a former Gramophone Young Artist of the Year and Instrumental Award winner, was introduced to the music of Liszt at an early age, and he talks about his experience of performing the composer's music and the different works on this new release.
Gramophone Podcasts are presented in association with Wigmore Hall, where the music continues despite lockdown with 40 streamed concerts every weekday from Monday, February 22 until April 3 (full details of week 1 at the bottom of this page). To watch, or donate, please visit the Wigmore Hall's website.
You can listen to the Podcast below. To hear other Gramophone podcasts, or to subscribe for free to new editions, search for 'Gramophone Magazine' in your Podcast application of choice, or visit Gramophone's page on Apple Music podcasts.
Photo: Andrej Grilc
WIGMORE HALL CONCERTS
Monday, February 22, 7.30pm
Doric Quartet
Mozart String Quartet No 23 in F, K590, 'Prussian'
Beethoven String Quartet in F, Op 59 No 1, 'Razumovsky'
Tuesday, February 23, 1.00pm
Sean Shibe gtr
Dowland Preludium; Forlorn Hope Fancy; Fantasia
Bach Prelude, Fugue, and Allegro in E flat major for Lute, BWV998
Adès Habanera from The Exterminating Angel
Falla Homenaje: pièce de guitare écrite pour 'Le Tombeau de Claude Debussy'
Poulenc Sarabande
Britten Nocturnal after John Dowland, Op 70
Anon (Rowallan manuscript) A Scots Tune
Tuesday, February 23, 7.30pm
Dunedin Consort
Bach Brandenburg Concertos Nos 4, 5 & 6 
Wednesday, February 24, 7.30pm
Benjamin Baker vn Daniel Lebhardt pf
Copland Violin Sonata
Janáček Violin Sonata
Brahms Violin Sonata No 3 in D minor, Op 108
Thursday, February 25, 7.30pm
Fretwork
Holborne The Honeysuckle; Heres Paternus; Muy Linda; The Fairie-round
Locke Flat Consort No 5 in A minor
Jenkins Fantasia No 7
Gibbons Duo for two trebles
Lawes Consort Sett a 5 in C
Locke Flat Consort No 1 in C minor
Purcell Fantasia a 4 No 7 in C minor, Z738; Fantasia a 4 No 11 in G, Z742
White In Nomine
Cranford Fantasy in 3 parts
Lawes Consort Sett a 5 in C minor
Friday, February 26, 7.30pm
Tim Horton pf
Mozart Fantasia in C minor, K396
Chopin Ballade No 1 in G minor, Op 23; Ballade No 2 in F, Op 38
Szymanowski Masques, Op 34 – I. Schéhérazade; II. Tantris le bouffon
Chopin Ballade No 3 in A flat, Op 47; Ballade No 4 in F minor, Op 52; Mazurka in C sharp minor, Op 63 No 3