Francesca Dego on playing Paganini's violin
Friday, March 12, 2021
The violinist introduces her new album released on Chandos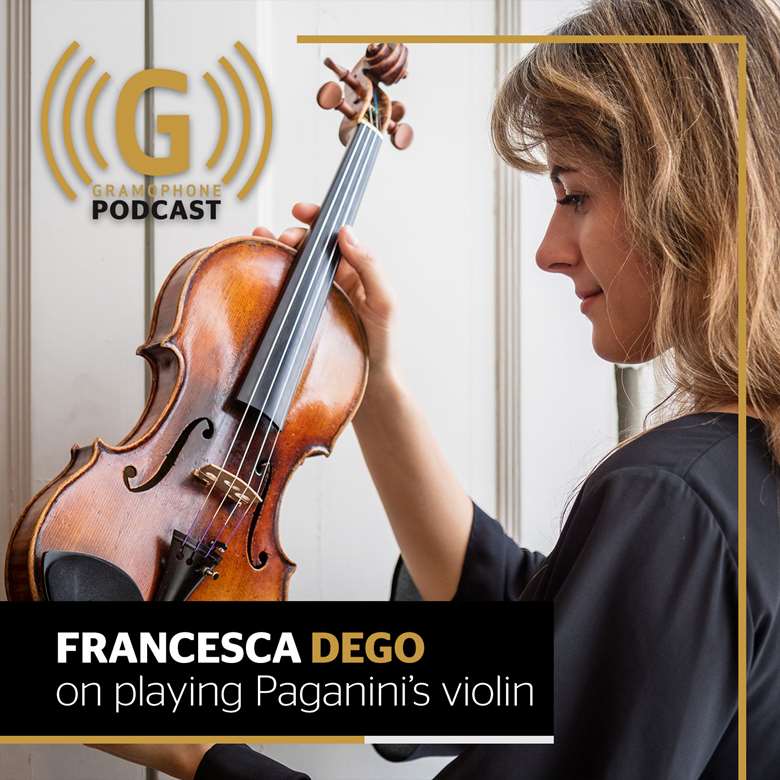 For her new album, Francesca Dego has recorded a fascinating programme which pays homage to Niccolò Paganini – recorded on Paganini's own (and rarely played) violin, 'Il Cannone'. In the latest Gramophone Podcast Dego tells Editor Martin Cullingford about her experience of playing this historic instrument, and about the repertoire she's chosen. The album is available now, on Chandos Records.
Gramophone Podcasts are presented in association with Wigmore Hall, where the music continues despite lockdown with 40 streamed concerts every weekday from Monday, February 22 until April 3 (find full details of week 3 at the bottom of this page). To watch, or donate, please visit the Wigmore Hall's website.
You can listen to the Podcast below. To hear other Gramophone podcasts, or to subscribe for free to new editions, search for 'Gramophone Magazine' in your Podcast application of choice, or visit Gramophone's page on Apple Music podcasts.
(Photo: Patrick Allen)
You can listen to Francesca Dego's album below:
WIGMORE HALL CONCERTS
Monday, March 15, 1.00pm
Kathryn Rudge mez
Christopher Glynn pf
Harty My Lagan Love. Scythe Song. The Song of Glen Dun

Quilter Seven Elizabethan Lyrics, Op 12

Harty Sea Wrack. By the Sea. The Lowlands of Holland

Finzi Let us garlands bring, Op 18

Vaughan Williams The House of Life Silent Noon. Linden Lea

Coates I pitch my Lonely Caravan. Bird songs at eventide. Rise up and reach the stars. Sleepy Lagoon

Harty 5 Irish Poems – The Fiddler of Dooney
Monday, March 15, 7.30pm
Jennifer Pike vn
Petr Limonov pf
Poldowski Violin Sonata
Mozart Violin Sonata in E minor, K304
A selection of Polish pieces
Tuesday, March 16, 7.30pm
Carducci Quartet
Mendelssohn String Quartet No 6 in F minor, Op 80

Clarke Poem

Shostakovich String Quartet No 2 in A, Op 68
 
Wednesday, March 17, 7.30pm
Ailish Tynan sop
Robin Tritschler ten
James Baillieu pf
Traditional Believe me if all those endearing young charms

Britten Vol. 4 Moore's Irish Melodies Oft in the stilly night; Vol. 4 Moore's Irish Melodies Sail on, sail on

Clarke A Dream

Bridge When you are old

Britten Vol. 1 British Isles – The Salley Gardens

Herbert The Lake Isle of Innisfree

Dunhill The Cloths of Heaven

Barber Hermit Songs Op. 29; Nuvoletta Op. 25

Bridge Golden Hair
Pendleton Bid adieu

Stanford Songs of Erin Op. 76 Trottin' to the fair; La Belle Dame sans merci

Trad/English Reynardine

Traditional The Fanaid Grove
Trad/Irish The Old Turf Fire
Hughes I will walk with my love

Traditional Johnny I hardly knew you

Trad/Irish The Gartan Mother's Lullaby; Spanish Lady

Traditional Tigaree torum orum

Balfe Come into the garden Maud; I dreamt that I dwelt in Marble Halls

Trad/Irish Londonderry Air

Bishop Home! Sweet Home!
 
Thursday, March 18, 7.30pm
12 Ensemble
Tavener The Lamb

Lutosławski Musique Funebre 

Beethoven String Quartet in A minor, Op 132 – Molto adagio

Oliver Leith Honey Siren
 
Friday 19 March 7.30pm
Leon McCawley pf
Schubert 3 Klavierstücke D946

Grieg Slåtter, Op 72 – IV. Haugelåt: halling; II. Jon Vestafes springdans

Schumann Davidsbündlertänze, Op 6