François-Xavier Roth on Debussy's Pelléas et Mélisande
Friday, February 25, 2022
The French conductor discusses one of the most magical and game-changing operas of all time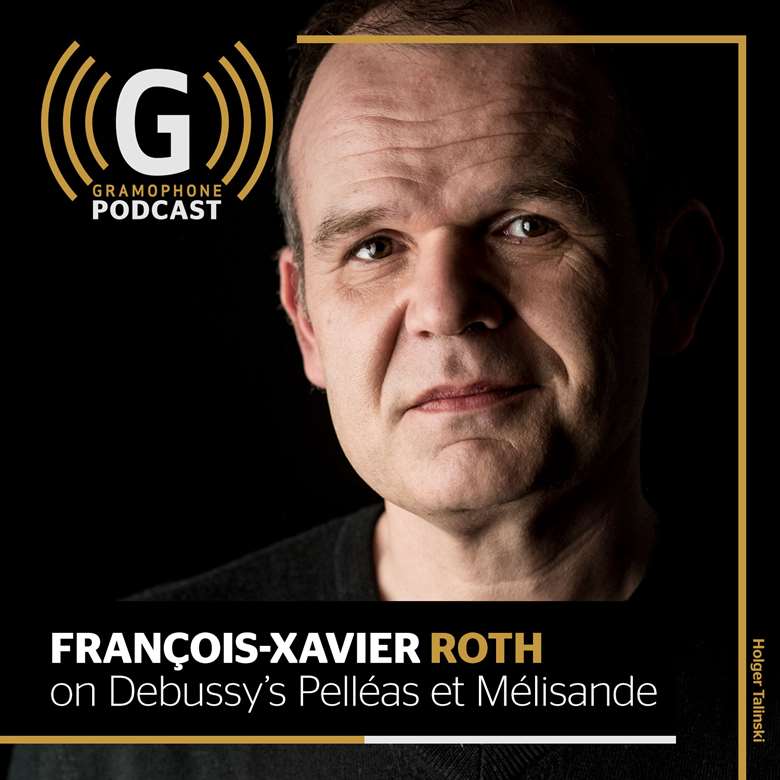 Debussy's Pelléas et Mélisande was recorded for Harmonia Mundi, following performances directed by Daniel Jeanneteau at the Opéra de Lille last March. François-Xavier Roth conducted his period-instrument ensemble, Les Siècles, with Julien Behr and Vannina Santoni singing the title-roles. James Jolly caught up with the conductor by Zoom a few weeks ago to talk about the opera.
The recording will be released on March 4, but two excerpts have been pre-released (see below).
Gramophone podcasts are given in association with Wigmore Hall which is halfway through the 2021-22 season and during the week starting on Monday. February 28, will be playing host to the Sir András Schiff Haydn Festival. For more information see below.
You can listen to the Podcast above. To hear other Gramophone podcasts, or to subscribe for free to new editions, search for 'Gramophone' in your Podcast App of choice, or visit Gramophone's page on Apple Music podcasts.
Wigmore Hall concerts (for the week starting February 28)
Monday February 28, 1pm
Dorothee Mields sop
Tobias Koch fp
CPE Bach Phyllis Wq202/C/2; Lied Wq202/L/1; Bevelise und Lysidor: Der Phönix Wq200/7; Mittel, freudlich zu werden Wq200/16; An die Liebe Wq202/C/3; Die Küsse Wq199/4; Die Schlummernde Wq202/G/1; Trinklied Wq200/13; Fantasia in C Wq61/6; Der Weg des Frommen Wq194/35; Das natürliche Verderben des Menschen Wq194/33; Über die Finsternis kurz vor dem Tode Jesu Wq197/29; Der Schutz der Kirche Wq194/12; Prüfung am Abend Wq194/7; Rondo in A minor Wq56/5; Sonata in F minor Wq63/6; Fantasia - Monolog des Sokrates (arranged by Heinrich Wilhelm von Gerstenberg); Fantasia in F Wq59/5;
Die Grazien Wq200/22
Monday February 28, 7.30pm  
Sir András Schiff pf  
Louise Alder sop             
Quatuor Mosaïques (Erich Höbarth, Andrea Bischof vn; Anita Mitterer va; Christophe Coin vc)
Haydn String Quartet in E flat Op 20 No 1; English Canzonettas (set I); Piano Trio in G HXV/25; Piano Sonata in E minor HXVI/34; String Quartet in G Op 76 No 1
Tuesday March 1, 1pm
Theo Plath bn      
Aris Alexander Blettenberg pf          
Saint-Saëns Bassoon Sonata in G Op 168. Debussy Violin Sonata in G minor (trans by Theo Plath for bassoon and piano). Roger Hanschel Layers of perception. Boutry Interférences I
Tuesday March 1, 7.30pm (streamed at 8pm)   
Sir András Schiff pf               
Quatuor Mosaïques
Haydn String Quartet in C, Op 20 No 2; Piano Trio in A flat, HXV/14; Haydn Piano Sonata in G, HXVI/40; String Quartet in D minor, Op 76 No 2, 'Fifths' 
  
Wednesday March 2, 7.30pm    
Sir András Schiff pf               
Quatuor Mosaïques
Haydn String Quartet in G minor, Op 20 No 3; Piano Trio in E, HXV/28; Piano Sonata in C minor, HXVI/20; String Quartet in C, Op 76 No 3 'The Emperor'
 
Thursday March 3, 7.30pm
Sir András Schiff pf               
Kieran Carrel ten      
Quatuor Mosaïques      
Haydn String Quartet in D, Op 20 No 4; English Canzonettas (Set II); Piano Trio in F sharp minor, HXV/26; Piano Sonata in G minor, HXVI/44; String Quartet in B flat, Op 76 No 4 'Sunrise'
 
Friday March 4, 7.30pm               
Sir András Schiff pf               
Quatuor Mosaïques
Haydn String Quartet in F minor, Op 20 No 5; Piano Trio in C, HXV/27; Piano Sonata in D,HXVI/37; String Quartet in D, Op 76 No 5

Saturday March 5, 7.30pm
Sir András Schiff pf               
Quatuor Mosaïques
Haydn String Quartet in A, Op 20 No 6; Piano Trio in E flat minor, HXV/31; Piano Sonata in C, HXVI/48; String Quartet in E flat, Op 76 No 6