Jakub Józef Orliński on his Polish song album, 'Farewells'
Friday, May 6, 2022
After three albums of Baroque music, the Polish countertenor turns to art songs of the past 200 years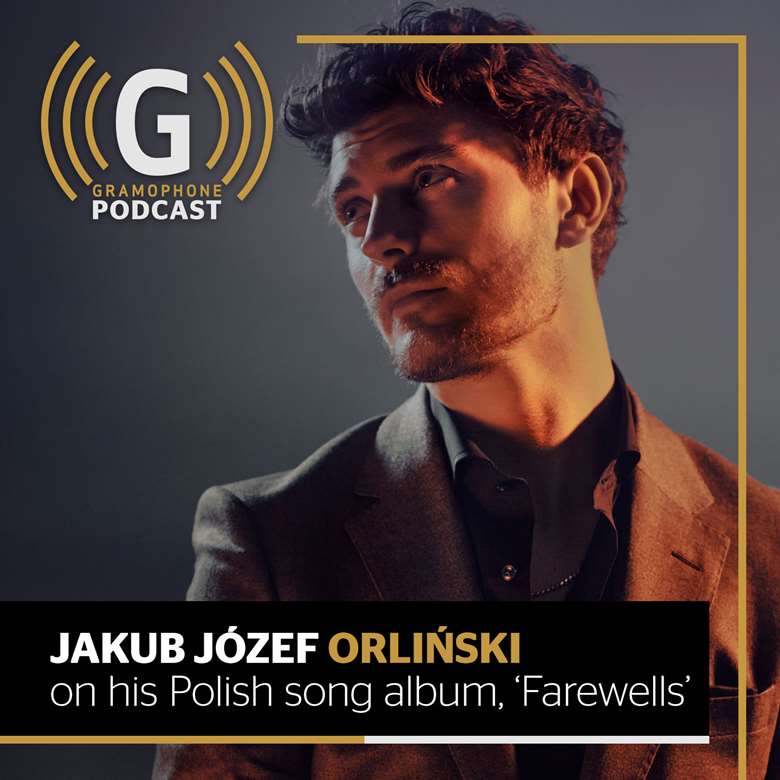 Jakub Józef Orliński was Gramophone's Young Artist of the Year in 2019 and in the three years since has established himself as one of the world's leading countertenors. An exclusive Erato artist, he's made a trio of recordings of Baroque music, but his new album, 'Farewells', for which he's partnered by Michał Biel, features a selection of Polish art songs that ranges over two centuries. 
Gramophone Podcasts are presented in association with Wigmore Hall. To see details of concerts for the week starting May 7, please scroll down.
James Jolly caught up with Jakub Józef Orliński by Zoom to talk about 'Farewells' and how he chose the songs for the album.
You can listen to the Podcast above. To hear other Gramophone podcasts, or to subscribe for free to new editions, search for 'Gramophone' in your Podcast App of choice, or visit Gramophone's page on Apple Music podcasts.
You can also listen to 'Farewells' in Spatial Audio and lossless sound on Apple Music:
WIGMORE HALL CONCERTS (May 7-14)     
Saturday May 7, 12pm
In Focus: Anna Thorvaldsdóttir
Musicians from the Royal Northern College of Music  / Mark Heron        
Thorvaldsdóttir Transitions for cello solo. Hvolf for soprano and piano. Sequences for wind quartet. Rain for soprano, flute, guitar and electronics. Spectra for string trio. Entropic Arrows for ensemble. Aequilibria for ensemble            
Saturday May 7, 2.15pm
Elizabeth Alker in conversation with Anna Thorvaldsdottir
Saturday May 7, 7.30pm
Doric Quartet       
Bartók String Quartets Nos 1, 3 & 5
(see also Saturday, May 14, for the remaining quartets)
Sunday May 8, 11.30am
Aquinas Piano Trio               
Haydn Piano Trio in G, HXV/32           
Rachmaninov Trio élégiaque No. 1 in G minor, Op posth               
Saint-Saëns Piano Trio No. 2 in E minor, Op 92                                 
Sunday May 8, 3pm
Theodore Platt bar    
Malcolm Martineau pf
Schubert Auf der Donau; Abendstern D806; Lied eines Schiffers an die Dioskuren D360; Fahrt zum Hades D526; Der Schiffer D536; Gondelfahrer D808; Sehnsucht D516; Auflösung D807   
Wolf Mörike Lieder – Der Genesene an die Hoffnung; Auf einer Wanderung; Um Mitternacht;  Auf ein altes Bild; Der Knabe und das Immlein   
Ravel Histoires naturelles                                  
Sunday May 8, 7.30pm
Benjamin Grosvenor pf      
Franck Prélude, choral et fugue        
Schumann Kreisleriana, Op 16          
Albéniz Iberia (Book 1)       
Ravel Jeux d'eau. La valse 
Monday May 9, 1pm LIVE STREAMED
Gabriela Montero pf            
Chopin Nocturne in D flat, Op 27 No 2. Polonaise-fantaisie in A flat, Op 61               
Stravinsky Piano Sonata     
Montero Improvisations                 
Monday May 9, 7.30pm
René Pape bass    
Julien Salemkour pf              
Brahms All mein Gedanken, WoO33 No 30. Es steht ein Lind, WoO33 No 41. Feinsliebchen, du sollst mir nicht barfuss gehn, WoO33 No 12. Da unten im Tale, WoO33 No 6. Mein Mädel hat einen Rosenmund, WoO33 No 25
Schumann Dichterliebe, Op 48         
Ravel Don Quichotte à Dulcinée       
Mahler Rückert Lieder        
Tuesday May 10, 1pm
RCM Benjamin Britten Scholar Recital
Dinara Klinton pf 
Beethoven Piano Sonata No 32 in C minor, Op 111     
Prokofiev Piano Sonata No 8 in B flat, Op 84     
Tuesday May 10, 7.30pm
James Ehnes vn, va             
Andrew Armstrong pf         
Schumann Violin Sonata No 1 in A minor, Op 105        
Brahms Viola Sonata in F minor, Op 120 No 1. Violin Sonata No 1 in G, Op 78       
Wednesday May 11, 9.30am LIVE STREAMED
CAVATINA Intercollegiate Chamber Music Competition
Running from 10am to 3pm, eight piano trios will perform Beethoven's Ghost Trio before Roger Wright, Chief Executive of Britten Pears Arts and a former Controller of BBC Radio 3, declares a first and second prize. And the audience will also have a vote, made online.     
Wednesday May 11, 7.30pm
Danish String Quartet         
Schubert String Quartet in D minor, D810, 'Death and the Maiden'          
Lotta Wennäkoski New work             
Schubert Der Tod und das Mädchen, D531 (arr Danish Quartet)                
Thursday May 12, 7.30pm
Francesco Piemontesi pf    
Schubert Allegretto in C minor D915. Moments Musicaux, D780. Piano Sonata in A, D959              
Friday May 13, 7.30pm
Samuel Hasselhorn bar       
Malcolm Martineau pf        
Brahms Von waldbekränzter Höhe Op 57 No 1. Wenn du nur zuweilen lächelst Op 57 No 2. Es träumte mir, ich sei dir teuer Op 57 No 3. Ach, wende diesen Blick Op 57 No 4. In meiner Nächte Sehnen Op 57 No 5. Strahlt zuweilen auch ein mildes Licht Op 57 No 6. Die Schnur, die Perl an Perle Op 57 No 7. Unbewegte laue Luft Op 57 No 8. In stiller Nacht WoO33 No 42. Mein Mädel hat einen Rosenmund WoO33 No 25. Wiegenlied WoO31 No 11          
Schumann Kerner Lieder Op35         
Saturday 14 May 14, 7.30pm
Doric Quartet       
Bartók String Quartets Nos 2, 4 & 6