Jennifer Higdon on her Duo Duel and Concerto for Orchestra
Friday, August 18, 2023
The American composer's Concerto for Orchestra is receiving its third recording on a new Naxos album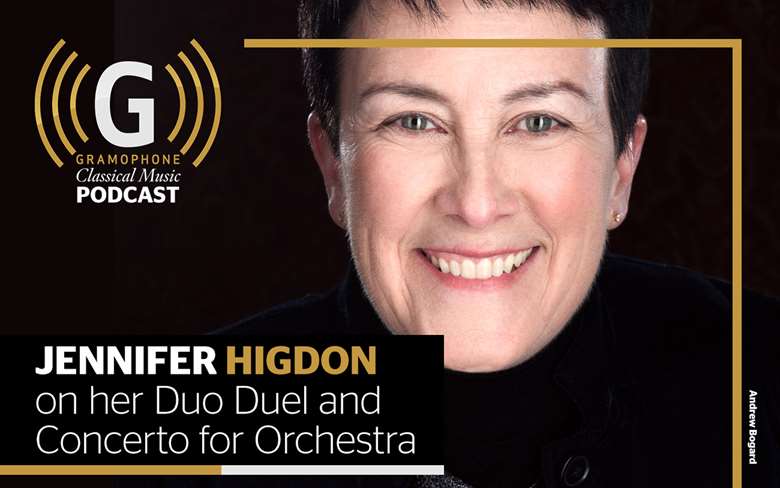 Jennifer Higdon wrote her Concerto for Orchestra for the Philadelphia Orchestra and its then-Music Director Wolfgang Sawallisch who gave the work its premiere in 2002 (a performance that was recorded). Since then it's also been recorded by the Atlanta Symphony and, on a new Naxos album just out, by the Houston Symphony - both conducted by Robert Spano. The new recording finds the Concerto for Orchestra joined by a much newer work, Higdon's double percussion concerto, Duo Duel (2020), played by the artists who commissioned it, Svet Stoyanov and Matthew Strauss.
James Jolly caught up with Jennifer Higdon to talk about the two works' beginnings, and about how she manages her amazingly busy composing schedule.
You can listen to the Podcast above. To hear other Gramophone podcasts, or to subscribe for free to new editions, search for 'Gramophone' in your Podcast App of choice, or visit Gramophone's page on Apple Music podcasts.
This week's podcast is produced in association with the Lake George Music Festival where you can enjoy classical music among some of America's most spectacular scenery. Visit lakegeorgemusicfestival.com to find out more.
You can listen to Higdon's Duo Duel and Concerto for Orchestra below in lossless audio on Apple Music.