Ksenija Sidorova on Piazzolla and the accordion
Friday, February 26, 2021
The Latvian-born, Madrid-based accordionist on her centenary tribute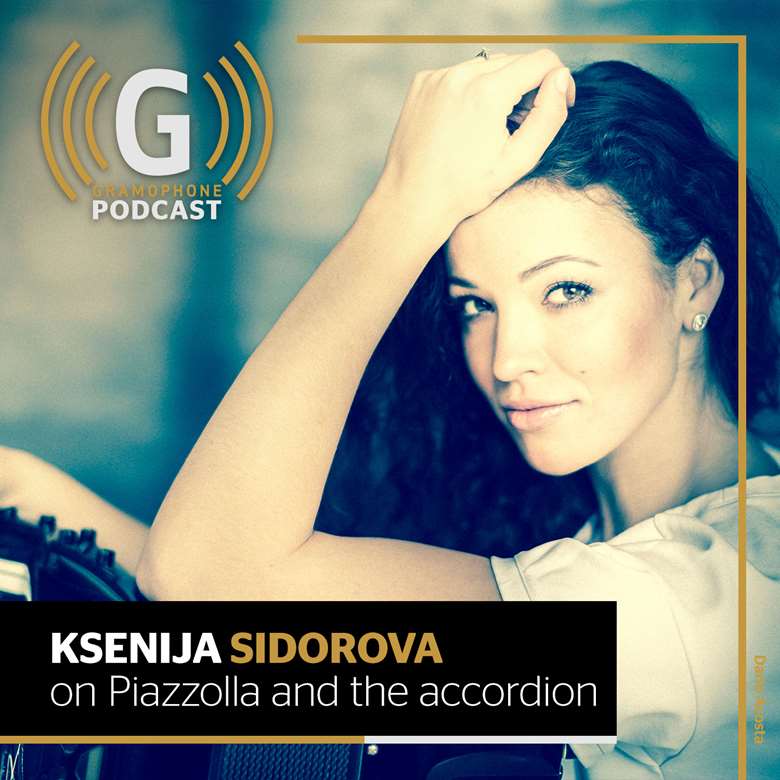 This year is the centenary of the birth of the Argentinian composer Astor Piazzolla, an anniversary celebrated by the accordionist Ksenija Sidorova on her new Alpha Classics, 'Piazzolla Reflections'. Now based in Madrid, Ksenija talked by video call to Gramophone's Editor in Chief, James Jolly, about the album, her instrument and the other composers who appear on the programme.
Running through the album are many Piazzolla gems including the Bandoneon Concerto, Aconcagua, the ever-popular Libertango and shorter pieces, but Ksenija has added new works, many written for her, to show off her instrument's range and communicative power.
Gramophone Podcasts are presented in association with Wigmore Hall, where the music continues despite lockdown with 40 streamed concerts every weekday from Monday, February 22 until April 3 (find full details of week 2 at the bottom of this page). To watch, or donate, please visit the Wigmore Hall's website.
You can listen to the Podcast below. To hear other Gramophone podcasts, or to subscribe for free to new editions, search for 'Gramophone Magazine' in your Podcast application of choice, or visit Gramophone's page on Apple Music podcasts.
Photo: Dario Acosta
WIGMORE HALL CONCERTS
Monday, March 1, 1.00pm
Gould Piano Trio
Beach Piano Trio, Op 150
Schubert Piano Trio No 1 in B flat, D898
Monday, March 1, 7.30pm
Septura
Ravel Ma mère l'Oye
Debussy Préludes, Book I – La fille aux cheveux de lin; Minstrels. Préludes, Book II – Bruyères
Gershwin Three Preludes. An American in Paris
Tuesday, March 2, 1.00pm
The English Concert / Kristian Bezuidenhout hpd
Matthew Truscott guest leader
Purcell Dioclesian, Z627 Overture; The Fairy Queen, Z629 Hornpipe; The Gordion Knot Unty'd, Z597 Rondeau Minuet; The Virtuous Wife, or Good Luck at Last, Z611 Second music; The Virtuous Wife, or Good Luck at Last, Z611 First act Tune; The Indian Queen, Z630 No 8 3rd Act Tune (Rondeau); Chacony in G minor, Z730
JS Bach Harpsichord Concerto in D minor, BWV1052
Erlebach Overture No 5 in F major
Tuesday, March 2, 7.30pm
Gweneth Ann Rand sop
Simon Lepper pf
Wagner Wesendonck Lieder
Messiaen Poèmes pour Mi
Barber Despite and Still Op 41
Wednesday, March 3, 7.30pm
Leonore Piano Trio
Dvořák Piano Trio No 1 in B flat, Op 21
Brahms Piano Trio No 2 in C, Op 87
Thursday, March 4, 7.30pm
Kirill Gerstein pf
Haydn Fantasia in C, HXVII/4
Beethoven Fantasia in G minor, Op 77
Schubert Wanderer, D760
Chopin Fantasy in F minor, Op 49
Friday, March 5, 1.00pm
Martin Roscoe piano
Schubert Impromptu in A flat, D935 No 2. Klavierstück in E flat, D946 No 2. Piano Sonata in B flat, D960
Friday, March 5, 7.30pm
Carolyn Sampson sop
Joseph Middleton pf
Schumann Album für die Jugend Op 68 – Winterszeit I
Fauré La bonne chanson Op 61 – L'hiver a cessé
Gounod Le Temps des roses
Chausson Le colibri, Op 2 No 7
Fauré Mai, Op 1 No 2
Debussy Chansons de Bilitis
Schumann Sechs Gesänge Op 89 – Röselein, Röselein! No 6; 6 Gedichte von N Lenau und Requiem Op 90 – Meine Rose No 2
C Schumann 6 Lieder aus Jucunde, Op 23 – No 2 An einem lichten Morgen
Schumann Lieder und Gesänge, Op 51 – Volksliedchen No 2
C Schumann Sechs Lieder, Op 13 No 3 – Liebeszauber
Schumann Lieder und Gesänge, Op 27 – Jasminenstrauch No 4; Lieder-Album für die Jugend Op 79 –  Schneeglöckchen; Vier Gesänge, Op 142 – Mädchen-Schwermut No 3
Schubert Die Blumensprache, D519; Im Haine, D738; Ganymed, D544; Der liebliche Stern, D861
Copland 12 poems of Emily Dickinson – Dear March, Come In!
Britten The Red Cockatoo & other songs – Not even summer yet
Barber The Daisies, Op 2 No 1
Ireland Spring sorrow
Coates Bird songs at eventide