Martin James Bartlett on his new Gershwin and Rachmaninov album, 'Rhapsody'
Friday, March 4, 2022
'Rhapsody' explores the connections between composers, performers and first performances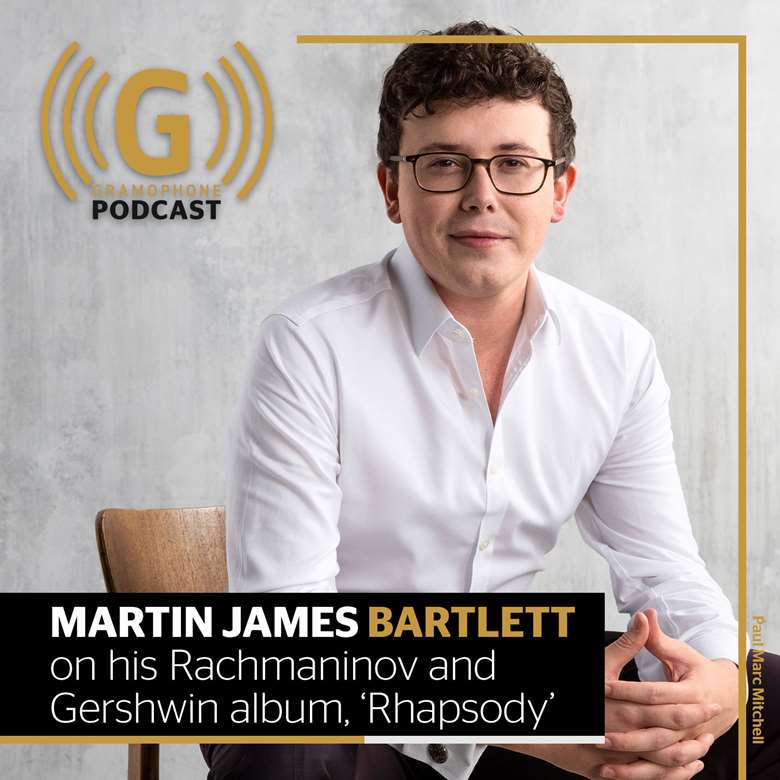 For his second album for Warner Classics, the pianist Martin James Bartlett brings together works by Gershwin and Rachmaninov, both solo and with orchestra.
Gramophone Podcasts are given in association with Wigmore Hall. To see details of concerts for the week starting March 6, please scroll down.
James Jolly met up with Martin to talk about the album, the connections it makes and his admiration for the work and playing of the American pianist Earl Wild.
You can listen to the Podcast below. To hear other Gramophone podcasts, or to subscribe for free to new editions, search for 'Gramophone' in your Podcast App of choice, or visit Gramophone's page on Apple Music podcasts.
Listen to 'Rhapsody' in lossless and Spatial Audio
Wigmore Hall concerts (for the week starting March 6)
Sunday March 6, 11.30am
Chiaroscuro Quartet        
Matthew Hunt cl          
Beethoven String Quartet No 1 in F, Op 18 No 1
Mozart Clarinet Quintet in A, K581
 
Sunday March 6, 7.30pm
Solomon's Knot              
JC Bach Ach, dass ich Wassers gnug hätte; Wie bist du denn o Gott; Herr, wende dich und sei mir gnädig; Es ist nun aus mit meinem Leben; Mit Weinen hebt sichs an
JM Bach Ach bleib bei uns, Herr Jesu Christ; Ich weiss, dass mein Erlöser lebet; Herr, ich warte auf dein Heil; Unser Leben währet siebenzig Jahr; Nun hab ich überwunden;
Sei lieber Tag willkommen; Nun treten wir ins neue Jahr; Herr, der König freuet sich
 
BBC Radio 3 Lunchtime Concert
Monday March 7, 1.00pm
Simon Trpčeski pf 
Gjorgi Dimchevski vn 
Sorin Spacinovici va               
Alexander Somov vc               
Hidan Mamudov cl          
Vlatko Nushev perc        
Brahms Piano Quartet No 3 in C minor, Op 60
Pande Shahov Quintet
Guillaume Connesson Divertimento (arr Nushev for sextet)
 
Tuesday March 8, 1.00pm
Rowan Hellier mez               
Sholto Kynoch pf
Judith Weir The Voice of Desire
Kate Whitley Gorgeous Beasts
Olga Neuwirth Marsyas. Tintarella di luna: cold songs for countertenor and piano
Kate Whitley This is my love poem to you
 
Tuesday March 8, 7.30pm
Elaine Mitchener vocalist
with    
Sarah Saviet, Mira Benjamin vns   
Bridget Carey va       
Tamaki Sugimoto vc              
Heather Roche cl              
Siwan Rhys pf
Pamela Z Pop Titles 'You' arranged by Elaine Mitchener
Alison Knowles Shuffle
Tansy Davies Duo from Cave
Mary Jane Leach New commission
Matana Roberts "Gasping for air considering your purpose Dissolving …"
Jennifer Walshe Something That Is Continuous
Hannah Kendall New work
Elaine Mitchener breadthbreath
Work by Pauline Oliveros
Work by Mieko Shiomi
Younghi Pagh-Paan ma-am (Mein Herz)
 
Post-Concert Discussion 
Tuesday March 8, 8.45pm
Elaine Mitchener is joined by Gilane Tawadros, Vice-Chair of the Stuart Hall Foundation, and presenter and researcher, Katy Hamilton.
 
Wednesday March 9, 7.30pm
Leon McCawley pf                
Haydn Piano Sonata in E minor, HXVI/34
Mozart  Rondo in A minor, K511; Piano Sonata in D, K576
Schubert Piano Sonata in A, D959
 
Thursday 10 March 10, 7.30pm
Apartment House         
Darya Zvezdina The boy with a wolf eye is melting and there is nothing I can do (UK première)
Helmut Oehring Locked - In - ; String Quartet No. 4 'House Burning Down II' (UK première)
Michael von Biel String Quartet with Accompaniment
Gibbons Versus MB4 arranged by Apartment House for string quartet
Jürg Frey String Quartet No. 2
 
Friday March 11, 7.30pm
Lucy Crowe sop   
Anna Tilbrook pf    
Schubert Auf dem See D543; Auf dem Wasser zu singen D774; Erlafsee D586; Die Sterne D939; An den Mond D193; Nacht und Träume D827; Nachtstück D672
Judith Weir Natural History
Schoenberg Four Lieder Op 2
R Strauss Four Last Songs