Peter Jablonski on the piano music of Alexei Stanchinsky
Friday, March 26, 2021
The Swedish pianist champions the works of a little-known Russian composer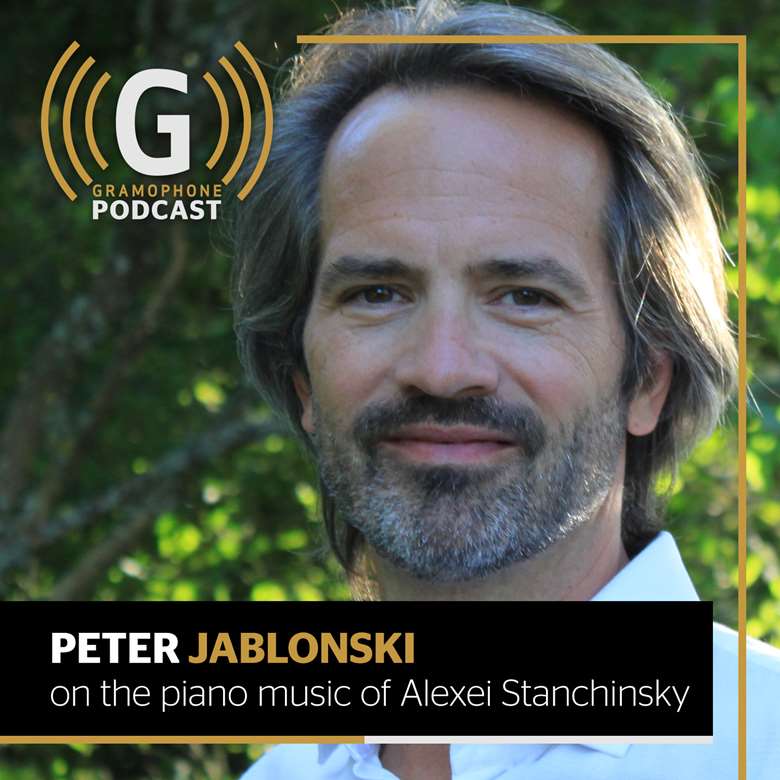 The Swedish pianist Peter Jablonski has recently released an album for Ondine of piano music by the Russian composer Alexei Stanchinsky (1888-1914). James Jolly caught up with Jablonski at his home in Stockholm to talk about this all-but-forgotten musician and what drew him to his music.
Peter Jablonski, who was signed to Decca in his late teens, also reflects on how his career largely dictated his recorded repertoire – until quite recently – and how he has been using the fallow period of lockdown when concerts have ceased to explore new repertoire.
Gramophone Podcasts are presented in association with Wigmore Hall, where the music continues despite lockdown with two streamed concerts every weekday during Holy Week, except Good Friday, from Monday, March 29 (find full details of the week's concerts at the bottom of this page). To watch, or donate, please visit the Wigmore Hall's website.
You can listen to the Podcast below. To hear other Gramophone podcasts, or to subscribe for free to new editions, search for 'Gramophone Magazine' in your Podcast application of choice, or visit Gramophone's page on Apple Music podcasts. 
WIGMORE HALL CONCERTS (March 29-April 3)
Monday, March 29, 1.00pm
Kaleidoscope Chamber Collective
Bonis Soir-Matin, Op 76
L Boulanger D'un soir triste
Fauré Piano Quartet No 2 in G minor, Op 45
 
Monday, March 29, 7.30pm
Ian Bostridge ten
Julius Drake pf
Debussy Fêtes galantes Books I & II

Fauré Clair de lune, Op 46 No 2. Prison, Op 83 No 1. Les berceaux, Op 23 No 1. Nell, Op 18 No 1. Lydia, Op 4 No 2.
Schubert Das Heimweh D456. Sehnsucht, D879. Im Freien, D880. Vier Refrainlieder, D866 – No 2, Bei dir allein. Der Wanderer an den Mond, D870. Das Zügenglöcklein, D871. Die Perle, D466. Freiwilliges Versinken, D700. Der zürnenden Diana, D707. Lied des gefangenen Jägers, D843. Normans Gesang, D846
 
Tuesday, March 30, 1.00pm
Iestyn Davies counterten
Carolyn Sampson sop
Arcangelo
Pergolesi Stabat mater
Tuesday, March 30, 7.30pm
Tenebrae
Schütz Das ist je gewisslich wahr, SWV388
JS Bach Komm, Jesu, komm, BWV229

Reger Geistliche Gesänge – O Tod, wie bitter bist du

JS Bach St Matthew Passion – Wenn ich einmal soll scheiden

Reger Nachtlied Op 138 No 3. Der Mensch lebt und bestehet, Op 138 No 1

JS Bach Motet: Jesu, meine Freude, BWV227

Schütz Matthäus-Passion Beschluss

JS Bach Singet dem Herrn ein neues Lied, BWV190
 
Wednesday, March 31, 1.00pm
Kathryn Stott pf
Bach Flute Sonata in E flat, BWV1031 – Siciliano

Grieg Holberg Suite Op 40

Fauré Nocturne No 4 in E flat, Op. 36

Poulenc Mélancolie

JS Bach The Well-tempered Clavier Book I, BWV855 – Prelude No 10 in E minor
Wagner Isoldes Liebestod

Trad/Irish Londonderry Air

Gershwin Girl Crazy – Embraceable You
 
Wednesday, March 31, 7.30pm
La Serenissima / Adrian Chandler vn
Jess Dandy mez
Valentini Concerto for 4 violins in A minor, Op 7 No 11
Telemann Concerto for 4 violins in G , TWV40:201

Ariosti Caio Marzio Coriolano, Act 3 scene 8

Telemann Concerto for 4 violins in D, TWV40:202

Vivaldi Concerto for 4 Violins in B flat. RV553; Amor, hai vinto (II), RV683
 
Thursday, April 1, 1.00pm
Llŷr Williams pf
Schubert Fantasy Sonata in G D894. Piano Sonata in C minor D958
 
Thursday, April 1, 7.30pm
Stile Antico
Victoria Tenebrae Responsories
interspersed with
Plainchant Lent prose Ad te Rex summe; Lent prose Rogamus Deus; Lent prose Innocens captus

Guerrero Maria Magdalene
 
Friday, April 2, 3.00pm
Fretwork
with
Elisabeth Paul cantus
Samuel Boden altus
Hugo Hymas ten (as Evangelist)
Benedict Hymas ten
Jimmy Holliday bass (as Christus)
Bojan Čičić vn
Elin White vn
Silas Wollston org
Sebastiani St Matthew Passion
 
Saturday, April 3, 7.30pm
The Sixteen
Purcell Jehova, quam multi sunt hostes, Z135. Miserere mei. Remember not, Lord, our offences, Z50

Tavener In pace in idipsum

Purcell Close thine eyes and sleep secure (Upon a Quiet Conscience), Z184

Gibbons Hosanna to the son of David

Tomkins Organ solo
Almeida In monte Oliveti. Lamentationes Ieremiae Prohetae Feria V Lectio I

Tomkins Organ solo
Weelkes Hosanna to the Son of David 

Purcell O praise the Lord, all ye heathen Z43

Sheppard In pace 

Byrd Diliges Dominum. Salvator mundi I. Salvator mundi II. Haec dies a 6