Instrumental (Recording of the Year)
A Beethoven sonatas set finds Paul Lewis matching his famous mentor  
Piano Sonatas, Vol 4
Paul Lewis
Harmonia Mundi  HMC90 1909/11 Read Review
If not unique, though it may be, Paul Lewis's Beethoven series can boast of an extremely rare achievement. Every one of this series was hailed as an Editor's Choice in Gramophone. As for the unanimously ecstatic nature of the reviews, it is reminiscent of the actor whom, after a particularly great performance, was asked by a friend if he'd enjoyed the notices. "I don't read the reviews," said the actor. "Don't read them?" replied the astonished friend, "You wrote them, didn't you?" It would of course be contrary to Gramophone policy to allow artists to write their own reviews, but one presumes that Lewis will have been gratified (if he reads the critics) by this, from Bryce Morrison, on Volume 2:
"Paul Lewis's three-disc second volume of his Beethoven sonata cycle is of such eloquence and mastery that it deserves a book rather than a review…These are early days but Lewis's superbly recorded and presented Beethoven may well turn out to be the most musicianly and ultimately satisfying of all recorded Beethoven piano sonata cycles."
The plaudits kept coming and the subsequent reviews maintained the same tone. BM found more reason to cheer with the appearance of the third set. "Here is nothing of that glossy, impersonal sheen beloved of too many young pianists, but a subtly nuanced perception beneath an immaculate surface," he wrote. "These performances are a transparent act of musical love and devotion."
Far from Volume 4 being any kind of comedown, the reaction was if anything more positive still. Morrison again: "Like me, you may well cherish your beloved sets by Schnabel, Kempff and Brendel (to name but three), but Lewis surely gives you the best of all possible worlds; one devoid of idiosyncrasy yet of a deeply personal musicianship…his quiet and distinctive voice can lift even the most familiar phrase on to another sphere and his playing throughout, shorn of accretion, makes all these sonatas shine with their first radiance and eloquence."
In the annual critics' lunch in which the Recording of the Year candidates are discussed and voted upon, acclaim for this set was unanimous. Everyone felt that they had heard the sonatas as if with new ears and had been taken on a journey by a pianist and poet. Some, indeed, recalled the effect of the youthful Brendel (Lewis's mentor figure) and found the impact of this new contender to be similarly revelatory.
There are more famous pianists in the world. Yet nobody can claim to outshine Paul Lewis in this repertoire. His Beethoven cycle may have ended on the highest of notes but there will be many new-found admirers waiting impatiently to see what he records next.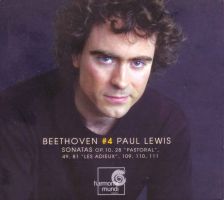 If you are a library, university or other organisation that would be interested in an institutional subscription to Gramophone please click here for further information.