Chamber (Recording of the Year)
Debussy. Fauré. Ravel String Quartets
Quatuor Ebène
Virgin 519045-2 Read Review
That the Debussy and Ravel string quartets – a regular pairing on records – are joined by a rare outing for Fauré's ethereal late Quartet is not the only reason that this disc from these four young French string-players is so special. Reviewing it in Gramophone last December, Rob Cowan identified "a fluidity to the Ebène's playing…that suits the music's character, a mood of wistfulness that the Ravel especially benefits from". Quatuor Ebène, he went on, "scores highest for an almost palpable sense of wonder" in these works. Such a critical response was by no means unique upon this disc's release last year and the quartet's triumph with their Virgin Classics debut in these Awards is merely the pinnacle of a series of highlights in these musicians' still short career. Graduates from the BBC's invaluable New Generation Artists scheme, they won a series of high-profile chamber music awards and competitions before they became worthy winners of a Borletti-Buitoni Trust Award in 2007. Part of the "fluidity" to their playing identified by RC must be due in part to their sideline as jazz musicians – the "other Ebène", as they describe this intriguing parallel career, in which they offer complete, integrated performances of jazz standards and improvisations, along with a drummer and sound engineer. "Our jazz-playing," explained leader Pierre Colombet, "enables us to look at the score from a different perspective and to see classical music as a kind of improvisation." When a panel of Gramophone critics gathered in August to discuss the merits of each category winner and elect a Recording of the Year, it was consistently this quartet's reading of the Fauré that drew the most enthusiastic response around the table.
Going back to Rob Cowan's original December review of the disc, he noted that it was "a brilliant idea to include Fauré's late Quartet", identifying it as a linchpin for all three works, Ravel having composed his Quartet in Fauré's class as a 10th anniversary tribute to Debussy's Quartet. And it's true that the Ebène bravely and successfully enter a crowded marketplace with the works by the young Debussy and Ravel, the Fauré adding yet more value to this disc. "Fauré's Quartet responds well to the Ebène's sensitised approach," remarked our reviewer. Quatuor Ebène now march on to other shades and nationalities of the unfathomably rich quartet repertoire. But their identification with these works by their three great compatriots will endure through their career as an indelible calling-card. While the Ravel was the first work they performed together, they tackled the Debussy only six months before making this recording, and worked long and hard to penetrate the enigmas of the Fauré. Nevertheless they give the impression of having been born into this music, breathing its rarefied air and yet making each work a unique, compelling listening experience.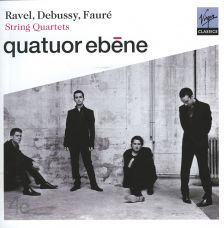 If you are a library, university or other organisation that would be interested in an institutional subscription to Gramophone please click here for further information.