Elgar
Violin Concerto
Thomas Zehetmair (vn) Hallé Orchestra / Sir Mark Elder
Hallé CDHLL7521 Read Review
Despite the recent vogue for Elgar Violin Concerto recordings, this latest version by Thomas Zehetmair and the Hallé "blows the others out of the water", wrote Harriet Smith. A performance of "greater intimacy", its "intensity holds you in an iron grip from the first note to the last". In conductor Sir Mark Elder, Zehetmair has found a prefect partner, "a natural and hugely experienced Elgarian", whose tutti passages maintain the intricate detail of Elgar's writing without too unnecessary a tendency for ritardando. Add to this Zehetmair's exceptional "technical finesse" and a refusal to "cushion Elgar's angst" and this is a fine addition to the composer's modern-day discography.
Interview with Thomas Zehetmair
I have worked in England regularly with the Northern Sinfonia for eight years now and we have played a lot of English music, but Elgar's Violin Concerto has connections to Viennese heritage, too. It was written for Fritz Kreisler and in its dark, subconscious exploration, fits into ideas of Sigmund Freud, whose theories were new at the time. I do believe it is the most subjective of all the great violin concertos, combining delicate, subtle shades with huge symphonic passages, and although I learnt it only two years before this recording I love its extremes. Mark Elder and I have collaborated many times and I am always inspired by our partnership. Here we were both keen to avoid falling too heavily into ritardandos, which Elgar intended to convey freedom, but which can also affect pacing. Although the work is highly virtuosic, these passages are intrinsically part of the thematic material, rather than for the violinist to show off.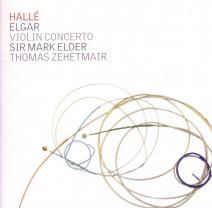 If you are a library, university or other organisation that would be interested in an institutional subscription to Gramophone please click here for further information.