Purcell
The Fairy Queen
Glyndebourne Festival Opera / William Christie 
Opus Arte DVD OA1031D Blu-ray OABD7065D Read Review
"The idea of reconciling the score of The Fairy Queen and its original play has for too long seemed too much like hard work for those who could not be bothered to make a serious attempt," opined Gramophone's David Vickers when reviewing this marvellous Glyndebourne DVD, a rare staging of Purcell's The Fairy Queen in which some scenes from Shakespeare's A Midsummer Night's Dream are interspersed. Quickly though, director Jonathan Kent is off into appropriately weird and wonderful flights of fantasy – Vickers goes on to caution that "you might want to cover your children's eyes at the rather saucy choreography for giant pink rabbits at the end of Act 3"! Beautifully sung, terrifically acted, this is a magnificent show.
Interview with Jonathan Kent, director
This celebrated 75 years of Glyndebourne and 350 years of Purcell, but it's a joyous celebration of life itself. We shaped it for coherence and to follow the Shakespeare narrative as best we could, embedding the masques within that. But the presiding genius is Purcell and you have to be careful that Shakespeare's internal music doesn't fight with the composer.
It was a revelatory experience. There was such a freshness about it. Purcell takes us somewhere new. But you do have to school the audience, and including the early Shakespeare scenes helped with that. So Glyndebourne audiences arrived thinking they were going to a Purcell opera and were then confronted with 20 minutes of text before the first masque! I was diffident about that, until I realised that we needed to make that statement – that this isn't a regular opera, that they should come with us on a journey of discovery. It needed that beat.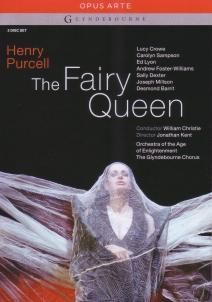 If you are a library, university or other organisation that would be interested in an institutional subscription to Gramophone please click here for further information.