Dame Janet Baker, mezzo-soprano
Pianist Graham Johnson pays tribute to a great and dignified artist
There are certain qualities about Dame Janet Baker that are very special, aside from the fact that she has a sovereign voice, a voice that is instantly recognisable from the first note she utters. That is always necessary for a great singer. Sometimes it takes two lines to identify a singer. With Janet it takes two seconds. She has an unassailable technique. She was one of those people who benefited from the influx of teaching and advice that had come from Vienna as a result of the Anschluss, immigrants who gave to British musical life different standards of depth and perception. One of these was Helena Isepp, the mother of Martin Isepp the accompanist, who I think was perhaps her most important teacher.
Janet was rather like Jacqueline du Pré in that people were talking about her in awestruck tones long before she became world-famous. Her voice rose as her career and technical accomplishment progressed. She mastered the higher reaches of the voice so that she was a real mezzo in the European tradition, able to sing an Octavian if necessary with a high C  – in other words, not a contralto.
By the time Janet Baker got to EMI it was ever onwards and upwards. She was an extraordinary oratorio singer, an extraordinary Bach singer because of the innigkeit of her intensity – that is, one of those singers whose music-making has a spiritual dimension. In the great Bach works, the Passions and so on, it glows through. Then, in a very wordly composer like Handel, in Julius Caesar for example, she was capable of thrilling people with her coloratura. It's a sheer gift. Nothing can make that particular colour, that excitement in the voice which was able to so beautifully express wounded pride or a glowing conviction or anger. It could be coruscating. A friend of mine went for the first time to a recital of hers in Carnegie Hall and I asked how it was. He said, "She stripped the paint from the walls." In American, that's a huge compliment.
Dame Janet was the last singer from an age when twittering was something done by coloratura sopranos. She'd never have been a Facebook artist, never done anything to impair the dignity of the music and the music-making. There were those who found that a little unbending and austere, but what I loved about her was that she always trusted the greatness of the music she was making to have its due effect when she, as its plenipotentiary and advocate on this earth, did her best by the composer.
These qualities that she has are increasingly threatened by things like publicists, trying to spin things to the greatest career advantage. She sang in an era when it was simply good enough to know you were involved with great composers who were going to carry you through. 
Sponsored by Mrs Joan L Jones
(Photo: EMI)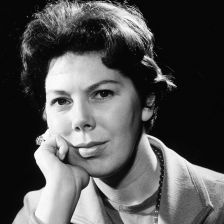 If you are a library, university or other organisation that would be interested in an institutional subscription to Gramophone please click here for further information.