Joseph Moog
A tribute by Jeremy Nicholas:
Take a look at Joseph Moog's last four recordings, the result of his continuing and fruitful relationship with the Onyx label: Rachmaninov's Third Piano Concerto coupled with Anton Rubinstein's Fourth; Tchaikovsky's G major Sonata and Xaver Scharwenka's Piano Sonata No 2; a disc of Scarlatti transcriptions; and, most recently, Grieg's Piano Concerto paired with Moszkowski's ('From Moog everything sparks and thunders. A virtuoso to the manner born, notes stream from his fingers like cascading diamonds,' was Bryce Morrison's verdict last month). 
What do they have in common – apart from each having garnered near-universal glowing reviews? It is, of course, the familiar coupled with the unexpected, masterly accounts of standard repertoire matched with a no-less-compelling advocacy of unfashionable and/or neglected works of the past. Courageous, you might say, for a young artist yet to establish himself internationally. Adventurous, certainly, and imaginative too, none of which would matter a jot without the musicality and impeccable technique to bring it off. For early proof that he has these qualities in abundance listen to Moog's 2006 recording (for the Claves label) of Liszt's Hexameron where Cziffra-like reflexes, allied to a keen ear for subtle colours and inner voicing, put him on a par with the best of his contemporaries.
Moog, backed by his label, bucks the trend and ploughs his own furrow with taste and discernment – a Young Artist of the Year with all the qualities of the old artists of yesteryear.
Recommended Recording
Grieg. Moskowski
 

Piano Concertos 

Deutsche Radio Philh / Nicholas Milton 

(Onyx)

'Moog's performance is greeted with a storm of cheers, wolf-whistles and all. Clearly he is already among the most brilliant of pianists; and in the Moszkowski his orchestra and conductor let their hair down and relish every bar of this delectable fin-de-siècle virtuoso fling...' Read the review.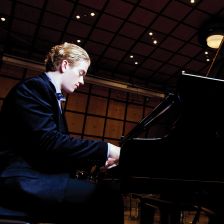 Bernard Haitink (Todd Rosenberg)
If you are a library, university or other organisation that would be interested in an institutional subscription to Gramophone please click here for further information.