Rachmaninov
Born: 1873
Died: 1943
Sergey Rachmaninov
Few musicians have successfully followed two musical disciplines, but Sergey Rachmaninov (born April 1, 1873; died March 28, 1943) managed three: composer, conductor and pianist. His music is tonal, classically structured and imbued with harmonic beauty and melodies of overpowering expressiveness – a Romantic writing after the Romantic era had passed.
---
Quick links
---
Sergey Rachmaninov: a biography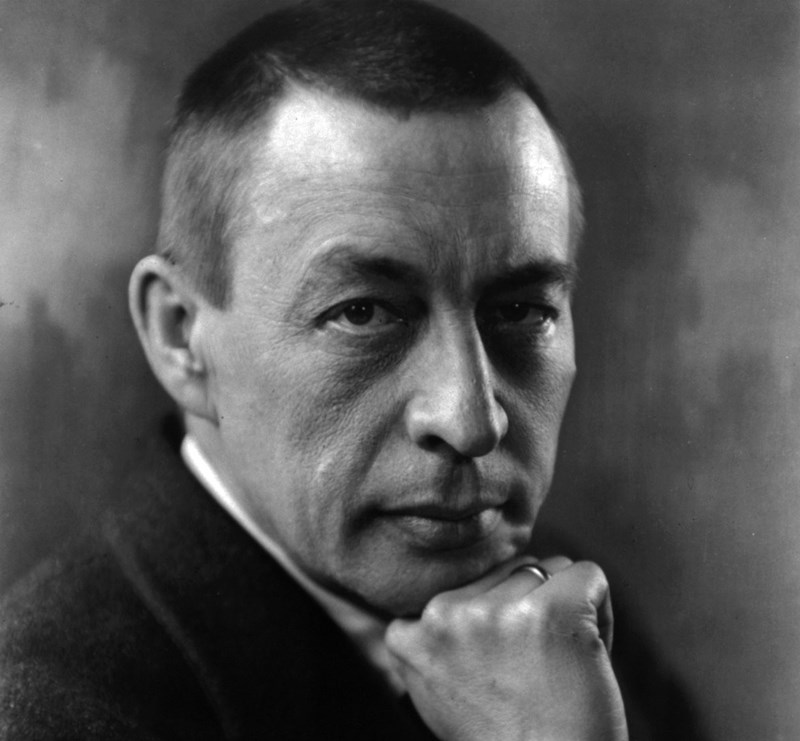 The music came from his father, its nurture from his mother. Grandfather had been a good amateur pianist and a pupil of John Field; Rachmaninov's aristocratic father Vassili was also a good pianist. Like many land-owning families at the time, times were hard in the 1870s and, when Rachmaninov was nine, the estate was sold, his parents separated, and he went with his mother and five siblings to live in St Petersburg. As an aristocrat, music would have been closed to him as a profession. Now, without property or income, he was free to embark seriously on the study of music, for he had clearly inherited the family talent for the piano.
After a couple of years at the St Petersburg Conservatory, Rachmaninov entered the Moscow Conservatory in 1885 on the advice of his cousin, the pianist Alexander Siloti. Under the strict regime of Zverev, Rachmaninov quickly developed into a formidable player. He studied composition with Taneyev and Arensky, Tchaikovsky took an interest in the young man's work and by the age of 19 he had written his First Piano Concerto and the group of Five Pieces, Op 3 (dedicated to Arensky) which include the celebrated Prelude in C sharp minor, one of the most popular of all piano compositions. He found a publisher, his one-act opera Aleko made a considerable impression at its premiere in 1893 and he won the Great Gold Medal for the piano when he graduated – altogether an impressive start to a career.
A career setback
Then came a profound setback. For two years he worked on the composition of his First Symphony. The premiere was a disaster: the music was derided by the critics and the performance a fiasco, poorly conducted by a drunken Glazunov. This humiliation prompted a period of severe self-doubt and depression. His confidence was boosted by an invitation to appear in London as conductor, composer and soloist (his tone-poem The Rock was given, and the by now inevitable C sharp minor Prelude), but when he returned to Moscow and tried to complete a Second Piano Concerto, his depression returned. Rachmaninov went to consult a psychologist, Dr Dahl, and after a course of hypnosis, during which Dahl insisted that Rachmaninov would 'start writing, and the work will be excellent', the composer indeed was able to complete the Second Piano Concerto. It has become one of the most popular of the genre.
First trip to America
Rachmaninov married his cousin Natalie Satina in 1902. For the next few years he managed to conduct at the Bolshoi (1904-06), compose (if not prolifically) and appear as a soloist. He and his family moved to Dresden for two years to concentrate on composition, then back to Moscow in 1909, then over to America for his first tour of the country. For this he wrote his Third Piano Concerto, playing it twice in New York, the second time under the baton of Mahler. His fame and the success of this visit led to his being offered the conductorship of the Boston Symphony Orchestra. He turned it down (the offer was repeated in 1918 and again declined). Then it was back to Moscow.
Leaving Russia forever
From 1910 to 1917 he remained there, conducting the Moscow Philharmonic concerts and composing – as well as making many foreign tours, by now world-famous. When the Revolution came, it changed his life for ever. In November 1917 he and his family left Russia for a Scandinavian tour, the catalyst that decided him to make the break rather than live under the new regime. Rachmaninov never returned to Russia again.
A concert pianist in America
When he eventually settled on America as his base, he arrived with very little money. He changed career and turned himself into a full-time concert pianist. This involved an extraordinary amount of work – he had a small repertoire compared with most pianists – but, by specialising in the sort of music the public wanted to hear (Chopin, Schumann, Liszt and, of course, his own compositions), he made a sensational success. His career as a conductor evaporated (although he carried out many engagements) and he wrote comparatively little music after he left Russia. Instead, he became known as one of the greatest pianists in history.
He bought a house on Lake Lucerne in Switzerland – his grandmother's house on the banks of the River Volchov had engendered a lifelong love of rivers and boats – and made annual tours of Europe. In 1935 he decided to make New York his home, later settling in Los Angeles. His home there was an exact replica, down to the food and drink, of the home he had left in Moscow. Composition gradually became more and more difficult for him but he continued to play in public until a month before his death from cancer, a few weeks after becoming an American citizen. He was buried in the Kensico Cemetery in New York.
---
The Gramophone Podcast: Rachmaninov episodes
Martin James Bartlett on his new Gershwin and Rachmaninov album, 'Rhapsody'
Pianist Iain Burnside talks about recording Rachmaninov's complete songs
If you are a library, university or other organisation that would be interested in an institutional subscription to Gramophone please click here for further information.