Lifetime Achievement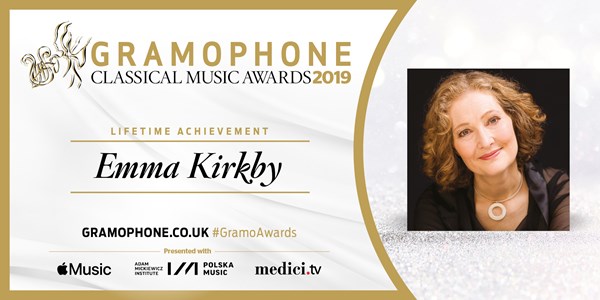 Not many singers are revolutionaries; not many can be said to have radically changed the sound of music in our time. But that is the lifetime achievement of Emma Kirkby: through her totally distinctive voice, focused artistry and supremely intelligent music-making she has transformed our experience of a repertory of great music. She has been one of the most powerful forces in the early music revival across nearly 50 years, and thus a key part of one of the most important and influential movements in today's musical world.
It must have been the early 1970s when I first heard Emma sing in the Holywell Music Room in Oxford, and I can remember as if it were yesterday her utterly simple, emotionally direct singing of Philip Rosseter's Elizabethan lute-song 'What then is love but mourning?'. She was then reading Classics, intending to become a teacher, and singing with the fresh-voiced Schola Cantorum of Oxford conducted by Andrew Parrott as well as emerging ensembles like the Oxford Early Music Group. As the sounds of renaissance and period-style baroque instruments proliferated during that fruitful decade, Emma's clear-edged voice, unencumbered by constant vibrato, was one that ideally matched those revived timbres and textures. When Anthony Rooley formed The Consort of Musicke, and Christopher Hogwood the Academy of Ancient Music, Emma was a vital part of both undertakings; both were strongly supported by Decca's Oiseau-Lyre Florilegium label under Peter Wadland, and won worldwide audiences very rapidly.
Two composers whose work she has constantly championed were prominent: John Dowland, whose long series of recordings by The Consort of Musicke began with the First Booke of Songes in 1976, and Henry Purcell, whose complete Theatre Music in the Academy of Ancient Music's pioneering compilation brought Emma alongside Judith Nelson and other emerging early music singers. But the defining recording which brought Emma to the widest public was Hogwood's 1980 account of Handel's Messiah. Choosing an unfamiliar version of this flexible piece, Emma's brilliant, shining soprano was given the aria 'But who may abide' with its virtuosic depiction of the refiner's fire. That recording, which still stands today as among the finest, really did set the world on fire and sealed Emma's reputation as the early music soprano of our day.
She has always remained true to the character of her voice. Unlike her fellow period-style instrumentalists, she did not press forward far into the Classical and Romantic era, though she recorded Mozart's Exsultate jubilate, the Requiem and Haydn's Creation with Hogwood (and I always longed to hear her as Pamina). Instead she moved backwards in time, creating another international success with Hyperion's best-selling recording of the music of the abbess Hildegard of Bingen with Gothic Voices and Christopher Page, which won a Gramophone Award in 1983. The unearthly sounds of 'Columba aspexit' resonated across the centuries and created a new audience for the earliest medieval music.
Not everyone liked Emma's inidividual vocal style: it is chastening to read some of the reactions that were written (and to remember more that were just spoken!) about her straight tone, her flat unvaried delivery, and most revealingly, her supposed 'lack of expression'. But those reactions were out of tune with the temper of the times. The public could hear a different kind of expressiveness in her voice, and voted in their millions for the precision and grace, the unvarnished beauty, and penetrating intelligence of her delivery. With the Swedish record company BIS in the 2000s she went on to record a wide variety of baroque cantatas and lute songs, often in the wonderful acoustics of Laenna church in Sweden, coming much nearer to the present in an enterprising revival of songs by the American composer Amy Beach.
Among her many honours and wide recognition, an Honorary Doctorate of Music from Oxford in 2008, and the award of the Queen's Medal for Music in 2011 were especially prized. But Emma Kirkby, for all her fame, has remained unattached to the trappings of success: she retains a devotion to teaching and coaching, spreading the insights of her style, and has been many times to the Dartington Summer School of Music in Devon and other academies. She has an extraordinary talent for friendship and a wide-ranging network of colleagues who hold her in the deepest affection and respect. At the heart of her repertory remains the exceptionally subtle world of the Elizabethan lute-song; in her classic album 'Time Stands Still' for which she wrote an erudite essay, the constancy and faithfulness of time provides an apt line for her own lifetime achievement: 'stand still and gaze, for minutes, hours and years to her give place. All other things shall change but she remains the same'. Nicholas Kenyon
Special Awards 2019
Recording of the Year | Orchestra of the Year | Label of the Year | Artist of the Year | Young Artist of the Year | Lifetime Achievement | Special Achievement | Concept Album 
If you are a library, university or other organisation that would be interested in an institutional subscription to Gramophone please click here for further information.