How it feels to play in the world's great concert halls for the first time
Tom Borrow
Wednesday, July 27, 2022
BBC Radio 3 New Generation Artist Tom Borrow reflects on his debut appearances at concert halls around the world and looks ahead to his first performance at London's Royal Albert Hall as part of the BBC Proms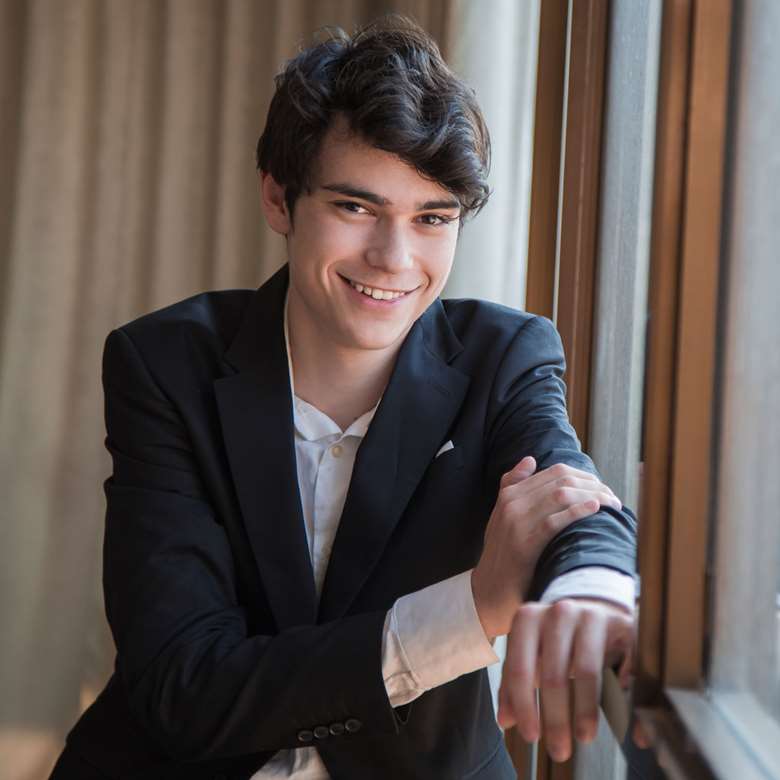 For a young musician growing up in a somewhat geographically-isolated country, Israel, starting to work internationally in an intensive way brings very many new experiences.
And chief among these is going from a routine where you are playing in a limited number of concert halls, at home, that you know well (and Israel, while it has many wonderful musicians and many orchestras for its size, is not blessed with too many top-level halls), to regular invitations to play in unfamiliar venues of all shapes and sizes in many countries.
For me, this feeling was accentuated by the fact that I made my breakthrough with the Israel Philharmonic in 2018, and was lucky enough to have international invitations follow – but then stop again, just as quickly, as Covid locked everything and all of us down.
It was as though the pause button was pressed for a year, during which time nobody could go anywhere, and then the floodgates opened!
How much effect do radically different spaces have on one's playing?
Well, one might say that concerts are practice and practice is concerts and everything is a continuation of the same path, which is all about trying to be closer to the music's truth.
But still, the lifestyle change is obviously dramatic, and it's also definitely interesting to think about the effect different spaces – often startlingly different to what one is used to – can have on the way you perform, or the way the performance works.
Sometimes it's about the audience in the space. At the Charles Bronfman Auditorium in Tel Aviv, for instance, where the Israel Philharmonic plays, the audience is very knowledgeable, and very warm.
They sort of cheer you on somehow, there's something you can feel in the air as you play. It's very welcoming!

The first invitation I had to play with an overseas orchestra that didn't get Covid-cancelled was with the Santa Cecilia Orchestra, at their beautiful hall in Rome.
I was due to play three performances of Mozart's Piano Concerto No 24 under Semyon Bychkov, but that became a single performance without audience in the hall, live streamed for the web and Italian television. So that was quite challenging!
Faced with a large, empty auditorium, with the mics and cameras placed around, I learnt an important lesson – play for the space, not for the microphones.
I realised that the microphones are set up to capture the space rather than just where I'm seated in the hall. So it makes sense to play into the space. And it was very rewarding, that hall, very warm and quite rich.
What makes for a good hall, I think, is where the way I hear myself and the way the audience hears me are similar. While it can never be identical, the closer that disparity is, the more comfortable it is to play in, because you can rely on what you hear.
So the dream would be that the way the sound envelops you sitting at the piano, also envelops the orchestra and the audience in an identical way.
Severance Hall in Cleveland gets close to that ideal. Playing Ravel's Piano Concerto there, the sound felt all-embracing, it surrounded us all and seemed to reach every person in the hall in the same way.
I don't know how that happens, it's beyond me, but it's great fun to play in!
And that allows an ensemble to listen to each other more attentively, which makes the whole critical issue of balance easier.
Another hall where I felt a great sense of intimacy was in Toulouse, when I played Mozart's 24th Concerto again, this time with the Orchestra national du Capitole at the Halle des Grains (which used to be a covered market for the grain trade, later a sports hall).
It's not quite an in-the-round space, but close, the audience are in a sort of arc, almost wrapped around the stage.
When you play, they turn the lights out in the auditorium so that you can't really see anyone and it almost feels like you're alone in the dark with the orchestra. And yet, you can sense the audience there, all around.
It's a great atmosphere for playing that work in particular, as a late, minor-key concerto that has real melancholy and deep profundity, and in this hall, as you explore it, you feel like you're floating in the middle of space – and also that every subtlety can count.
Earlier this year I experienced the marvel that is the Sala São Paulo, home of the São Paulo Symphony Orchestra, with whom I was playing both Beethoven's Piano Concerto No 4 (under their Music Director, Thierry Fischer, who had also conducted me in Cleveland) and Chausson's Concerto For Violin, Piano and String Quartet – two very different works on two very different scales!
It's an amazing building, built as part of a railway station, which still stands adjacent to the concert hall.
In fact, as you exit from the main foyer, you walk to a huge glass wall, which seems completely soundproof, and you can see through it, on the other side, this whole huge train station in action, like a piece of silent cinema! Talk about playing with sound!
But the Sala São Paulo is very comfortable to play in, you never feel that you have to push. And they are able to modify the hall for each occasion as needed.
So when it came to the Chausson, a chamber work, they reversed the setting of the stage so that we musicians faced the choir seats at the back, which were lowered; they added more seating there and they closed off the main stalls with curtains.
It very much kept that feeling of a comfortable playing space, acoustically. And when we switched to the Beethoven, all of that was reversed again, and they were even able to make the ceiling higher to expand the space even more. Amazing!
As well as the spaces themselves, travel opens up new freedoms and dimensions, in ways that are hard to define or to pin down.
When I toured the Basque Country (playing both Brahms piano concertos with the Basque National Orchestra under Robert Trevino) it had a great effect on me, stimulating many different instincts and ideas.
And the fun thing about a tour is that you get to play the same work several times – you can never cover every aspect in a single performance, so this gives you a chance to try several 'takes' in different kinds of spaces, seeing what works, where.
Another space that affected me, in quite a different way, is the Rudolfinum in Prague.
Playing Mozart there with the Czech Philharmonic was special.
The sound is rich, as is the stunning decor. But that hall is so suffused with history, you feel it very much on the stage.

Musicians always try to get closer to music, with the knowledge of never actually arriving, and being in a hall that hosted Dvořák and Mahler can give you the sense that you are actually in the right area!
It's not intimidating, as you might imagine, instead it's extremely inspiring. Just to share a space with these kinds of people feels unbelievable.
Most of the great composers lived so long ago, that when you look at the old portraits or even photographs, it seems like gazing into a parallel universe – they seem almost like fictional characters.
So to stand in a hall and be told that 'Dvořák stood right there', you suddenly realise that these were humans after all!
I felt something similar when I played at Aldeburgh, home of Benjamin Britten, another composer whose music I adore.
And I expect to feel something of this same kind when I play at the Royal Albert Hall for the BBC Proms.
I have heard about the enormous, spectacular space, and about the incredible audiences, and I can't wait – yet I look forward, too, to 'meeting' the memories of so many legendary composers who have also stood on that stage.
The knowledge of those who came before makes those of us who are lucky enough to be invited to play there now, feel a little more that we can maybe get close to them, as we play their great music.
---
Tom Borrow plays Ravel's Piano Concerto in G major, with the BBC Symphony Orchestra under Martyn Brabbins, on Sunday, July 31. More information: bbc.co.uk