Editor's Choice: Awards issue 2023 | The best new classical recordings
Monday, October 16, 2023
Featuring new recordings of Monteverdi's Vespro della Beata Vergine, Bartók's Concerto for Orchestra, Dvořák's Complete Piano Trios and more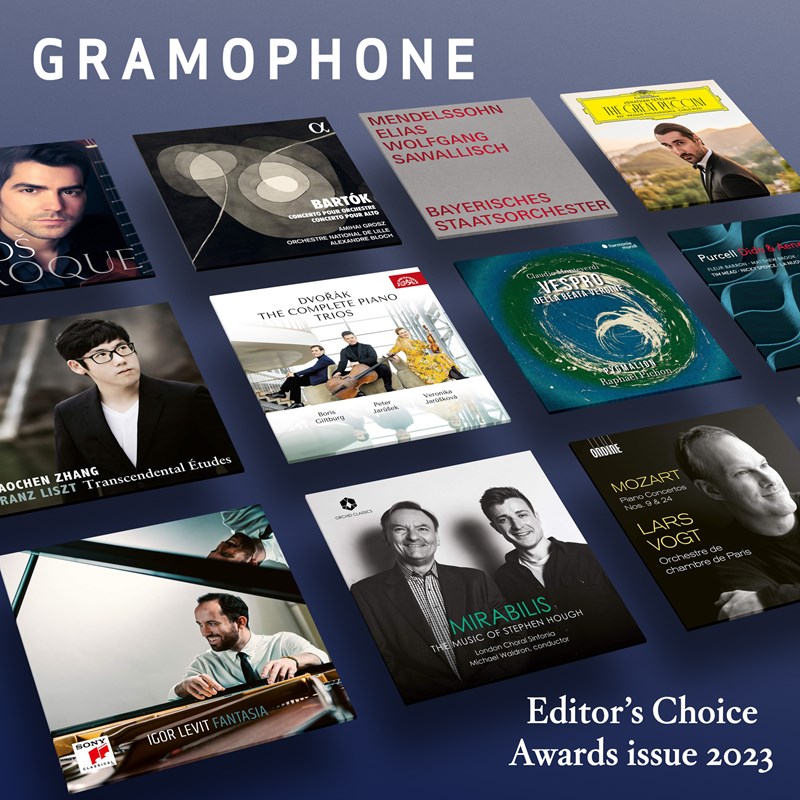 In every issue of Gramophone, Editor Martin Cullingford chooses 12 albums (10 new releases, plus one DVD/blu-ray and one archive recommendation) as his Editor's Choice. Below, you will find the albums selected as Editor's Choice in the Awards 2023 issue, beginning with the Recording of the Month. 
We've included links to the album reviews in Gramophone's Reviews Database, a digital archive of all of our reviews from 1983 to today. To find out more about subscribing to Gramophone and the Reviews Database, please visit: magsubscriptions.com
Recording of the month

Monteverdi Vespro della Beata Vergine
Pygmalion / Raphaël Pichon 
Harmonia Mundi 
'Gripping … impactful … bursting with energy and passion' – the words of critic Edward Breen perfectly encapsulate this riveting performance of the Monteverdi Vespers from Raphaël Pichon. 
---

Bartók Concerto for Orchestra. Viola Concerto
Amihai Grosz va Orchestre National de Lille / Alexandre Bloch
Alpha 
Alexandre Bloch and his Lille players offer a brilliant Bartók pairing, revealing their shared vision and cohesion as collaborators.
---

Mozart Piano Concertos Nos 9 ('Jeunehomme') & 24
Paris Chamber Orchestra / Lars Vogt pf
Ondine 
A wonderful Mozart concertos album from the late Lars Vogt – a moving tribute to the joy and love he brought to music-making.
---

Dvořák Complete Piano Trios
Veronika Jarůšková vn Peter Jarůšek vc Boris Giltburg pf
Supraphon 
Chamber music-making at its finest - these Dvořák trios burst with the energy and spirit that makes such shared performance a pleasure to hear and, it sounds, to play too! 
---

Liszt Études d'exécution transcendante
Haochen Zhang pf
BIS 
A kaleidoscopic range of tone, virtuosity placed at the service of an exploratory interpretation, Haochen Zhang's Transcendental Études are a supreme achievement. 
---

'Baroque'
Miloš Karadaglić gtr
Sony Classical 
Miloš brings a beautiful sense of searching and reflection to this music of the Baroque – whether Bach or Boccherini, Vivaldi or Weiss – throughout a thoughtfully chosen, wonderfully personal programme.
---

'Fantasia'
Igor Levit pf
Sony Classical 
Every work, every bar, from the tenderest Bach to the mightiest Liszt, feels so deeply, so carefully considered – another compelling triumph from Igor Levit, one of our era's most thought-provoking virtuosos.  
---

Hough Missa mirabilis
London Choral Sinfonia / Michael Waldron 
Orchid 
The range and reflectiveness, the spirituality and humanity of Stephen Hough's choral music is wonderful explored on this beautifully performed collection. 
---

Puccini

 

'The Great Puccini'
Jonathan Tetelman ten PKF Prague Philharmonia / Carlo Rizzi
DG 
'The Great Puccini' from, it's quickly clear, a great Puccinian – his beauty of tone is paired by an instinctive sense of drama.
---

Purcell

 

Dido and Aeneas
Sols; La Nuova Musica / David Bates 
Pentatone 
David Bates offers superbly engaging playing from La Nuova Musica plus a luxurious cast of soloists for a theatrically thrilling performance of Purcell's Dido and Aeneas.
---
DVD/blu-ray

Humperdinck Königskinder
Sols; Dutch National Opera / Marc Albrecht 
Naxos 
A lesser-known Humperdinck opera receives the best possible advocacy in a film our critic Andrew Mellor found 'utterly captivating – every single second of it'.
---
Reissue/archive

Mendelssohn Elias
Sols; Bavarian State Orchestra / Wolfgang Sawallisch 
BSO Recordings 
What a set of soloists! Margaret Price, Brigitte Fassbaender, Peter Schreier, Dietrich Fischer-Dieskau …BSO Recordings delves into its archives in considerable style.