Editor's Choice: March 2023 | The best new classical recordings
Monday, February 20, 2023
Puccini's Turandot, Bartók's Dance Suite, Nielsen's Symphonies Nos 2 & 6 and Rachmaninov's Études‑tableaux are among this month's Editor's Choice albums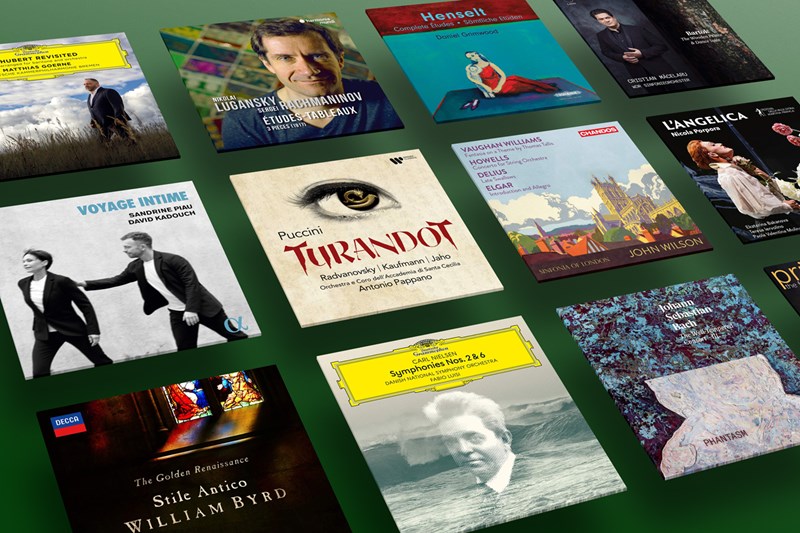 In every issue of Gramophone, Editor Martin Cullingford chooses 12 albums (10 new releases, plus one DVD/blu-ray and one archive recommendation) as his Editor's Choice. Below, you will find the albums selected as Editor's Choice in the March 2023 issue, beginning with the Recording of the Month. 
We've included links to the album reviews in Gramophone's Reviews Database, a digital archive of all of our reviews from 1983 to today. To find out more about subscribing to Gramophone and the Reviews Database, please visit: magsubscriptions.com
Recording of the month

Puccini Turandot
Sols; Chorus and Orchestra of the Accademia Nazionale di Santa Cecilia, Rome / Antonio Pappano Warner Classics 
The great anticipation about this project has been happily fulfilled – superb soloists and inspired conducting by a brilliant Puccinian, Antonio Pappano, makes this an operatic success story.
---

Bartók Dance Suite. The Wooden Prince
WDR Symphony Orchestra / Cristian Măcelaru Linn 
Christian Măcelaru and his WDR Symphony players capture Bartók's sound world and the narrative's journey splendidly: a terrific album indeed.
---

Nielsen
 

Symphonies Nos 2 & 6

 

Danish National Symphony Orchestra / Fabio Luisi DG 

Last month's review of this series's earlier instalments was a rave, and with this release of Symphonies Nos 2 and 6 Luisi brings to a close a thrilling new benchmark cycle.  
---

'Music for Strings'
Sinfonia of London / John Wilson Chandos 
Praise for John Wilson's Sinfonia of London will be nothing new to readers: the strength and beauty of the strings and Wilson's instinct for ensemble makes for another triumph.
---

JS Bach
 

'The Well-Tempered Consort, Vol 3'

 

Phantasm Linn 

A wonderful and stylishly played release from Phantasm, the third and final instalment of their enlightening albums featuring Bach arrangements for viol consort.
---

Henselt

 

Complete Études
Daniel Grimwood pf Edition Peters 
As Jeremy Nicholas outlines in his review, Henselt's place in piano's history is not reflected in recordings, something Daniel Grimwood sets out to challenge here: instant classic status, is JN's verdict.
---
Rachmaninov

 

Études‑tableaux
Nikolai Lugansky pf Harmonia Mundi 
Nikolai Lugansky's Rachmaninov recordings span his career, and his innate feeling for the composer superbly realised in the complete Études-tableaux, a truly impressive contribution to the catalogue.
---

Byrd 'The Golden Renaissance'
Stile Antico Decca 
Stile Antico begin the Byrd anniversary year in typically impressive style – an album which well captures their impeccable but characterful collegiality, and their glorious sense of sonic space. 
---

'Schubert Revisited'
Matthias Goerne bar Deutsche Kammerphilharmonie Bremen DG 
Schubert songs in orchestral form, and when sung exquisitely by Matthias Goerne they lose none of their emotional intimacy. 
---

'Voyage intime'
Sandrine Piau sop David Kadouch pf Alpha 
A philosophical, emotional and geographic journey told through a superb selection of songs; Sandrine Piau is a profoundly poetic guide, David Kadouch her perfect travelling companion.
---
DVD/blu-ray

Porpora L'Angelica
Sols; La Lira di Orfeo / Federico Maria Sardelli Dynamic 
A wonderfully sung work by Porpora – rival of Handel, mentor of Haydn – and played with spirit by La Lira di Orfeo, this is a DVD well worth exploring. 
---
Reissue/archive

Julius Prüwer 'The Forgotten Maestro'
Pristine Classical 
Julius Prüwer left a rare but largely neglected corpus of recordings – here's an excellent chance to discover 'The Forgotten Maestro' through these performances from the 1920s and '30s.
---
Life is better with great music in it. Subscribe to Gramophone today