Gramophone Classical Music Awards 2021 shortlist is revealed!
Wednesday, September 1, 2021
Explore the 72 albums shortlisted for this year's Gramophone Classical Music Awards in our free digital magazine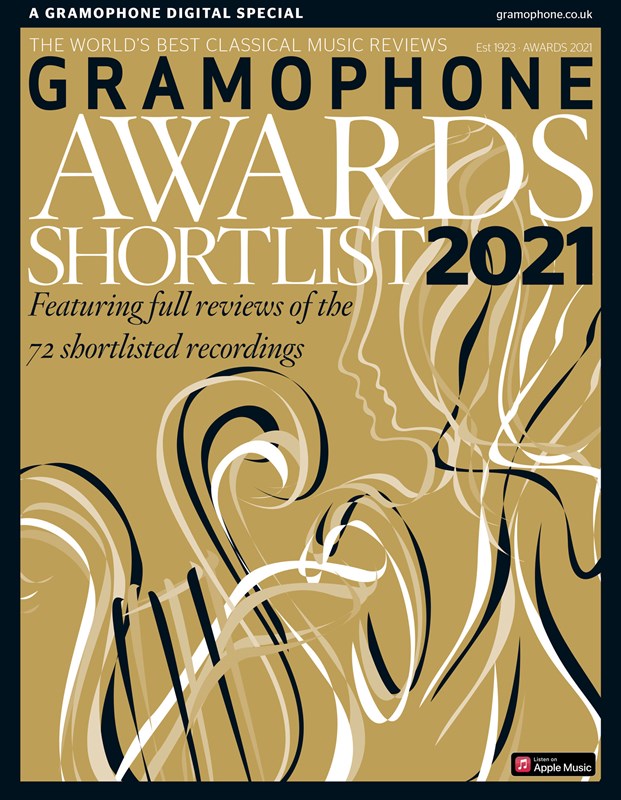 Today, the 72 recordings that form the second round of the Gramophone Classical Music Awards 2021 are revealed in a free-to-view digital magazine. From this list of celebrated recordings, an album will be chosen as the winner in each of the 11 recording categories, and from that shortlist, a single album will be named 'Recording of the Year' on October 5.
➔ The Gramophone Classical Music Awards 2021 Shortlist
Editor-in-Chief James Jolly introduces the Shortlist
Recorded music has probably never occupied such a central, and vital, role in all our lives as it has for the past 18 months. I know that I've never listened to as much music before, and not since my teens have I sought it out with quite the same hunger.
And much of my listening can be found in the pages of this digital magazine, a compilation of reviews of every recording that has made the shortlist for the 2021 Gramophone Classical Music Awards, once again presented in association with Apple Music, E Gutzwiller et Cie, Banquiers, and Help Musicians UK.
This year we've made a few changes; some largely cosmetic, some completely new. We've done a bit of renaming: Solo Vocal becomes Song, Recital has turned into Voice & Ensemble to more obviously embrace works that are hard to categorise elsewhere, and to acknowledge that we're living of a Golden Age of pianism (to the extent that other instruments rarely get a look-in), we've spun Piano off from Instrumental (which now accommodates any solo music-making that isn't played on a piano). And we've also introduced a new category for Spatial Audio releases, a technology embraced by Apple Music which makes often very exciting use of Dolby Atmos. The six nominated recordings' original Gramophone reviews are supplemented by comments drawn from our voting deliberations.
I do hope you enjoy listening to these 72 recordings as much as we have.
➔ The Gramophone Classical Music Awards 2021 Shortlist