Join the DSO-Berlin and Robin Ticciati for some musical mountaineering
Thursday, June 3, 2021
Richard Strauss's An Alpine Symphony is presented in a new film with narration by the legendary mountaineer Reinhold Messner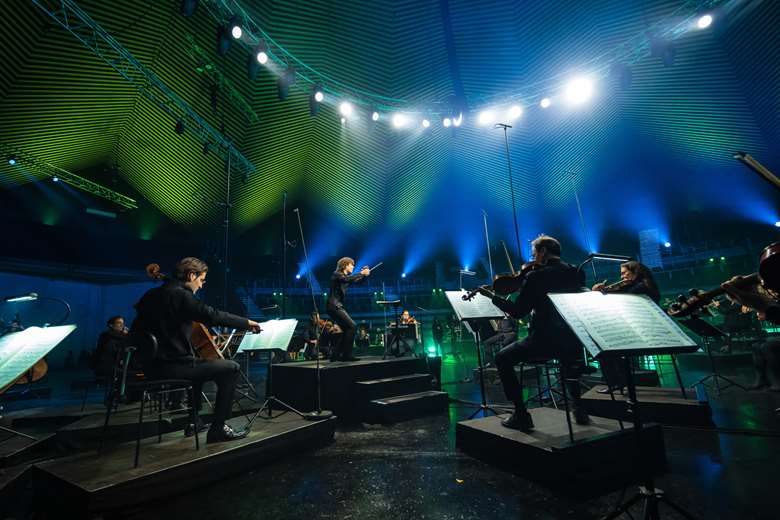 Robin Ticciati and his DSO-Berlin – one of the 10 ensembles shortlisted for Gramophone's Orchestra of the Year 2020 - conducts Richard Strauss's An Alpine Symphony in a specially filmed performance in Berlin's Tempodrom. Available to watch for 48 hours on DG Stage from 7pm (BST) on Friday, June 4, Strauss's great tone-poem portraying a day-long hike in the mountains takes centre stage in a cinematic presentation conceived and directed by Frederic Wake-Walker and filmed by Andreas Morell, a co-production between the DSO-Berlin, EuroArts and rbbKultur.
Offering a personal commentary is the legendary Italian mountaineer Reinhold Messner – who made the first solo ascent of Mount Everest and, along with Peter Habeler, the first ascent of Everest without supplemental oxygen, as well as being the first climber to ascend all 14 peaks over 8000 metres above sea level – providing 'insights into the physical and psychological borderline experiences of his mountain ascents and speaks about extreme situations, the perception of nature, and his mental state on the night before departure, during the conquest of the peak, during the long, onerous descent and the exhausted, contented return home'. His narrative, given in German, is subtitled in English.
Made with the vast forces of the DSO-Berlin surrounding the conductor, An Alpine Symphony was filmed in Berlin's Tempodrom in March. Robin Ticciati explained that 'The Alpine Project came about as the need to gather all the musicians of DSO during this pandemic burned more and more in my heart. The question is, once the hygiene and safety precautions are in place, how to perform such a piece? The vision was to map onto Strauss' topography a landscaped orchestra – in the Tempodrom round – and a new commentary by climbing legend Reinhold Messner. I was fascinated to combine Messner's psychological analysis of a climb with the pictorial, almost filmic, scoring that Strauss uses. There is a "new-classical music" emerging which has been born out of this pandemic. It revolves around "attitude" and asking questions of ourselves as artists. A new service for composer and audience: a new entertainment.'
Frederic Wake-Walker added that 'Messner guides the viewer through the symphony with his own reflections and recollections on mountain climbing. The music itself is highly descriptive – Messner's words are not intended therefore to tell a story, rather to illuminate the music for the listener; to hear both the external, physical world and the internal thoughts and feelings associated with climbing a mountain. The dialogue between Messner's words and Strauss' music is something I've never experienced before.'
Tickets to the DG Stage premiere cost €9.90 and are valid until Sunday at 7pm (BST). Thereafter, audiences in Germany, Austria and Switzerland will be able to watch the film, video on demand, on the DSO Player.