Contemporary Composer: Anna Clyne
Richard Whitehouse
Friday, March 5, 2021
Richard Whitehouse has no doubt that things will only get better for this already popular and much-recorded composer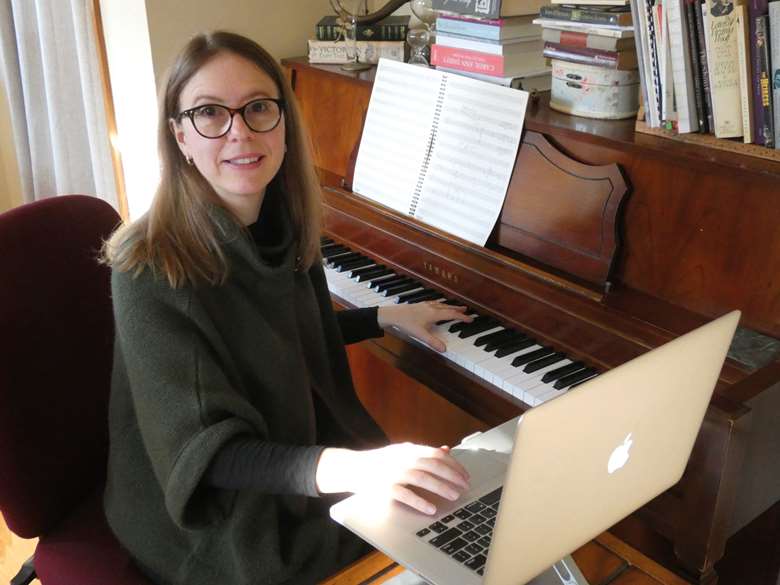 Cultural considerations are not the only things that have recently brought a host of female composers to prominence. Half a century ago the wholly different talents of Lutyens, Maconchy and Thea Musgrave need not have feared comparison with their male contemporaries – a situation mirrored now with the emergence of a new generation on the new music scene, from among whom Anna Clyne is striking for the rapidity with which her output has evolved into a mature idiom always lucid in its compositional craft and immediate in its emotional impact.
Born in London, Clyne studied music at the University of Edinburgh then at the Manhattan School of Music where her tutors included Julia Wolfe – a founder member of the influential ensemble Bang on a Can, which commissioned and performed several of her earlier pieces. Clyne had begun composing around the age of 10, and although the first acknowledged works date from her early twenties, an essentially youthful delight in the discovering as well as realising of unusual combinations of sound is a constant across all her music that emerged at this time.
Notable among the compositions from her formative years is a series for instrument(s) and tape, which attests to her early interest in the melding and integration of sound sources later channelled into music of greater formal ambition or expressive scope. Not that these earlier pieces are unformed or immature: witness the dreamlike texture resulting from the layering of amplified cello, music box and pre-recorded samples in Paint Box (2006); the hypnotic while also playful interface between piano and tape in On Track (2007); and the powerfully sustained study for solo cello (also playable by violin or viola) that is Rest These Hands (2009), its tape part notable for its understated, almost subordinate function. Conversely, it is the pre-recorded element that affords so distinctive a slant on the Debussian lineup of flute, harp and viola in Beware of (2007).

Very different is the approach to combining cello and tape found in Fits + Starts (2003) – the earliest piece in Clyne's worklist and, appropriately, the opening track on 'Blue Moth', the first release devoted to her music and issued on John Zorn's Tzadik label. After the pungent confrontation of clarinet and tape in Rapture (2005), this collection moves into the surreal atmospherics yielded by instrumental quartet and tape in 1987 (2008), on to the fraught opposition of baritone saxophone and tape in Choke (2004), the intensifying and often hypnotic activity of string quartet and tape in Roulette (2007), then unpredictable interplay between woodwind duo, percussion and tape in Steelworks (2006); the tape piece Beauty (2011) makes for a haunting close. None of these pieces feels the least tentative in its realisation of an arresting and distinctive approach that soon earned widespread attention.
The culminating work of this period is The Violin (2009), which began as a stand-alone memorial to the composer's mother and subsequently expanded into a suite of seven movements – two of them taking their titles from those of her mother's poems. Playable either by two violins and tape or by eight violins, the sequence can also be accompanied with video animations by Josh Dorman. In whichever guise, these pieces exude keen eloquence and poise as well as offering a personal take on music from the past – notably by Bach – while folk-like elements are a constant though reticent presence, along with decisive pointers to Clyne's future. Interestingly, and for all the extramusical elements, these pieces can be heard as fitting into a lineage of British music for strings, a feeling accorded emotional distance by the fact that Clyne relocated to the US early in her career (in 2002).

Something of the pathos found in the above work is carried through directly into Prince of Clouds (2012), a double concerto for two violins and strings whose modally inflected harmony and trenchant interplay between the soloists and, in turn, with the orchestra ensure a cumulative emotional charge over its 15-minute span. Not that Clyne had by this time abandoned her use of pre-recorded materials, as the amalgamation with amplified ensemble in A Wonderful Day (2013) reveals in a fusion redolent of such noted experimentalists as Gavin Bryars or Alvin Lucier.
It was with a slightly earlier piece, however, that Clyne achieved her breakthrough. Written as part of her tenure (alongside Mason Bates) as composer-in-residence with the Chicago Symphony Orchestra, Night Ferry (2012) was her first large-scale work for full orchestra. It received the endorsement of music director Riccardo Muti, whose performance was subsequently issued on the orchestra's in-house label. Selective in his approach to new pieces, Muti was doubtless attracted to music whose virtuosity tests even an outfit of the CSO's abilities yet whose intricacies are never at the expense of sonic allure or visceral immediacy – qualities commending it to non-specialist audiences and ensuring its wider appreciation. Clyne's transition from innovative experimentalist to mainstream composer had been decisively as well as resourcefully made.

Few contemporary pieces receive a second recording with any frequency, yet Night Ferry has now been issued also on 'Mythologies', a collection of Clyne's orchestral music in performances by the BBC Symphony Orchestra. The album amounts to an overview of her evolution over a decade: the exhilaration of Rewind (2005, rev 2006) translates the impetus and impact of her earlier idiom onto a larger canvas, while the later pieces show an incremental development from the high-octane power of Masquerade (2013) – a latter-day 'lollipop' that follows on from those by such totemic American composers as John Adams and Christopher Rouse – to This Midnight Hour (2015), with its unlikely yet distinctive trajectory from bounding energy to expectant poise (which might be the reason why the piece has enjoyed so many performances on both sides of the Atlantic).
Also included on this album is The Seamstress (2014-15), a concertante piece in which the juxtaposition of violin and orchestra is thrown into relief by the role of pre-recorded material for what is the most oblique while also intriguing of Clyne's multimedia syntheses. The skill with which this interaction is achieved more than complements the unalloyed virtuosity of the solo writing. Different again is the underlying premiss of Dance (2019), a cello concerto whose five movements are each prefaced by a line from a poem by the 13th-century Persian poet Rumi, and chart a steady progression from elegiac and fraught states to the emotional liberation of the closing apotheosis. The solo part (written for Inbal Segev, the composer herself being an able cellist) has any number of personal traits, making this a work representative both of and for its time.

Clyne's music is now well covered in recorded terms, but there are several pieces – notably the rapturous Within her Arms (2008, rev 2009) for strings, a concerto expansion (for violin and strings) of Rest These Hands (2014), or the recent orchestral works Rift (2016) and Color Field (2020), together with several varied compositions for string quartet – that should also be available commercially. Recent premieres include the cello piece Shorthand (2020) – premiered in its version with string quartet by Karen Ouzounian in July and in that with string orchestra by Eric Jacobsen in Orlando in October; and the string piece Stride (2020), played by the Australian Chamber Orchestra in Wollongong in November. Clyne's role as associate composer with the Scottish Chamber Orchestra (based in Edinburgh, so renewing a connection from 20 years before) lasts until 2022. If the next decade is as eventful musically as have been the previous two, then Clyne's status among composers of her generation would seem to be assured.
This article originally appeared in the January 2021 issue of Gramophone. Never miss an issue – subscribe today!