How we kept creativity alive in 2020
Jack Pepper
Friday, January 8, 2021
There have been some inspirational creative initiatives that helped bring music to audiences in 2020 – Jack Pepper celebrates some of the finest, and thinks about how they might shape ideas in the year to come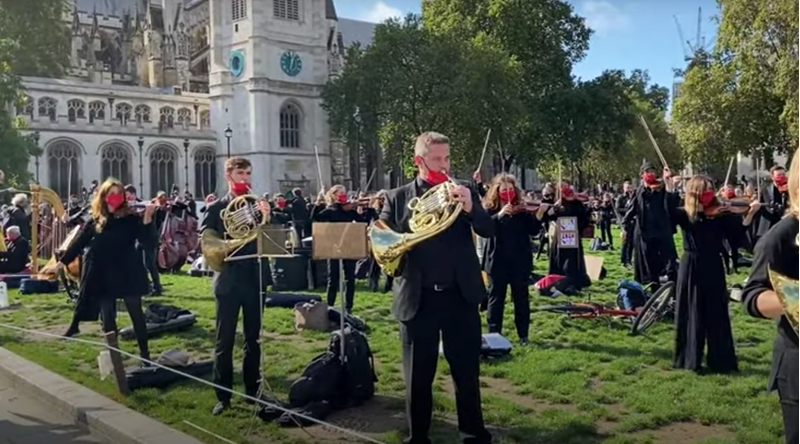 Let Music Live: musicians perform 'Mars' from Holst's The Planets

This article is not here to dress things up: 2020 was catastrophic for music. However, amid the loss and uncertainty, there is also cause to celebrate the creativity of so many in the face of overwhelming challenges.
We can be more certain than ever of music's importance in lifting spirits and bringing people together. I should know – I presented a weekly national radio show from my bedroom for nine months! I received so many heartfelt messages from listeners around the UK for whom radio was a companion in the silence. In a year when everything changed, music continued to be there: all thanks to amazing musicians like these …
Let Music Live
The brainchild of violinist Jessie Murphy, this movement was organised by 13 volunteers in the space of just nine days. In October 2020, 400 socially-distanced players gathered in London's Parliament Square and Birmingham's Centenary Square, performing a section of Holst's The Planets. They then fell silent for a minute, reflecting the blackout among many UK venues and festivals. It was covered by BBC News At Six, LBC and The Times.
Their message was clear: the arts are viable, contributing £10.8b annually to the UK economy. Yet the freelancers who make up a great part of the industry received little government support; Musicians Union research at the time found that 2/3 of musicians were facing 'severe financial hardship'.
Let Music Live highlighted the structural vulnerabilities of an industry that relies so heavily on freelancers, who so often fall between the cracks of government support. Concert venues would be nothing without the freelance musicians who so often fill their stages.

Wigmore Hall
From September to December, London's Wigmore Hall bravely led the way in consistently delivering music safely to both live and online audiences. The venue was determined to get artists earning again, with more than 100 concerts featuring over 200 artists. Initially, numbers attending in person were restricted to just 56 – 10% capacity – but all concerts were streamed live in high definition and made available to watch again for 30 days. I had the pleasure of introducing some of these recitals, and learned that for many of these musicians, it was their first live performance in seven months.
Monetising performances online has proven a great challenge in 2020, and so we must celebrate the amazing dedication of the Wigmore Hall and their tireless Director John Gilhooly, who brought the Hall to many a living room whilst ensuring musicians were properly paid.
Also, by simultaneously reaching a live audience in the Hall and a virtual one at home - without any compromise on quality - the Wigmore Hall season presented a hopeful example of how the digital world can work in tandem with live performance.

Constella OperaBallet: Connecting Stars
Providing work to musicians and combatting loneliness in care homes, this project saw 115 virtual performances take place for nearly 1000 care home residents around the UK. Supported by Sir Willard White and other generous donations, there's a roster of 20 musicians, actors and dancers. Performers are welcome to get in touch to join the scheme, and you can enquire about a performance in your care home or for your loved ones through their website.

Benedetti Foundation Global Violin Sessions
Nicola Benedetti invited top violinists from around the world to arrange a melody by Wynton Marsalis, with each variation designed to reflect a different musical tradition and teach an online audience. Tutorial videos and sheet music graded for all abilities remain online.
Everyone is facing tough decisions in the face of such financial hardship and uncertainty, including schools. Curricular music-making in many state schools was already skeletal at best; in some, it has vanished altogether. The Incorporated Society of Musicians surveyed over 1,300 music teachers around the UK in Autumn 2020, and found that almost one in ten primary and secondary schools were not teaching music as part of the curriculum in any way. Therefore, virtual sessions like these provide an accessible yet still tailored approach to instrumental lessons.

ORA Singers Composers Competition
The vocal ensemble has launched their second composer competition. Up for grabs: 10 hours of one-to-one mentoring for 10 winners, all from UK state schools and born since 2002. They're looking for raw talent; applicants can send in sketches, a single-line melody or an unfinished idea.
They've been championing musicians at all stages of their career. Earlier in 2020, the ORA Singers recorded a new piece by James MacMillan at Tate Modern, which has more than 25,000 views online. Clearly, there is widespread hunger for choral music and new pieces.
The ORA Singers describe their work as a "golden bridge" between the Renaissance and the music of today, and believe this is a golden age of choral music; it's an optimistic message at a time when most musical headlines are screeching alarm bells.

Music For Youth (MFY)
I'm an Ambassador for this national charity, which works to bring live performances to more than 60,000 young people every year. As a group that prides itself as a live events producer - often working with thousands of young people in a single venue - COVID proved a unique challenge.
Usually, early July would see an annual five-day youth takeover of multiple venues in Birmingham. I visited in 2019, and enjoyed hearing everything from orchestras to jazz bands. In 2020, I had the pleasure of co-hosting the Live@5 Sessions, part of a digital version of this festival; hundreds of performances had been recorded entirely in lockdown. Big concert halls were replaced by living rooms and bedrooms, and in some ways the music felt more real, intimate and honest: it was all about young people using music to express things about the world around them.
For a charity that works in live events and on a national scale, it will be interesting to see how MFY strike a balance between live and digital in the years to come.

ENO Drive and Live
Forget cinemas and fast-food: in 2020, English National Opera invited us to park up at a drive-in theatre to watch Puccini's La Bohème, performed live both on stage and on the ground around us.
ENO's outdoor project was brought indoors too, thanks to Sky Arts: newly-launched on Freeview in September 2020. It's fantastic that, given so many of us have more free time, there is another cultural offering on TV. This also gives another chance for new audiences to stumble across something they never knew they loved.
Taking opera to unexpected, everyday locations isn't exclusive to ENO. Tête à Tête ran their Opera Festival between July and September 2020, with 51 events including 31 new operas; 435 people watched in person, with a further 2000 online. Taking opera out of gold-leaf theatres is not a new idea, but in 2020 it certainly gained momentum and on a whole new scale.

Doorstep Productions
In bringing West End performers to your road post-lockdown, Doorstep Productions have introduced a wider audience to live music in their own living spaces, whilst not involving a screen (important when so many are getting rather sick of staring at them…). Moreover, these performances are presented with support from Sonia Friedman Productions, The Really Useful Group and Cameron Mackintosh: an important sign that commercial big-hitters are willing to collaborate for the greater good.
Doorstep performances pose an interesting proposition to freelance musicians across genres: a possible way of monetising live music with an albeit socially-distanced, small-scale model. In effect, an Amazon delivery service of live musicians!

Looking Ahead...
Whilst these are examples of ingenious creativity through challenging times, it's equally expected (and common) to have found the last year utterly demotivating. Sadly, I know professional musicians who haven't even touched their instrument since March.
Me? I'm grateful to say I've written more music in the last year than before; probably because the world seemed to be coming to a halt, I felt even more motivated to try and keep things moving. That said, my mood has been more like a pendulum than in previous years; creative bursts (more intense than ever before) have given way to periods of self-doubt and frustration (more intense than ever before). A year of extremes.
Through 2020, I had the privilege of interviewing many musicians for my show on Scala Radio; from these conversations, it is clear that – whoever you are – this year has changed us all. Gary Barlow told me that prior to COVID, he would take 100-150 flights a year; he said that now, 'I kind of look and go – I don't know if I'm going to go back to that… to that amount of craziness where it constantly feels out of control… I don't know if I want that anymore. The peace and the foundation of being at home – I'm a better writer. I listen to music more than I've done in years. I appreciate things more.'
Likewise speaking in the Saturday Culture Bunker, Sir Antonio Pappano shared that lockdown has made him reconsider how he divides up his year, saying that a conductor 'can get dangerously close to burnout'. He explained that, in 2020, 'I have had this time to say: "wait a minute". I think when you're working at a level of inspiration, and just the physical level – it's not a bottomless well. Sometimes you need to get yourself together and to think… It was forced upon me this year and I'm learning a lot from it.' For example, Pappano hinted that he might review the constant 'lattice-work' of flights between the Royal Opera House and the Orchestra of the Academy of Santa Cecilia; he used to be flying between the UK and Italy even between performances. The 'running back and forth and travelling', Pappano told me on Scala, is 'getting old'. We must not feel ashamed to open up about the impact of 2020: from pop stars to world-renowned music directors, this year has changed us all.
With so many people needing a sense of community, of coming together, of purpose, of self-expression: music can play a big part. There are many questions as we start the New Year, but we are all little pieces of a big jigsaw. To love music is to love communication, community, working together, problem-solving, creating, listening, thinking, embracing the past whilst looking to the future. With that in mind, if any group of people can help work things out and make the world a slightly better place, keep an eye (and ear) on our ever-resourceful musicians. Here's to 2021.
Jack Pepper (b.1999) is a composer, broadcaster and writer. He has written for the Royal Liverpool Philharmonic and Bournemouth Symphony Orchestras, and presents a weekly show on the UK's newest national classical music and entertainment station, Scala Radio.