Mozart in the midst of Covid: stories from the studio
Friday, March 11, 2022
The AAM decided to use the pandemic period to complete its Mozart concerto cycle; here's how they met the many challenges
In 2020, faced with closed concert halls due to Covid, the Academy of Ancient Music decided to use the pandemic period to complete its Mozart piano concerto cycle - begin back in 1993 - with Robert Levin. The orchestra's CEO John McMunn recalls the ambition, the challenges, the solutions - and most importantly, the music-making. 
In June 2020, when I was appointed, the country was only just beginning to emerge from the first lockdown. There was huge uncertainty in the industry, and hardly any performances were taking place. AAM had run a successful fundraising campaign to put a bit of money in players' pockets, but it was becoming clear just how long the disruption was going to last and there was real concern about our musicians. In considering what we could do to 'keep the lights on', the idea of a closed-door recording project became interesting, in addition to continuing to live-stream, and more and more it seemed like the perfect opportunity finally to complete the Mozart Piano Concerto cycle we began with Robert Levin in 1993.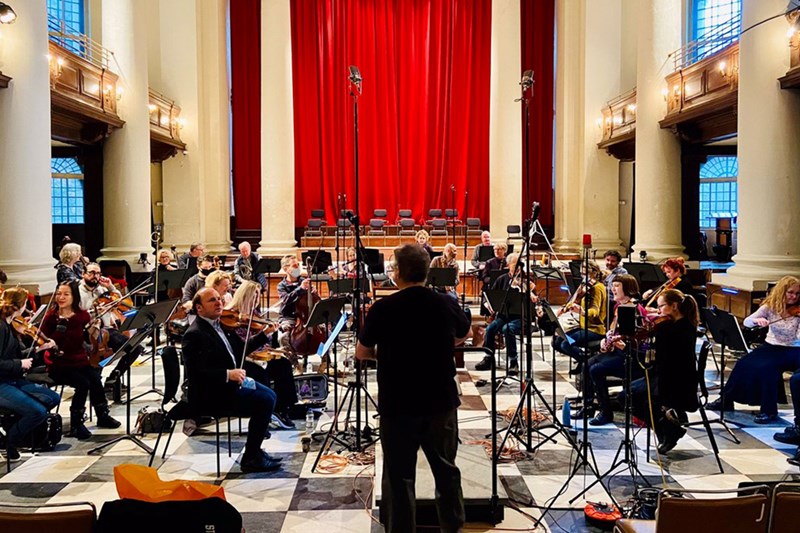 Returning to recording Mozart's piano concertos, three decades on: Richard Egarr conducts the AAM in St John's Smith Square
The original plan was to record the remaining 17 works across three discrete patches in 2021, starting in March. But by the time we got there, restrictions in place meant that none of that was possible. We also came to appreciate that recording in three big chunks was going to be too taxing – asking Robert to prepare 17 concertos was superhuman enough, but asking for five each patch was totally unreasonable, so we spread it out across six patches instead, with Robert playing three works in each.
In August 2021 we were finally able to begin. At that point travellers arriving in the UK were required to isolate for 10 days, and Robert (completely reasonably!) wanted access to the specific fortepiano that he'd be using in the recordings to practise in isolation. A lot of work went into finding suitable accommodation and planning how we could accommodate the instrument and move it into and out of the space. Thankfully, the requirement to quarantine was lifted just before he was to fly.
We recorded in St John's Smith Square, where our main technical problem was that string players had to be distanced and on single stands. To facilitate this, their seats were spread out on the reflective stone floor of the hall, instead of on the wooden stage, which would have been more absorbent. The distancing revealed more of the floor, creating an acoustical problem, as well as ensemble challenges that we had already anticipated.
Our recording engineer called the more reverberant sound 'ecclesiastical'. You might want a five-second cathedral-like echo for an a cappella vocal recording, but not for orchestral music! On an individual level, you might not notice it, but across an orchestra of 40 people it made a huge difference. We were able to moderate things a little by closing curtains, putting screens around the timpani and mats on the floor, but there has also been a significant post-production effort to mitigate noise and ensure clarity.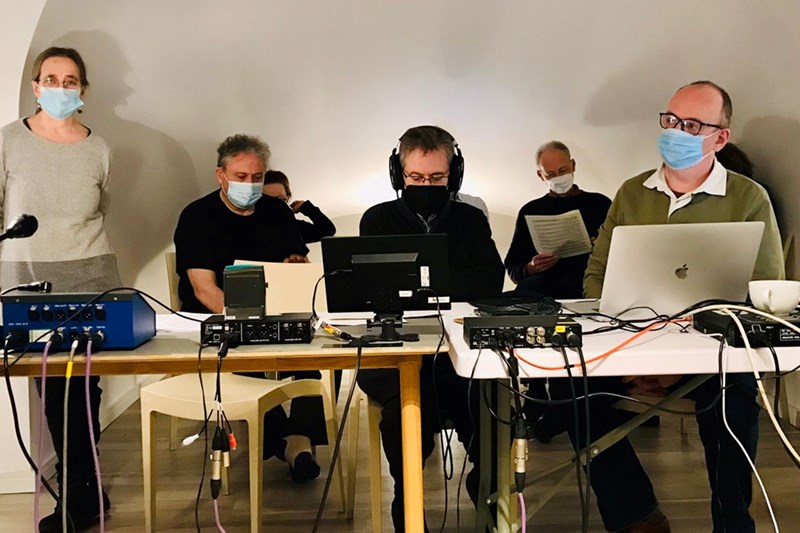 The control room, Covid-era: artists and the technical team listen back to the takes
Another factor was that we were trying to match our previous recordings, which were made nearly 30 years ago and in very different spaces, many of which no longer host recordings. It helps that we are working with the same engineering team that was involved in the '90s, including Neil Hutchinson from Classic Sound. He's been using some of the kit that they had back then: stereo microphone technology hasn't changed that much in the intervening years, apart from the fact that it connects to computers nowadays. In August, Neil used of the same lead microphones that he had for the initial eight discs, which is a wonderful historic resonance.
By the time of our January 2022 sessions, we had a new problem: Omicron, its implications for Robert's travel, and its extreme transmissibility, even with everyone vaccinated. As we went into the Christmas break, the band was fixed to start recording on January 2. By New Year, six players had had to withdraw because they were isolating, and our principal timpanist had to withdraw during the actual sessions themselves. Then, on January 1, my phone rang, and it was Neil. He was due to load in equipment the following morning but had had a positive lateral flow test. It turned out to be a false positive, but by the time we knew that it was too late. Luckily, he was able to find a colleague to take over, Philip Siney, who had also done some work on the original eight discs and was using similar kit, continuing the historic resonance.
With six string players down, we were lucky at least that our principal players were nearly all present. We're a freelance orchestra, so we always seat 'home team' players at the front of each section, which is how we maintain quality control of the 'AAM sound'. We only work with specialists in historical performance, and knowledge of the 'AAM sound' is somewhat baked-in in the community, though of course within this there is still scope for a director of conductor to make their mark.
Another factor has been the sourcing of specialist keyboards for Robert to play. Of the three instruments we've used so far, only one of them has come from the UK, with the other two coming from the Netherlands. This has had its own implications – by the time we secured the instrument for our August sessions, we knew that quarantine was going to be an issue, so our keyboard technician, Marc van Wageningen, had to drive it across in advance.
One of the beautiful instruments played by Robert Levin in the sessions
Since the start of the pandemic, we're had to make detailed plans for all contingencies and adapt them as projects develop – probably only 20 per cent of plans have turned out the way we expected initially. Fiona McDonnell, our Head of Planning and Operations, has had to keep track of the regulations as they develop, tease out all their implications and think about how to mitigate any issues. Having alternate strategies has been vital, but it's hugely time consuming and taxing.
We've had to flex the risk tolerance of the organisation – right the way through, there has been a relatively large amount of jeopardy, even with restrictions lifting. The project comes with huge costs, for which we're still fundraising. And at a fundamental level, it is focused on Robert, so what would happen if he tested positive the day before a recording session?
We've now put the project away until May. One never knows what new variants might come, but we're in such a different position now than we were nearly two years ago. We're optimistic. The whole project has languished, incomplete, for more than 20 years, so for the new recordings to spring to life in the face of Covid, like a phoenix from the ashes, is something of which our conductor Richard Egarr, Robert and all AAM's players and staff can be justifiably proud.
Considering all the ways in which it might have gone wrong, what we've achieved is nothing short of a miracle!