Osmo Vänskä and the Minnesota Orchestra: a celebration of our Orchestra of the Year and their Music Director
Friday, March 25, 2022
A celebration of our Orchestra of the Year, the Minnesota Orchestra, and their Music Director Osmo Vänskä, featuring interviews and reviews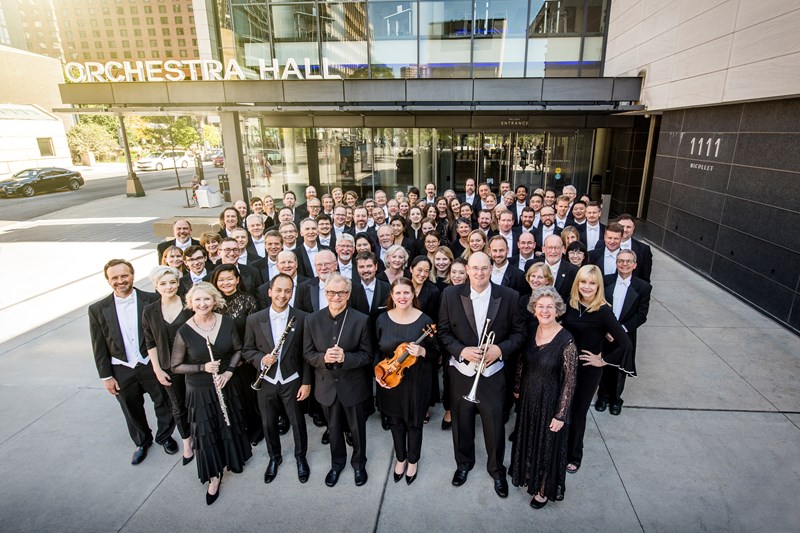 Osmo Vänskä and the Minnesota Orchestra (photography: Travis Anderson)

Welcome to our special celebration of our current Orchestra of the Year, the Minnesota Orchestra, and their inspirational Music Director Osmo Vänskä. The Award, made in association with Apple Music, is the result of a public vote, one that resoundingly delivered this magnificent Minneapolis-based ensemble as our 2021 winners.
We've gathered together several fascinating features, interviews and reviews from the pages of Gramophone to pay tribute to the many tremendous achievements of this ensemble in recent years, beginning with a new podcast interview with Osmo Vänskä ...
---
Osmo Vänskä on the Gramophone Podcast
---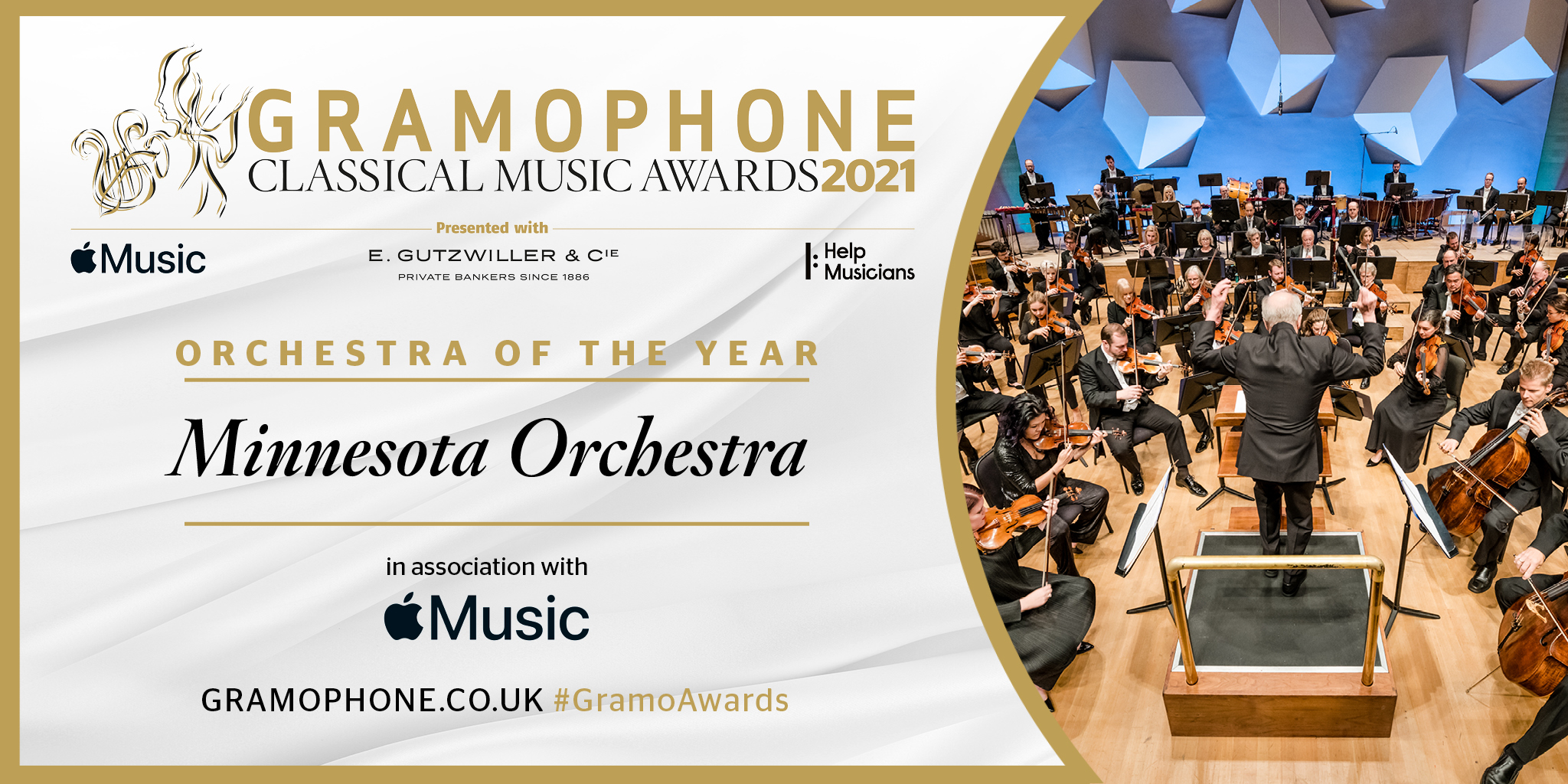 To understand the surge of popular support that made the Minnesota Orchestra Gramophone's 2021 Orchestra of the Year, it may help to flash back eight years to the darkest days of the orchestra's 118-year history.
In early October of 2013, in the midst of a management lockout of musicians that had already cancelled the 2012-13 season, Music Director Osmo Vänskä announced his resignation, saying goodbye to the orchestra's musicians and its audiences with three concerts at Minneapolis's Ted Mann Concert Hall. Despite the hopefulness expressed in the music of Mozart, Beethoven and Stravinsky, the concerts bore a tone of tragedy, a palpable grief permeating the hall. Tears flowed.
It was then that I came to recognise more fully the deep bond that Minnesota Orchestra audiences had forged with Vänskä. The Finnish conductor had arrived in Minneapolis 10 years earlier, and had transformed a respected local cultural institution into an expert orchestra that unleashed torrents of emotion and sparked unexpected insights. Veteran concert-goers marvelled at the freshness brought to the familiar by Vänskä and the orchestra.
Visits to New York's Carnegie Hall in 2010 and 2011 had inspired The New Yorker's Alex Ross to say that the orchestra sounded 'like the greatest orchestra in the world', and the New York Times's James Oestreich had them 'sounding like one of America's finest'. But the orchestra's board was out to slash payroll, so it approved a lockout in 2012.
When the orchestra's management cancelled Carnegie Hall concerts in 2013, Vänskä resigned. In January of 2014, the orchestra won the Grammy Award for 'Best Orchestral Performance' for a recording of Sibelius's First and Fourth Symphonies, but no one was present to accept it. The lockout ended later that week. Payroll was reduced, but not by as much as proposed by the board chair and president (who were soon gone), and Vänskä agreed to return.
That Sibelius recording was around the midpoint of three symphonic cycles Vänskä and the Minnesota Orchestra have almost completed for the BIS label. It was Beethoven that first put them on the international radar with rave reviews and shortlists for Grammys and Gramophone Awards, the Sibelius cycle receiving nominations for one award or the other for each of the recordings. They're currently in the midst of the Mahler symphonies, with the Eighth and Ninth slated for spring sessions.
Thrilling as those recordings are, there's nothing quite like experiencing Vänskä and the orchestra in concert. The conductor is a bouncing bundle of energy on the podium when the music reaches its energetic apex, his forceful cues seeming to set off explosions within the orchestra, his interpretations imaginative and inspiring.
Increased recognition of the orchestra's artistry has been enhanced by touring. They visited 11 European cities in 2004, played the BBC Proms for the first time in 2006, and, most memorably, were the first major American orchestra to visit Cuba (2015) and South Africa (2018). Alas, a 2020 trip to Vietnam and South Korea was scotched by the pandemic.
When the world's eyes turned toward Minneapolis when George Floyd was murdered by a police officer in May 2020, the orchestra severed its relationship with the city's police department, which had provided security at concerts. It also re-examined its concert programming. When it started performing outdoor concerts that summer, Black composers (mostly American) were included on almost every programme. That trend continued when it live-streamed concerts from an empty Orchestra Hall during the 2020-21 season and after audiences were allowed inside the hall again for its summer 2021 concerts.
Vänskä will depart in 2022 after 19 years, with much of his final season's repertoire demonstrating the expertise the orchestra has honed under his leadership: Beethoven in the fall, a Sibelius festival in the winter, and a Mahler spring. It may prove the ideal culmination of a powerful relationship between not only music director and musicians, but between a conductor and a community. Rob Hubbard
Acceptance Video
---

Ludwig van Beethoven (1770-1827)


Osmo Vänskä on Recording Beethoven's Fourth Symphony
As part of a series of articles featuring leading conductors introducing Beethoven's symphonies, Vänskä offered his personal guide to the Fourth Symphony.
'Of all the nine symphonies, for me it is No 4 that is looking back a little bit to the earlier, Viennese, Classical style. It is more connected to the first two symphonies than to the Eroica. That's how it speaks to me. I have always thought that the Eroica is the first big step to the Romantic era, the Fourth comes back – and we know what happened with the Fifth! I have often heard people talk of the 'big' Beethoven symphonies – Nos 3, 5, 6, 7 and 9; and the 'smaller' ones – Nos 1, 2, 4 and 8. That's all about form. If we are speaking just about music, then I believe these so-called smaller symphonies have the same amount of music in their symphonic bodies. Perhaps they are more like chamber music, but they therefore serve as a reminder of what a great composer of chamber music Beethoven was: less is not less.'
---
Beethoven: The Reviews
Beethoven: Symphonies Nos 1 & 6
'Vänskä's Minnesota band is consistently alert to detail. The First Symphony's opening is both pointed and amiable, with Haydn's spirit kept securely within the frame. The Allegro con brio bristles with life: winds and strings play into each others' hands, one desk taking the top line while the other provides background commentary, then reversing the process (beam up the second subject, from 2'00"). A familiar enough pattern, granted, but Vänskä makes it all sound so fresh.'
Beethoven: Symphonies Nos 2 & 7
'What is truly outstanding here is the transparency of the texturing and the meticulous integration of phrase shape and accent within the rhythmic continuum. Everything is audible but since Vänskä is not a didactic conductor nothing is italicised or underlined.'
Beethoven: Symphonies Nos 3 & 8
'Vänskä's reading is again distinguished by breathtaking dynamic extremes, such as the lunging lower strings at 9'36". Vänskä's Eroica is austere yet smoothly executed, very much of our time in its leanness and textual fastidiousness.'
Beethoven: Symphonies Nos 4 & 5
'Toscanini blazed the trail with his glorious 1939 BBC SO recording; Karajan followed in 1962 with a Berlin performance of unimaginable grace and fire; and Rattle was not far behind with his 2002 Vienna Philharmonic account. Vänskä's reading is comparable to these: fiery but not relentless. Metronome marks are important but not mandatory. Transparent textures and a rigorous way with dynamics also feature. Of particular interest is the skill with which Vänskä keeps the bass line, and thus the music's harmonic contour, continuously in view, never easy to do given the open nature of Beethoven's scoring.'
Beethoven: Symphony No 9
'Vänskä's finale returns us to the shock and awe of his first moment, with a decisive, tight-lipped opening (the fast tempo held absolutely firm), warmly phrased counterpoint surrounding the "Ode to Joy" build-up and then, with the unleashing of the voices, an excellent group of soloists and a well drilled chorus who sing as if they really know (and mean) what they're singing. The tenor's March episode is fairly swift, leading to a razor-sharp fugue. And when the chorus enters, well – that's what I meant by "divine madness" when I bemoaned the lack of it in reviewing Haitink's otherwise fine LSO Ninth (11/06). In a word, zeal – Vänska's finale is full of it.'
Beethoven: Piano Concertos Nos 4 & 5
'In the grandest of Beethoven's two cadenzas for the Fourth Concerto, Sudbin's spine-tingling pace takes him close to the edge; but hearing him in the phantom entry to the Emperor Concerto's finale reminds you that you are listening to a wholly individual artist. Such mercurial pianism keeps Vänskä and the Minnesota Orchestra on their toes but they follow their soloist as to the manner born.'
Beethoven: Piano Concerto Nos 3
'Even if the catalogue was in a less parlous state than it currently is where recordings of Beethoven's Third Piano Concerto are concerned, this newest addition to Yevgeny Sudbin's Beethoven cycle with Osmo Vänskä and the Minnesota Orchestra would be a thing to wonder at.'
---

Jean Sibelius (1865-1957)


Osmo Vänskä on Recording Sibelius's Fourth Symphony
'Most treacherous is the symphony's fulcrum, its Largo. "Sometimes the music is carried by one note, maybe on just two instruments," says Vänskä. "Just look at the 12th bar – it's so empty. That's one moment where you have to believe: don't go faster, don't rush for the safety of the next bar where more notes are waiting for you, just stay there – the tension is correctly built in." But it soon slackens, the woodwinds lost in their own fog, the patterning strings helping them out, and then, at last, the arrival of the symphony's only real shaft of light – the radiant but fierce blossoming outwards at letter G. "Yes, there is still something – some happiness, even if you can't be part of it," beams Vänskä as his finger tracks to this moment in the score. "And then you have this same theme again, now with the second violins and the woodwinds. The boat has left the harbour, you can see it getting smaller and smaller, more and more far away, and then, without slowing down, it just stops."
---
Sibelius's Symphonies: The Reviews
Sibelius: Symphonies Nos 1 & 4
'The passion and sweep of the First, where I feel Sibelius – intentionally or otherwise – beat the Russians at their own game in writing a symphony on the Russian model, is even more electric than in Lahti, rivalling Berglund's classic Helsinki version and overhauling those by Järvi and (dare I say it) Sir Colin Davis. There is a richer, slightly fuller sound to the Minnesota players, particularly noticeable in the Fourth's stark slow movement, while losing none of the majesty of the writing, especially at the climax.'
Sibelius: Symphonies Nos 2 & 5
'Thore Brinkmann's superb sound reproduces with exceptional clarity every nuance of a finely balanced orchestral picture in a spacious acoustic (try the opening bars of the Fifth). Altogether, a fine start to what may be the benchmark cycle for the 21st century.'
Sibelius: Symphonies Nos 3, 6 & 7
'There really isn't much to say about a performance that just feels perfectly balanced – in music as in nature. I will add, though, that the evaporating final chord is startling.'
Sibelius: Kullervo
'As always, articulation is the watchword with Vänskä and you hear it everywhere, perhaps best of all in the contrasting orchestrations that underlie that repeating opening vocal 'Kullervo, Kalervon poika'. Vänskä knows what he wants to convey: a hopelessness from the start of 'Kullervo's Youth' that completely eludes Colin Davis and others; a demonic quality in 'Kullervo Goes to War' that underlines the thematic link with Stravinsky's Petrushka (never heard that before).'
---

Gustav Mahler (1860-1911)


Osmo Vänskä on Recording Mahler's Fifth Symphony
'The principal theme of much of our contemplation is not "the black dots" but Mahler's markings. For Vänskä, this piece offers a priceless opportunity to commune not only with one of our greatest composers, but also with a conducting colleague of rare gifts: "When he wrote, he saw no reason to put away his conductor's hat. I like the dialogue between composer and conductor in the score. He has given special instructions to the conductor – he reminds [us] to take care, when to beat 16s and not triples."'
---
Mahler's Symphonies: The Reviews
Mahler: Symphony No 1
'Lyrical elements, pristinely beautiful, are short on heartbreak. Throughout the sense of direction is sure, the sense of theatre ultimately less so. The Minnesota Orchestra play out of their skin...'
Mahler: Symphony No 2
'The soft maternal tones of Sasha Cooke (a lighter mezzo sound than we are accustomed to) bring a quiet determination and hope to the 'Urlicht' and the special effects of the finale's 'Judgement Day' evocation are expertly stage-managed.'
Mahler: Symphony No 4
'There are many aspects of this excellent performance (and recording) that remind me of George Szell's famous version with the Cleveland Orchestra – a crystalline quality, super-transparent and immaculately detailed, and mindful always of the work's classical precedents, not least Haydn with his wit and charm.'
Mahler: Symphony No 5
'The orchestral playing is crisper, the conductor's clinical tendencies tempered by an understanding that emotional extremism is an essential part of Mahler's idiom even if it need not be indulged.'
Mahler: Symphony No 6
'The distinction between objectivity and subjectivity is crucial in Mahler and it doesn't take long to establish that Vänskä's bias is emphatically towards the former.'
Mahler: Symphony No 7
'I might have predicted that this of all the Mahler symphonies would chime with Osmo Vänskä's very particular gifts as a conductor. The brilliance and clarity of this performance (and recording – BIS's technical prowess much in evidence), to say nothing of Vänskä's way with rhythm and articulation, is in itself the source of much pleasure – and it almost goes without saying that he relishes to the full Mahler's flabbergasting gifts as an orchestral colourist in the inner movements: the two intoxicating Nachtmusiks and Scherzo.'
Mahler: Symphony No 10
'This is Mahler without neurosis, disinclined to let rip until unavoidable, clear-sighted and dry-eyed.'
Minnesota Orchestra: Orchestra of the Year 2021 playlist
Listen to our 'Minnesota Orchestra: Orchestra of the Year 2021' playlist exclusively on Apple Music. If you are not yet a subscriber to Apple Music, it is free for the first month, boasts a catalogue of more than 75 million songs and offers lossless streaming, as well as albums in Spatial Audio. We've produced a guide to introduce the immersive listening experience of Spatial Audio here: Apple Music's spatial audio with Dolby Atmos – what is it and how do you get it?