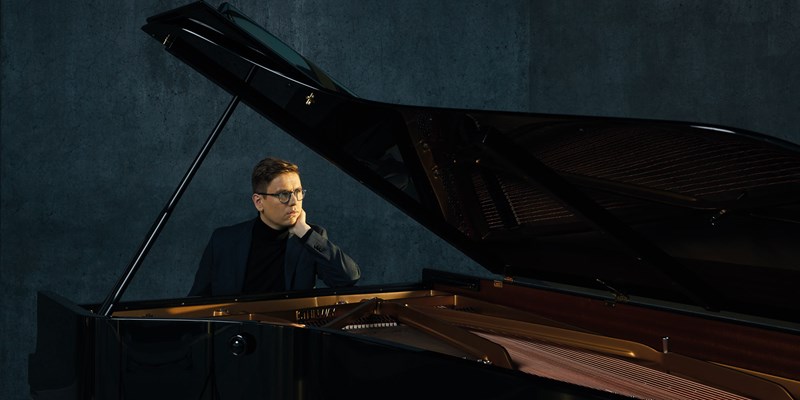 (Photograph: Víkingur Ólafsson by Ari Magg)
The road from Iceland's Keflavik Airport to its capital, Reykjavik, passes through dark fields of ancient lava. Every so often, silhouetted against a sky whose foreboding hue almost seems to draw its colour from the black rocks beneath, you pass what look eerily like statues of men. These steinvara, or stone cairns, built as waymarkers for Icelanders, now appear to watch quietly over the elemental landscape with a detached observance. In big cities, people can delude themselves into thinking they are dominant and permanent. To be in a country like Iceland is to be brought starkly face to face with unfathomable geological timescales, a powerful reminder of the fragility of our own fleeting lives. It adds a unique intensity to what we can do, what we can experience – today, and now. Is it fanciful to believe we can hear in music something of the place in which it was created? It's something I ponder often during my time here watching Víkingur Ólafsson at work.
What always strikes me about this remarkable young pianist's playing is that everything he performs (be it Bach, Debussy or Philip Glass) feels somehow, and movingly, contemporary, of our own time, as if that's all it ever can be – as if it could thus be played no other way. In the booklet notes to Ólafsson's recent Bach album he wrote: 'We performers must weigh our knowledge of period style against our individual and inescapably contemporary sensibility.' And when that's acknowledged and accepted, what's left is a liberating freedom. 'I stick by those words,' he tells me when I quote them back to him. 'It's like my manifesto. I really feel that. I see all music as contemporary music, I don't make a distinction. If we play the music of Rameau today we play it inevitably so differently from the way it has sounded before – certainly in his time, when he had nothing close to the modern piano, and when the horse was the fastest means of transport. But because we are reinventing the music, obviously it is contemporary. It is new music.'
"
'I see all music as contemporary music – I don't make a distinction. We are reinventing Rameau's music when we play it today, so it is new music'
But we're getting ahead of ourselves. After the basalt expanses, the small and brightly coloured buildings of Reykjavik's centre greet you with a warm embrace, a fireside glow against the harsh world beyond. Nature never feels far away though. The city is dramatically set against the backdrop of its own mountain, Esja, looming just across the water from the harbour. And somehow uniting the two, thrusting out into the bay like a prehistoric promontory, is the beautiful Harpa – which houses Reykjavik's first purpose-built concert hall. Construction began just before the 2008 financial crisis which almost bankrupted the country, and now it stands as a striking symbol of a resurgent and newly confident country. The thick, glimmering glass of the main facade is the work of artist Olafur Eliasson, and to walk through its foyers and corridors is to experience an entrancing display of shifting sight lines and varying vistas.
If the Harpa Concert Hall is integral to the city's cultural life ('It's hard to imagine Reykjavik without it,' the pianist tells me), it's been equally so to the career of Ólafsson himself. The soloist in its opening concert in 2011, he even handpicked the piano for the hall. And, appropriately enough, it's in this venue and on that very piano that he now records his albums for Deutsche Grammophon: 2018's fascinating survey of Bach pieces and arrangements, and 2017's album of Glass which lent the minimalist master's music a beguiling atmosphere. Both were Editor's Choices.

When I arrive, the sessions for Ólafsson's new album of music by Rameau and Debussy are already under way, in Harpa's second, smaller space. In an otherwise dark auditorium a Steinway sits in a pool of half-light cast by an old-school standard lamp, surrounded by an array of meticulously placed microphones.
Reykjavik may be home, but Ólafsson could record anywhere – so why here? 'It's a very specific sound. If you listen to my Glass and the Bach recordings, you will hear that sound. And it is a different sound. I love the sound. It is a very unusual room. It doesn't have chairs – it's more like a gym, almost. It has a hard floor. It has this incredible graphic clarity and then a kind of warmth – the two combined. This is what I love in a recorded sound because I'm not interested in just the graphic clarity if there's not this kind of generosity of warmth, and I hate nothing more than recordings that are too boomy; I just hate that because I lose all sense of personal expression with those recordings.'
If it ain't broke, don't fix it, as they say. The same applies to the piano. 'I know it inside out. It's a very specific piano. It's actually a really crazy piano to control – so the dynamics are like … it's a wild instrument, but it is potentially extraordinarily sensitive, so you can get this breadth of tone that you can from few instruments. And that's what I appreciate about it so much.'
"
'I played through their entire works. Much of the Debussy I'd played before, but the Rameau was such a discovery'
That said, a lot of time over the first sessions is spent taming the instrument, getting the tuning and regulation right. I can't imagine that the task is made any easier by the contrasting repertoire of choice for his next album: Debussy, with his diffuse lines of watery colours, and Rameau, written for the immediate action of the harpsichord. But, given Ólafsson's belief that all music is contemporary music, such a division between early and modern is perhaps irrelevant.
'What I want to show with this album is Rameau as the futurist that he certainly was, the enfant terrible of the French Baroque, the guy who was the Debussy of his generation, the guy who created new language and broke the rules and set the tone. And I want to show Debussy not like we usually think of him, in this general way of Impressionism (whatever that term even means) – I don't think of the Monet waterlilies or whatever you think of with Impressionist art, I think of Debussy and his deep roots in the Baroque. And that's what I'm showing on this album. I chose the pieces very specifically to reflect that. Debussy was absolutely fascinated by Rameau, he loved him more than anything, and on the album there is the second piece from Debussy's Images Book 1, which is called "Hommage à Rameau". There is such a strong thread between them and such a French way of going about it. Rameau writes those pieces with incredible titles: "The tender complaints", "The dialogue of the muses", "The village girl". All these things are basically titles which are so similar to what Debussy would do with "The girl with the flaxen hair" or "Footsteps in the snow" from the Préludes; "Gardens in the rain" from Estampes. What they're doing is really painting pictures in sound. Debussy wasn't the first, Rameau was already doing this, and I want this album to be like a very seamless conversation between two friends. Even if one never met the other. And I want it to be as if you hardly know who is speaking.'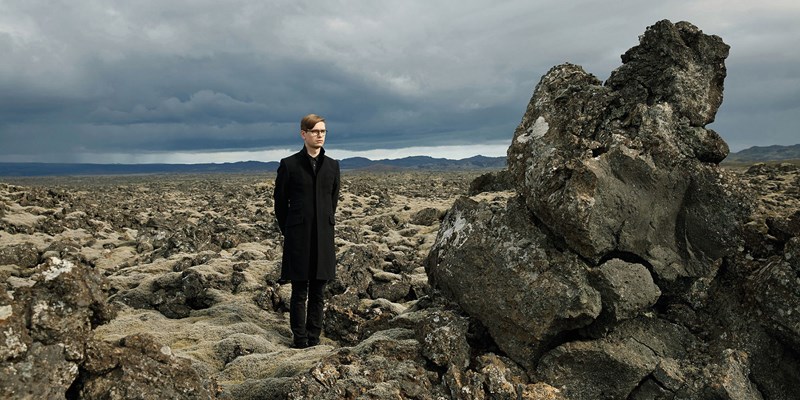 Old and new in dialogue: outwardly apparent dichotomies melt away in the hands of Ólafsson, pictured here in Iceland's dark fields of ancient lava (photo: Ari Magg)
The programme was painstakingly prepared over six months, Ólafsson exploring how all the pieces lead into one another, in terms of both themes and tonality. 'I played through the entire works of Debussy and Rameau at home,' he recalls, 'I didn't skip a piece. Some of it I'd already studied, and much of the Debussy I'd played before – but the Rameau was such a discovery for me. I looked into the catalogue to see what had been recorded on the piano: so little of it, which is incredible as I consider Rameau after Bach the greatest keyboard composer of the Baroque era, and one of the most poetic composers of all time. It's incredible that everyone is playing the same Scarlatti sonatas, and the same 20 – maybe 30 – per cent of the Bach repertoire; but why has nobody been looking into Rameau? And it's not just niche interesting things, this music – it is greatness. I love the idea of making people hear something as if they're hearing it for the first time, or making them actually hear something for the first time. I'm sure that many people who hear the album will never before have heard some of this Rameau repertoire. Maybe they'll have heard two or three of the most famous ones, but much of it they will not have heard, I'm sure.' 

Watching an artist record offers a fascinating insight into them as music-maker shorn of the expectations a public concert brings. It can be like sitting in on a laboratory, where magnificence and mistakes meet with extraordinary creativity, the microphone as catalyst. For some, it is an art form in itself: Ólafsson is one of those artists.
'I so often think about this,' he says. 'It's comparable to the difference between being a theatre actor and a film actor. When we are taught to perform on stage, we are trained to play for the very last row of – in our student dreams – Carnegie Hall, or something like that. You have to project, you have to tell that story to a person 100 metres away. And it's the same in a theatre. But act the same way in film as you do in theatre and you just look ridiculous, absolutely exaggerated. The same goes for making music for the microphone that is half a metre, or one metre, away.' He later reflects that learning how to play for a microphone didn't feature at all in his conservatoire training. 'The art of recording can be, for me, the most personal form of expression. You can get this insanely intimate glimpse into the way people think about music.'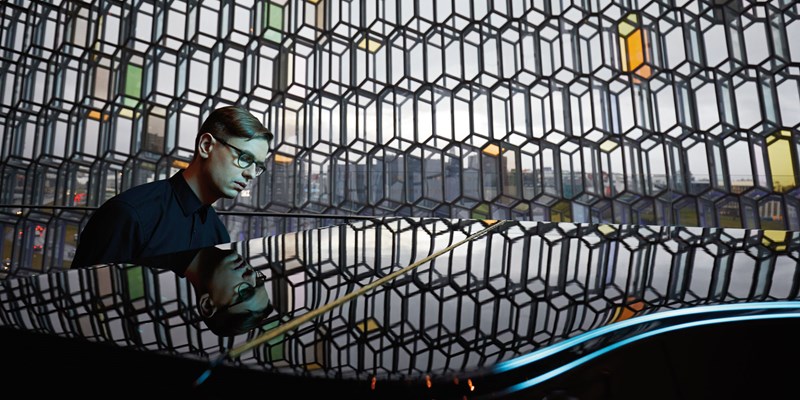 Right now, Ólafsson is recording several pieces from Rameau's Harpsichord Suite in G – 'La poule' with its light-hearted comedy, 'Les sauvages' with its engaging rhythms, and then the finger-twisting complexities of 'L'égyptienne'. The last occupies a long segment of the session, as Ólafsson attempts to get the tempo and, particularly, the trills exactly as he'd like them to be. It's a fascinating, tough, intense – even tense – time, full of listen-backs and retakes, opinions on approach formed throughout; it's a virtuoso forensic exploration of a fairly fiendish work. My hands hurt simply watching it. And yet it is not after finishing that work, but rather after finishing the next one on the schedule, 'L'enharmonique' (a beautifully fluid and poetic piece, which he records in one take), that Ólafsson finally sits back expressing himself to be utterly exhausted. It's the intensity of the held-back, the held-in, a slowly exhaled emotion – rather than technical virtuosity – which leaves him drained. When I ask him about this later, his reply is something to the effect that virtuosity may be physically exhausting, but deeply intense slowness is simply all-consuming.
"
'All the pianists I love are masters of sound – hugely different individuals but with one thing in common: they layer things'
Ólafsson's love of recording owes a unique debt to his Icelandic childhood. 'I think it has something to do with the fact that my exposure to music was limited growing up here in the 1990s. It was very different from how it is now, and it certainly wasn't as easy to fly abroad, either. If I were growing up right now my dad would probably just fly me to London or wherever to see whatever I wanted to see. But that wasn't the case then, and so I became a huge CD collector. And I didn't do any competitions – that was very far away from my mentality, and so I didn't have any exposure to what students my age were doing. I had no yardstick to measure myself against except through recordings.' He cites Evgeny Kissin and Glenn Gould as early obsessions, followed by musicians of an older generation – Edwin Fisher, Benno Moiseiwitsch, Josef Hofmann, Clara Haskil, Dinu Lipatti, Emil Gilels (whose legendary recording of Rameau's 'Le rappel des oiseaux' was Ólafsson's first encounter with the composer's keyboard music) and the young Vladimir Horowitz. 'I think all the ones that I love are masters of sound. They're hugely different individuals, but they have something in common which is that they layer things, they create this dimension in the piano sound which is, really, the only way that a piano can sound beautiful in my opinion.'
As he himself recognises, Ólafsson is, in one sense, the last of a generation. Apart from the changes to Iceland, the changes to technology make his formative musical experience very different from that of people even just a few years younger than him. 'I am part of the last generation who remember a time before the internet. You would never listen to music online at all. There was no way of going on YouTube and seeing all the Russian and Chinese and American prodigies playing the Chopin études at the age of four or five (always younger and younger!). So there was a certain freedom growing up in Iceland. I'm not sure it is there anymore, anywhere – I think that freedom might have been taken away from us a little bit.' In contrast, he says, 'I had my own little musical world. And my own musical friends in the form of Kissin, Cortot, Gilels, Lipatti – they became my musical companions, and I guess I had to find my own musical path. I didn't go abroad to study until I was 16 – the first time I ever saw other music students my age. That was the same year I played the Tchaikovsky for my debut here with the Iceland Symphony Orchestra, so I was not too bad! But when I look back, I think it's remarkable how long I was without that exposure.'

Earlier still, Ólafsson's parents had instilled in him a sense of the profound value of music. When he was born they were living in a tiny apartment in Berlin, making ends meet. But when they then inherited some money, they chose to spend it on a Steinway. It moved with them to Iceland, becoming a cherished and dominant presence in their small basement flat. And if he grew up around a Steinway, his own son is growing up around a concert hall. We meet again at Harpa again a few days later, following the final sessions, and Ólafsson is holding his four-month-old son. When I listen back to the interview, while we may have been discussing Debussy and Rameau, the recording reveals the faint but unmistakable sound of Brahms's lullaby emanating from a musical mobile. If I'd travelled to witness the artist as a human, at home – then that's pretty much what I got. At one point in the interview a passer-by stops to admire the baby – Ólafsson gives a few moments of cheerful conversation, then courteously moves her on with the gracious skill of a diplomat.
With the sunlight now streaming with dazzling glare through Eliasson's glass facade, and the recording now safely in the can, retakes finished and patches made, the intensity of the last few days seems lifted, the mood now lighter. And as we wrap up and I take my leave, I ask if he was ever happy with those trills in 'L'égyptienne' in the end. 'Absolutely, they completely work now. But that is what it is to make a recording like that. You go to the edge of what is possible in a way, taking it as far as possible. You have to have this insanely strong sense of ideal before you come into the studio. But the paradox is that you have to have your ideal, but you also have to have the flexibility to then rethink things.'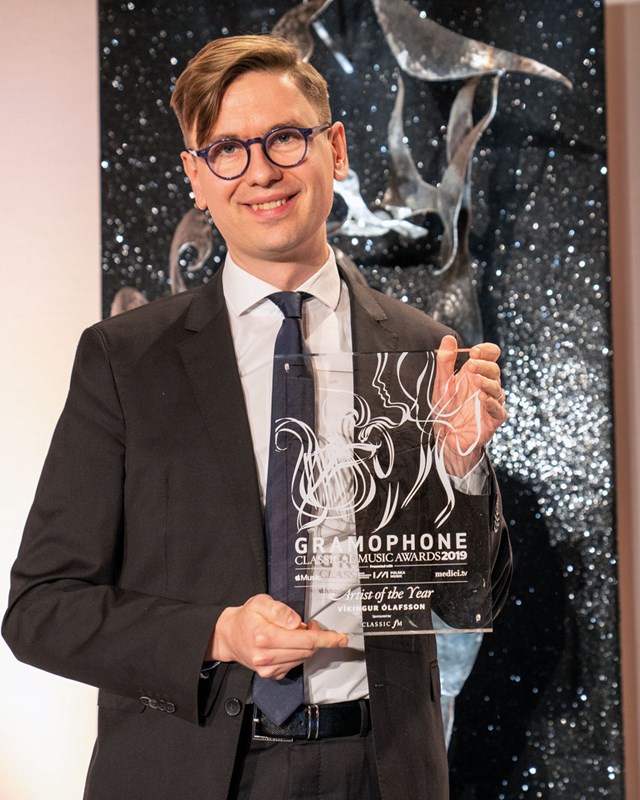 The next time we meet, a month or so later, we're in London at the Gramophone Classical Music Awards ceremony, at which Ólafsson is named our Artist of the Year in recognition of his invigorating contribution to today's musical life. Here, in a congested and chaotic city, at a glamorous black-tie event, the quiet focus and powerful intensity of Harpa's half-lit hall feels like a world away. In many ways it is. But talk of the sessions begins to bridge that chasm: he tells me he's been working on the edits and would like to share some of them with me. But it was when he took to the stage to perform that the chasm was truly bridged. The roomful of a few hundred gathered guests falls almost as silent as that Harpa studio had been just a few weeks earlier, and those same degrees of contemporary colour emerge from music written centuries before. London and Iceland, past and present, all become one.
Ólafsson's recording of Rameau and Debussy on Deutsche Grammophon is out now.
This article originally appeared in the April 2020 issue of Gramophone.

Listen