What does spatial audio with Dolby Atmos sound like?
Peter Quantrill
Wednesday, August 11, 2021
Peter Quantrill dives deep into Apple Music's spatial audio with Dolby Atmos, sampling some new releases and remastered classics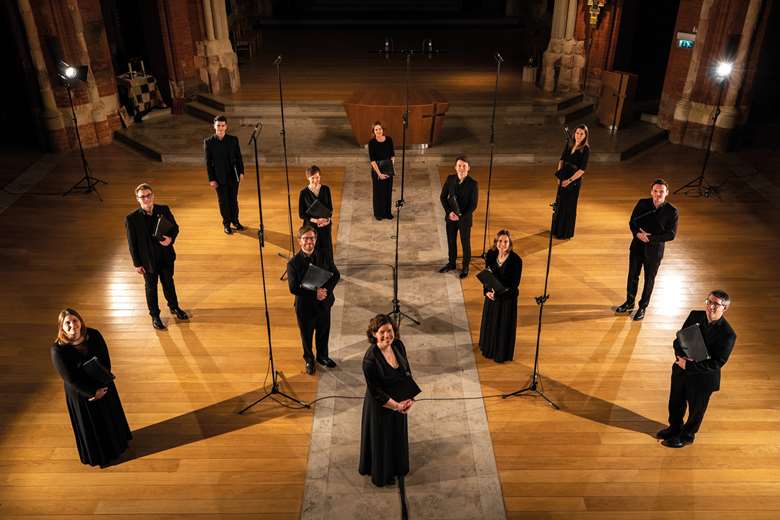 The essentially private nature of listening to music, whether at home or in the presence of its creation, means, I think, that writing about it can be a lot like throwing stones down a well. You're never sure when they will reach the bottom or what noise they'll make when they hit the surface. So it was heartening to visit a hi-fi store in Bristol recently – we got to chatting – and to find that the dealer's listening habits had evolved in much the same way as my own over the past five years. His own tastes in music were tangential to mine, but we both found that our time spent listening to CDs has hollowed out. The vinyl experience – sitting down with an LP, and no other gainful activity on our minds – is increasingly attractive, and as this magazine's occasional correspondent on the format, I find what was until recently a trickle of releases swelling to a steady stream. Meanwhile my Naim CD5i player gently weeps, as my 'digital' listening shifts more and more to streaming platforms and downloads.


'The immediate and striking impression is the depth of the soundstage: the space around and between the notes in Walt Disney Hall'

The premium services of Spotify, Idagio, Primephonic and Qobuz all offer more-or-less CD-quality sound: a bit less in the case of Spotify, with its 320kbps MP3 resolution, potentially more from 'lossless' FLAC and higher-than-CD resolution formats sold by the others (for a commensurately higher monthly subscription). Apple Music has raised the stakes further with spatial audio recordings. Expansive claims of higher fidelity than ever are made for its combination of lossless-quality streaming, using the proprietary ALAC code, plus a new audio experience developed by Dolby, and it has kept the subscription price at £9.99/$9.99 per month (with other options for student and family memberships, as well as a free trial three-month subscription).
➔ Apple Music's spatial audio with Dolby Atmos: what is it and how do you get it?
The premise of Dolby Atmos is to offer something like the best seat in the house. Record labels are beginning to adopt the software in making new recordings, first among them Deutsche Grammophon, Decca and Warner Classics. The Apple Music streaming platform hosts new recordings as well as a selection of classics from their back catalogues, reverse engineered with Dolby Atmos to give a surround-sound feel to the original recordings (both analogue and digital).
Gustavo Dudamel's new account of Mahler's Eighth Symphony makes an obvious fit for the Spatial Audio format: an immersive experience built into the architecture of the symphony, under the sure hand of a conductor with a powerful reach into the much-sought younger end of the classical audience. The DG catalogue of Dudamel's recordings with the Los Angeles Philharmonic is now available in Spatial Audio, though the Apple Music platform doesn't state which recordings were made that way and which have been remastered.
One assuredly original Dolby Atmos recording is the Los Angeles set of Charles Ives symphonies welcomed in Gramophone by Edward Seckerson (10/20). With its separated ensembles of main orchestra, string and percussion groups and choir, the finale of the Fourth is an even stiffer test of hardware and software (as well as musicians and ears). In search for a measure of control, I tried listening to the movement in several ways, firstly through AirPod Max headphones with Spatial Audio enabled on an iPhone.
The immediate and striking impression is the depth of the soundstage: the space around and between the notes in Walt Disney Hall. The listener's perspective isn't easy to pinpoint, though it doesn't move up and down in the distracting fashion of some multi-miked recordings from the 1960s and '70s such as George Szell's late Cleveland sessions for EMI. The percussion tattoo begins at the back of stage right as an anchoring presence but sometimes moves forwards, while the important orchestral piano part comes up like a continuo part from the pit. At times (from 3'10", towards the great pile-up) the orchestral strings take on an oddly thin and papery quality, but when fragments of 'Nearer, my God, to Thee' emerges from the chaos to merge into the coda, they do so with assuaging radiance, underpinned by a bass line of a precise and uncanny definition I've only previously encountered live or on very good speakers.
The wraparound embrace and eerie impression of floating in the middle of the music recedes when experienced through Apple Music lossless streaming but on a pair of 'ordinary' headphones: in this case, the pair I acquired in Bristol, from the Chinese brand Edifier, W830BT: clunky but comfortable over the ears, with a depth of perspective and level of detail that seems to make them good value for around £80. However, the overall definition is markedly clearer than the standard stream of the finale on premium (but still compressed) Spotify.


'There is a timely appeal to the heightened sense of location on Spatial Audio, when sharing the same space with musicians still holds out an uncertain prospect'

Piano recordings present a different, no less revealing set of challenges to any playback equipment, just as the music of Mozart does to any performer. There are some natty flourishes and snatched chords in Yekwon Sunwoo's approach to the A minor Sonata that I wouldn't care to encounter in this music every week, but by their side is a sureness of touch that matches the depth of the piano's resources to the breadth of the sonata's expression and places him in a line of Mozart players from another age, the likes of Carl Seemann and Alfred Brendel. He does not tread heavily on the pathos written into the A minor Rondo or the C minor Fantasia; his fingers release their tensions rather than holding them tight. Whether recorded that way or remastered, the Spatial Audio is both ample and stable on this wide-ranging recital from Decca: it does not hide some vocal contributions from the pianist, but then neither does a seat in the eighth row.
Another welcome indicator of the musical rather than theatrical potential of Spatial Audio arrives with a DG recital given on the new organ of the Stephansdom in Vienna by its titular organist Konstantin Reymaier. Like Yekwon Sunwoo's Mozart, it's available on streaming platforms but not (currently) on international CD. What could have become a bells-and-whistles demonstration album is also notable for its placing of sound musicianship in the service of the score. There is no shortage of violinistic fire and fingerwork in Reymaier's articulation of the spurious D minor Toccata and Fugue, but then his transcription and registration of the opening chorus from the Cantata No 107, Was willst du dich zu betrüben, takes its cue from Bach's own subdued scoring.
The new instrument is the work of Wendelin Eberle from Rieger Orgelbau, and the Spatial Audio engineering faithfully embodies the cathedral space and distance between ranks without maxing out on floor-shaking reverberation. The likes of Simon Preston and Christopher Robinson have given more extrovert readings of Elgar's Sonata before now but Reymaier catches the twilit mood of the second-movement Allegretto as well as anyone on record. I think I even prefer his rhythmic definition and sense of fun in three excerpts from Star Wars to the all-lasers-firing glare of a John Williams collection from Dudamel in Los Angeles.
In fact, if tie-and-tails symphonic Williams catches your fancy, stay in the Austrian capital for DG's live-recorded album from 2020 with the Vienna Philharmonic conducted by the composer; the transparent Musikverein acoustic fits his orchestration admirably and so, it transpires, do the very bright partials of those Viennese cymbals familiar from old Academic Festival Overtures. A Rudolf Kempe box from EMI/Warner reissued the old 'Vienna Philharmonic on Holiday' LP, but I wonder if the musicians then had as much fun as they seem to under Williams's baton; nothing here is just played through, and the only wrinkle is Anne-Sophie Mutter's shy and retiring contributions to The Witches of Eastwick and Raiders of the Lost Ark. (Did someone forget to switch on her microphone? Her tone doesn't usually require boosting in the first place.)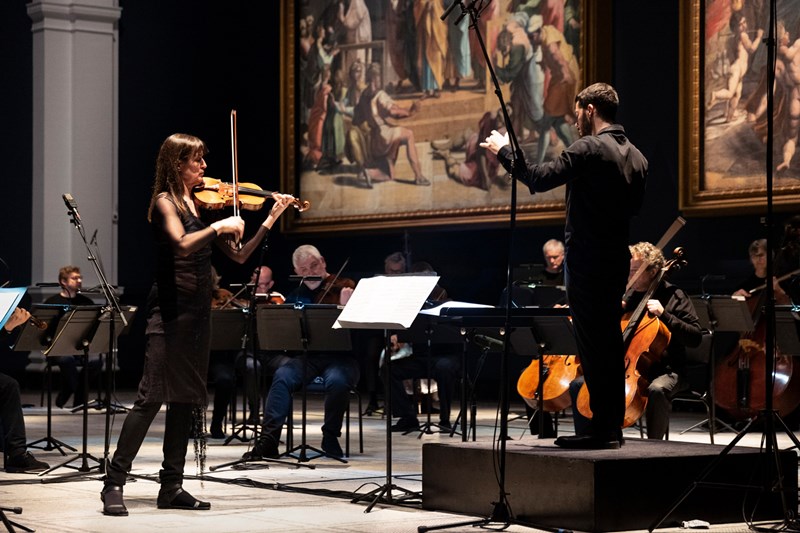 Oliver Zeffman conducts the Academy of St Martin the Fields for a Spatial Audio recording in the V&A's Raphael Court, home to the Raphael Cartoons (photo: Rebecca Reid)

There is a timely appeal to the heightened sense of location on Spatial Audio, when sharing the same space with musicians still holds out an uncertain prospect, but technology will only compensate so much for not, in fact, being there. If anything, it exaggerates rather than enhances the six-second echo of the Raphael Court on a short album, Live at the V&A, featuring the Academy of St Martin in the Fields conducted by Oliver Zeffman, and available exclusively through Apple Music and Marquee TV. Mozart comes off second best to the acoustic in the G major Violin Concerto, K216, despite phrasing of elevated purity and finely grained tone from Viktoria Mullova. There is in any case no audience present, but the filmed version establishes a more immediate connection with the ASMF through Stewart French's atmospheric camera direction, notably in the Fratres of Arvo Pärt.
In this context, DG has surely missed a trick with Lang Lang's Goldberg Variations by choosing the Berlin studio version for the Spatial Audio treatment rather than the performance recorded live in the Leipzig Thomaskirche. A startling demonstration of the format's retrofitted potential for opening out older recordings is presented by the Bach cello suites recorded by Mstislav Rostropovich in the Benedictine Abbey of Vézelay. While they already seemed to belong to another era at the time of their first release in 1995, these are readings that have spoken to me with a steadily plainer and deeper wisdom over the years. There is a crackle in the left channel of the Second Suite's Prelude that I had not previously noticed on earlier reissues (such as the LP set, 1/17), but the rough comes with the smooth. It's a musical equivalent of the ultra hi-res images produced by Google's Art Cameras as they trawl the world's galleries: look up 'Meet Vermeer' to see what I mean. A lot of recordings may flinch under such scrutiny: minute discrepancies of intonation in the London Philharmonic's accompaniment emerge with distracting clarity in the slow movement of 'Autumn' on Itzhak Perlman's 1976 recording of Vivaldi's Four Seasons. Google's catchphrase is Augmented Reality. What did TS Eliot say? 'Humankind cannot bear very much reality.'
Very few vocal recordings have come under the Spatial Audio microscope so far and it will be instructive to find out how fully and fairly a singer's personality is conveyed, bearing in mind the fundamental artifice of headphone listening in the first place. On the transfer of her 2018 album 'There's a Place for Us', Nadine Sierra's smoky soprano has been placed at a respectful distance rather than jumping down her throat, but you can almost follow the movement of Sierra's head in 'Take care of this house'.
Stile Antico is afforded a more natural sound on its recent Decca album of Josquin. In concert they sing in the round, and this collective responsibility for expression is faithfully recreated by a gentle surround-sound perspective which places the listener, as it were, slightly above the singers. 'The tone is luminous, textures are admirably clear,' observed Fabrice Fitch (2/21), and the Dolby Atmos mastering enhances those qualities without immersing singers or listener in a warm bath. By contrast, I struggle to get a stable fix on the voice of Hera Hyesang Park in her DG debut recital. Acoustic and orchestra take over, whereas a 'standard' stereo stream presents a much clearer and more sympathetic idea of what Hugo Shirley identified (3/21) as 'a lovely lyric instrument … agile and light', which I find especially assured in the selections from Idomeneo.
Instead, for the most comprehensive technical work-out of Spatial Audio – the equivalent of the demo tracks we use when trying out new hi-fi or indeed headphones – try sampling the three-hour Immersive Experience newly recorded by the London Philharmonic for Warner Classics. The Abbey Road Studios recording removes venue-specific quirks from consideration. Ben Gernon directs firmly articulated accounts of everything from Albinoni to Sousa, done on the fly to judge from Beethoven's Coriolan or 'Fêtes' from Debussy's Nocturnes, missing the last degree of rhythmic grip and colouristic finesse, but reliably attentive to distinctions of style. Rather than producing instrumental sections from top left and bottom right like rabbits out of a hat (Ravel's Boléro, the Waltz from Shostakovich's Jazz Suite No 2) or unfurling a widescreen soundscape like Bluebeard at his fifth door (the Dies irae of Mozart's Requiem), Spatial Audio has most to offer as a subtle expansion of a 'natural' stereo soundstage. Lossless streaming, meanwhile, though hardly unique to Apple, should become the industry standard in time, rather as no one with a Blu-ray player would choose to watch another DVD.
The Recordings
Ives Symphonies
LAPO / Gustavo Dudamel
DG (10/20)
Mozart Piano Works
Yekwon Sunwoo
Decca
'The New Organ at St Stephen's Cathedral, Vienna'
Konstantin Reymaier
DG
'Celebrating John Williams'
LAPO / Gustavo Dudamel
DG (6/19)
'John Williams in Vienna'
Anne-Sophie Mutter; Vienna PO / John Williams
DG
'Live at the V&A'
Viktoria Mullova; ASMF / Oliver Zeffman
Platoon
JS Bach Cello Suites
Mstislav Rostropovich
Warner Classics (6/95)
Vivaldi Four Seasons
London PO / Itzhak Perlman
Warner Classics (2/77)
'There's a Place for Us'
Nadine Sierra; Royal PO / Robert Spano
DG
Josquin 'The Golden Renaissance'
Stile Antico
Decca (2/21)
'I am Hera'
Hera Hyesang Park; Vienna SO / Bertrand de Billy
DG (3/21)
'Immersive Experience'
London PO / Ben Gernon
Warner Classics
Look out for the new Spatial Audio Award at this year's Gramophone Classical Music Awards, streamed on October 5.