What impact has lockdown had on musical creativity?
Jack Pepper
Friday, March 5, 2021
Jack Pepper talks to performers and composers about the ways that they have managed to keep productive in a year of pandemic restrictions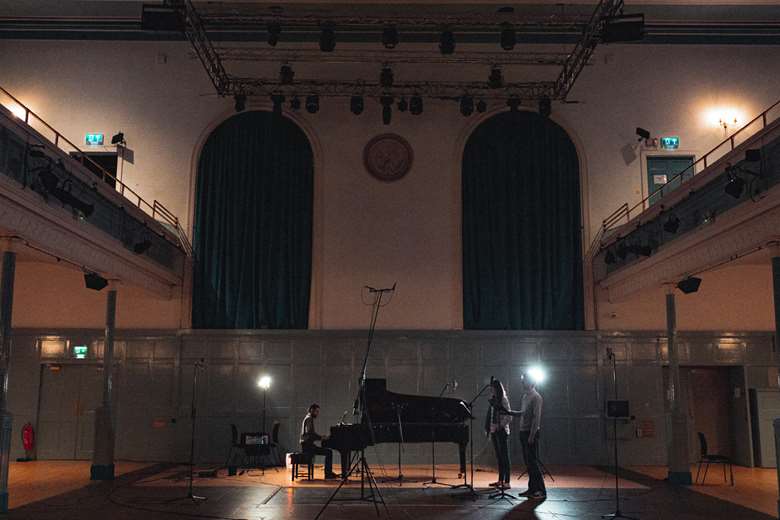 The last year has had a catastrophic impact on the music profession, on the business of making a living from music. But what about the impact on musical ideas themselves? Composers have in many cases continued composing. Can we hear lockdown in music?
Fresh off the page and newly on the record, let's dig deeper into the new music of lockdown…
Isolation Songbook
Helen Charlston, Michael Craddock and Alexander Soares Delphian
Mezzo-soprano Helen Charlston and baritone Michael Craddock were due to marry on the April 18 last year. Forced to cancel their plans – and finding their concert diaries suffering what Craddock described to me as 'death from a thousand cuts', as performance dates were continually ripped out of the calendar – they were determined to find a creative outlet.
Charlston wrote a poem for her fiancé; their friend Owain Park set it to music. Soon this led them to Twitter, asking for composers and writers to likewise respond to the lockdowns; the resulting commissioned poems and music were written almost entirely between May and July 2020. From friends of the couple to those they have yet to meet, this project brought together creatives from across the UK to capture the sound of lockdown, in real-time.
From Helen's father Terence Charlston to 23-year-old Derri Joseph Lewis, the 18 composers included each offer a personal response to lockdown, and in doing so reflect the different ways humanity deals with a difficult situation; some of the songs strike a humorous tone – responding to challenges with laughter – whilst others carry a strain of reflection and melancholy. Craddock admitted this was one of the project's greatest challenges: mastering the vast emotional and stylistic range required, when so many distinct voices had contributed to the collection.
Take the work of Elliott Park; he placed a microphone in his garden over the May Bank Holiday, poignantly recording the sounds of nature and – living near a hospital – the wails of distant sirens. This track can then accompany the song cycle he wrote. As Charlston put it, he had created an 'aural history of lockdown'.
It came at the right time. From a composer's perspective, the project gave an impetus to write in a period otherwise filled with doubt and confusion; a few of the writers involved had been experiencing creative blocks, and the tight turnaround of this commission provided an icebreaker to get them back into writing. Likewise, it helped both Charlston and Craddock to maintain a regular practise schedule, since new and complex pieces were pouring into their email inboxes throughout the summer.
Originally written for a concert in September 2020, the Isolation Songbook will now offer a lasting postcard of the pandemic in the form of a recording on Delphian; the couple-to-be are accompanied on the piano by Alexander Soares. Appropriately, it will be released on the March 26, to mark one year since the UK went into its first national lockdown.
Helen and Michael might have put their wedding on hold, but through this new album, they've created a lasting sonic memorial to a unique year – and perhaps helped decide some of the music that will be played at their ceremony…
Songs of Solitude
Hiyoli Togawa BIS
'What is my mission if I can't share music with others? Share joy, share tears, open people's souls, speaking – through music?'
Berlin-based viola-player Hiyoli Togawa found quite a channel. The recent Gramophone One To Watch artist told me: 'If I needed to make a choice – what to play if the outside world isn't telling me what to do – I knew it would be Bach, and the Sarabandes in particular. There's this clear structure on one hand, and yet on the other it's so highly emotional. It expands all your inner worlds. It was this mixture of these two things that gave me what I needed; it gave me this sense of being grounded at a time when nothing was recognisable.'
Then the phone rang. Finnish composer Kalevi Aho told Togawa that he had recently finished his double concerto for viola, percussion and chamber orchestra. This got Togawa thinking…She decided to invite composers from across the world to write works for her; some were old friends, but many were new acquaintances who she could get to know through music. The resulting album on the BIS label offers a glimpse into lockdown life in different parts of the globe.
Togawa places Bach's Sarabandes between the new pieces, each reflecting a unique personal response to lockdown. Hollywood composer John Powell has morphed from Jason Bourne into a composing housemaid; he found in lockdown an opportunity to clear out the house, and his musical response is the lively Perfect Time For A Spring Cleaning. Yet there's a very different musical response from Gabriel Prokofiev. His Five Impressions of Self-Isolation include pieces named Calling Out…, Wine For One and Only Birds In The Sky. Lockdown proved a challenging time for Prokofiev; he had been due to write a viola concerto, but found his creativity stifled by lockdown. Add to the mix three teenagers at home, all off school. This project therefore became a musical diary of lockdown emotions and observations as they occurred.


Composers are the ones who distil into sound what they go through emotionally. Composers must be people that are so very sensitive, in their perception of what's going on – in their inner worlds, but also in the outer world – Hiyoli Togawa

A composer is well-placed to respond to such a seismic event, as Togawa explained: 'Composers are the ones who distil into sound what they go through emotionally. Composers must be people that are so very sensitive, in their perception of what's going on – in their inner worlds, but also in the outer world.' Might a lockdown, then, send composers into creative overdrive, because it's a time of such heightened emotions? 'The composers can create something. They're the ones who aren't actually locked down.'
Togawa's album reflects two important aspects of the pandemic. First, the paradox that at a time of social isolation, globally we find common ground against a shared threat. What better way to reflect this than the universal language of music? 'I'm Japanese-Australian-German – I'm such a mixture of different cultures', Togawa continued. Yet with the viola, she forgets about 'this outward search for identity'. Indeed, whilst Togawa spoke German on their Zoom calls, composer Tigran Mansurian talked Armenian; although there was an interpreter on the line, Togawa admits they were rarely needed, as music was their language: 'He sings, I play'.
Second, the album reflects the urgency and vibrancy of modern technology that we've all come to discover in lockdown. John Powell's composition is for nine voices, which Togawa recorded in multitrack, evoking a welcome sense of ensemble: 'to have this illusion of playing chamber music – even if it's with myself with headphones – gave me this wonderful sense of not being alone.'
With 11 composer contributions taking us from LA to Helsinki, this is a real-time 'musical journal of the pandemic', with a truly global struggle counterpointed by the remarkably individual responses it has stimulated. With music, we're not entirely isolated.
'Songs Of Solitude' was recorded between June and October 2020, and is released today, March 5 on BIS.
Judith Weir's reflections, plus a personal perspective...
Zooming out to the basic concept of lockdown: staying in one place, on your own. Is that really such a new idea for a composer?
It's a position that many past writers were in some ways accustomed to. Think of Haydn, working in the country palaces of the nobility, commenting that 'there was no one near to confuse me, so I was forced to become original'. Screaming children aside, perhaps lockdown has taken away some of the distractions and made us hone in more on ourselves; it's certainly given me greater focus on what I truly want to say in my music.
Then there's the added time to embrace your local landscape. Many have found this conducive to composing; Beethoven, Brahms, Tchaikovsky, Wagner, Mahler and Britten were all passionate walkers, using the sights and space of a wander to help collect their musical thoughts.
But this is an over-simplification. 'Inspiration' isn't just a walk or sitting in a room; nor does composition solely consist of putting notes on a page. The music starts with an idea. That idea so often comes from interaction, conversation; in my eyes, a composer is an observer who then translates lived experience into sound. A lockdown therefore takes away a significant early part of the composition process.


I realise how much I have been missing live encounters with music, and especially the little chats or observations that happen behind the scenes - that's when an interesting new idea might arrive quite unexpectedly and lodge in the brain - Judith Weir

Master of the Queen's Music Judith Weir told me how lockdown has helped her better understand what she needs to compose: 'I realise how much I have been missing live encounters with music, and especially the little chats or observations that happen behind the scenes - that's when an interesting new idea might arrive quite unexpectedly and lodge in the brain.'
With multiple commissions to fulfil, Weir has to keep these ideas flowing, pandemic or not. She has been working on a cantata for The Addison Singers and Orchestra, a woodwind symphony for NYO Inspire and an orchestral work for The New Edinburgh Orchestra. She shared that, although already a fair distance into a new piece when the first lockdown began, 'I progressed much slower than normally. Although I try to work well ahead of deadlines, when the deadline was infinitely postponed, it definitely didn't feel so urgent to get the piece finished.'
Weir continued: 'After that, beginning a new piece while the whole of life seemed in slow motion was difficult – as so many people have reported, I felt "brain fog". Over recent months my composing discipline has somewhat returned, and I've worked with reasonable regularity.'
Slow motion – that's something that has never helped my own composition. I write best when I'm happy, excited, fired up, talking and thinking quicker – and the music both feeds in to that and off of it. One of the main triggers for that excitement is the energy of being with others. Therefore, I was surprised to find myself writing so much music in lockdown, albeit with my creative energy flowing more in fits and starts. Alongside a commission for an orchestra in Florida, I've been lucky to enjoy the structure and colour of a major musical theatre project; escaping the current world and inhabiting that of the characters instead is a welcome release, although there are also common themes between the two. More on that in the future…
Perhaps I was able to keep writing because I continued to have the kind of encounters that so fire my creativity. As a presenter on Scala Radio, I'm privileged to chat with some inspiring guests over Zoom; in the next few weeks, I'll be joined (virtually) by Hilary Hahn, Simon Callow and Bonnie Tyler. This important early stage in the composing/'thinking' process, then, hasn't been removed totally: it just looks a bit different.
As all the projects highlighted suggest, new music is not simply a nice thing to have, a luxury if we can afford it. It's a living diary of the times in which it was made, of person and place, and helps both the present and future to process that. Music is a way of coming to terms with big emotions. That's why throughout history, music has proven itself a lifeline to its creators and its audience. As an outlet of self-expression and a means of coming together, making music could not be more important than at a time like this.
Jack Pepper is a composer, broadcaster and writer, and presenter on Scala Radio.
Three further lockdown projects to explore
Lockdown Commissions – Wigmore Hall
Since 2005, Wigmore Hall has commissioned or co-commissioned more than 500 new works, and lockdown hasn't stopped this. In October 2020, the team – led by their tireless Director, John Gilhooly – put out a call for composers young and established to apply for one of their 12 Lockdown Commissions, a paid opportunity to pen a musical response to their individual lockdown experience. Fellow composers Errollyn Wallen and Daniel Kidane were among those on the judging panel.
This project highlights how existing frameworks for opportunity continue to provide new and exciting chances for writers; lockdown has not only encouraged the creation of brand-new schemes and groups, but also prompted organisations to reflect on and reframe their existing offering. Through both COVID-safe live performances and new commissions, the Wigmore Hall continues to set a powerful example.
Find out more: Wigmore Hall
Our Songs, Our Place - Ulster Orchestra
The Ulster Orchestra has been hit hard by the pandemic; in April 2020, nine of its 22 administrative staff were furloughed, alongside 13 of 63 orchestral players. Yet despite the challenges, they were still streaming daily recitals. Then came their call to composers…
In April 2020, composer Paul Campbell approached the ensemble with an idea for a project responding to lockdown. Together they put out a call for 'new songs; songs of this time and place. Songs we can play together with you'. Sixty-nine pieces were received, and the shortlisted entrants were able to collaborate with mentors to prepare their work for an album recording in September. The recently-released Our Songs, Our Place features nine songs by local songwriters, arranged for and performed alongside the orchestra.
To those who have called into doubt the 'viability' of musicians and orchestras, let this project be a striking example of the way classical music can allow individuals from different walks of life to express themselves, at a time when emotional honesty and collaboration are needed ever more urgently.
Visit Ulster Orchestra 
Do It Differently – Help Musicians
Independent UK charity Help Musicians has been a pillar of much-needed financial and emotional support to composers and more over the last year. Multiple rounds of their Do It Differently fund have helped hundreds of creatives through the lockdowns, providing up to £3000 of music project funding, business advice and wellbeing support through health consultations. Many of the new pieces created with this help have used the last year as inspiration; for example, one composition was created alongside a 3D immersive hologram projection, exploring the idea of separation through lockdown.
Sir Edward Elgar helped establish the charity in 1921 – a composer who had to overcome his own fair share of financial and societal obstacles to get his music heard – and so it's appropriate that 100 years on, Help Musicians have empowered creatives at a time when so much could easily discourage any sense of ambition and possibility. In their 100th year, Help Musicians continue their proud tradition of compassion and kindness.
Visit Help Musicians