Osmo Vänskä on the Minnesota Orchestra, Gramophone's Orchestra of the Year
Friday, March 25, 2022
As he prepares to add the Ninth Symphony to his Mahler cycle for BIS, the Minnesota Orchestra's Music Director talks about his 19-year tenure in Minneapolis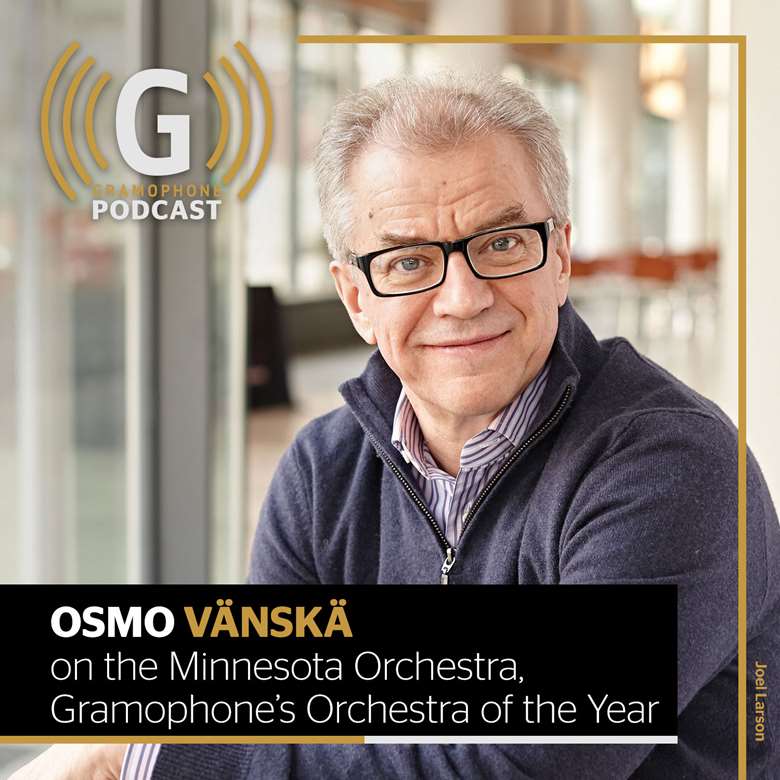 Last year – and for the fourth consecutive year – we asked our readers, followers and visitors to our website to vote, from a short list of 10, for our Orchestra of the Year for 2021. Thousands of votes were cast, but romping in by a long margin, was the Minnesota Orchestra. As we look back on that Award, Gramophone's Editor in Chief, James Jolly, caught up with the Minnesota Orchestra's Music Director, Osmo Vänskä, to talk about his 19-year tenure with the ensemble, how the relationship has changed, and the recordings they have made together.
Gramophone Podcasts are presented in association with Wigmore Hall. To see details of concerts for the week starting March 26, please scroll down.
Visit Gramophone's Celebration of the Minnesota Orchestra in reviews, features and a reprise of Osmo Vänskä's 2021 Awards acceptance speech.
You can listen to the Podcast above. To hear other Gramophone podcasts, or to subscribe for free to new editions, search for 'Gramophone' in your Podcast App of choice, or visit Gramophone's page on Apple Music podcasts.
You can also listen to Osmo Vänskä's Gramophone Editor's Choice recording of Mahler's Seventh Symphony with the Minnesota Orchestra in lossless audio on Apple Music:
Wigmore Hall concerts and events starting March 26
'90 Minutes for 90 Years!'
Saturday March 26, 12pm
Connaught Brass           
Leia Zhu vn                
Jayson Gillham pf   
Mikeleiz-Zucchi Duo 
Timothy Ridout va 
Plus special guests to be announced  
A surprise programme starting with a specially-composed fanfare by Duncan Ward.
All proceeds will go to the Philip and Ursula Jones Musicians Fund at the Royal Philharmonic Society
 
Saturday March 26, 7.30pm
Wihan Quartet              
Puccini Crisantemi
Verdi String Quartet in E minor
Brahms String Quartet in A minor, Op 51 No 2
In Memory of Pamela Majaro  
 
Sunday March 27, 11.30am
Wihan Quartet               
Taneyev String Quartet No. 1 in B flat minor Op. 4
Britten String Quartet No. 2 in C Op. 36
In Memory of Pamela Majaro  
 
'Streams of Tears (Iberian roots)'
Sunday March 27, 7.30pm          
The Sixteen
Gutiérrez de Padilla Mirabilia testimonia
Melgaz Salve regina
Cabezón Ave maris stella
Lobo Pater peccavi
D Scarlatti Iste confessor
Cardoso Sitivit anima mea
Gutiérrez de Padilla Lamentations for Maundy Thursday. Salve regina
Cabanilles Folias primer tono
D Scarlatti Stabat mater
 
BBC Radio 3 Lunchtime Concert
Monday March 28, 1pm LIVE STREAMED
Kaleidoscope Chamber Collective     
Bridge Phantasie Piano Quartet in F sharp minor
Still Suite for violin and piano – Mother and Child
Dvořák String Quintet in E flat, Op 97
 
Monday March 28, 7.30pm
Royal Academy of Music Baroque Soloists / Rachel Podger vn                 
JS Bach Brandenburg Concerto No 1 in F, BWV1046. Trio Sonata in G, BWV1039. Jesus nahm zu sich die Zwölfe BWV22. Music from the Mass in B minor (1733 version). Brandenburg Concerto No 4 in G, BWV1049
 
Tuesday March 29, 1pm
Jordan Bak va
Richard Uttley pf

H Leslie Adams Ecstasy of Love
Clarke Untitled piece for viola and piano
Jessica Meyer Excessive Use of Force
Bax Viola Sonata
 
Tuesday 29 March 7.30pm        
Schumann Quartet       
Mozart String Quartet No 22 in B flat, K589, 'Prussian'
Herrmann Echoes for String Quartet
Mozart String Quartet No 14 in G, K387, 'Spring'
Wednesday March 30, 1pm LIVE STREAMED
John Gilhooly, Wigmore Hall's Director, reveals the 2022-23 season in a private event at the hall, but streamed and archived on the hall's website.
(Tickets for September to December 2022 concerts will go on sale in May.)
Wednesday March 30, 7.30pm
Alina Ibragimova vn              
Cédric Tiberghien pf            
Doric Quartet   
Lekeu Violin Sonata in G
Debussy String Quartet in G minor, Op 10
Chausson Concert in D for violin, piano and string quartet, Op 21
 
Artistic Series, Beethoven Quartet Cycle
Thursday March 31, 7.30pm
Jerusalem Quartet
Beethoven String Quartets – No 3 in D, Op 18 No 3; No 9 in C, Op 59 No 3, 'Razumovsky'; No 14 in C sharp minor, Op 131
Friday 1 April 2022 7.30pm
Mauro Peter ten (Evangelist)
Konstantin Wolff bass-bar (Christus)
Rachel Redmond sop
Helen Charlston alto
The English Concert / Peter Whelan
JS Bach St John Passion