Brahms - Ein deutsches Requiem
Soloists; Berlin Radio Choir; Berlin Philharmonic Orchestra / Sir Simon Rattle
EMI 365393-2
This is a lovely performance, sensitive to the work's consolatory mood, free-moving and sweetly sung," was Richard Osborne's verdict back in May. Rattle adds another fine recording of this work to the superb performances by his predecessors at the helm of the Berlin Philharmonic: Karajan would have relished the beauty of the string playing (cellos and violas in particular), and Abbado the clarity of Rattle's vision – one that, in RO's words, "strikes a shrewd balance between the work's affective nature and its narrative power". The Berlin Radio Chorus, trained by Rattle's old colleague in Birmingham, Simon Halsey, sing with restrained passion and beautifully support Rattle's conjecture that this piece is as much a private as a public statement. There's a real "sense of deep repose suggest[ing] that most sought-after of all qualities in an interpreter, the art that disguises art" (RO).
Sir Simon Rattle on this very personal work
Brahms said he wished he'd had the courage not to call it A German Requiem and if he'd wanted to call it anything it would be a "Human Requiem". And it's even hardly a Requiem if you think in terms of hellfire and guilt and punishment. It's a piece of consolation, very much to do with the death of his mother, and the concept of the mother who will look after you, or the God who will take care of you like a mother, is absolutely central to the whole piece. It's very special, but must have been confusing for people at first who were expecting a normal Requiem. And even more, because Brahms was really the first great performing early music expert. So it is full of not only Handel, but of Schütz. It's not like anything that had been written before, and it's not like anything that he ever wrote again. For me, it's a very private, very personal work.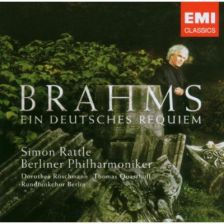 If you are a library, university or other organisation that would be interested in an institutional subscription to Gramophone please click here for further information.