Jed Distler's Cliburn Blog No 5: Quarter Final Musings
Jed Distler
Monday, June 6, 2022
Our daily blog from the Van Cliburn Competition continues to explore the competitors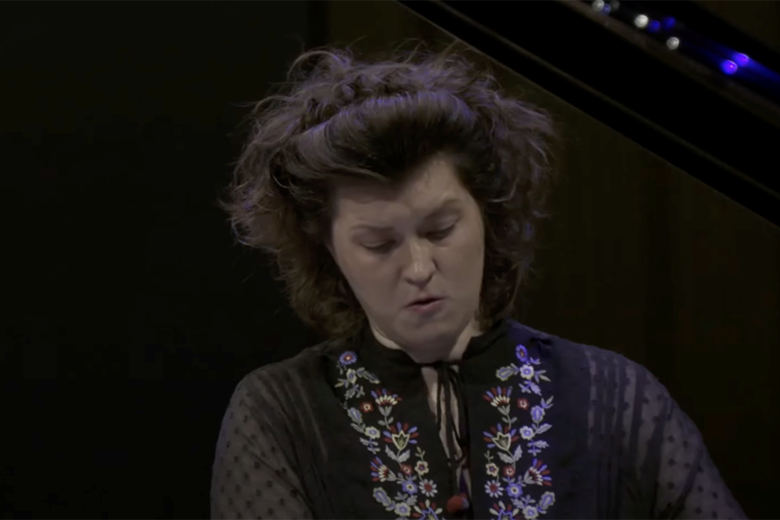 Looking at the jury's selection of 18 pianists to progress to the Quarter final stage of the Van Cliburn Competition, I find that 13 of these coincide with my own choices. I wouldn't have picked the five others, and I had hopes for three particular Preliminary candidates who didn't advance. Still, who am I to argue with the strongest jury The Cliburn has amassed in its 60-year history?
Since I'm traveling back from Italy to my New York home tomorrow, I'm reporting a day late on each of the two Quarter final concert days. By Wednesday I'll be back in 'real time' for the Semi finals. Thank you for your patience!
Patience was the operative word in Anna Geniushene's Brahms Ballades, Op 10, where her marble-tinged sonority and authoritative projection kept reminding me of Emil Gilels. Her outstanding Bartók Sonata was both grounded and mercurial. This sounds paradoxical, yet these qualities are better experienced than described. And for all the steely precision of her rapid octaves in the third movement, Geniushene never banged. In short, this was a distinctive set from a serious pianist.
Andrew Li's Beethoven Variations, Op 34, didn't match the finely honed detail and characterisation that Marcel Tadokoro brought to the same work in his Preliminary performance. Still, it was satisfyingly stylish. Li then ploughed through most of the Brahms Paganini Variations with little dynamic contrast and nuance, blurring that thin line between determination and stress.
One couldn't fault Denis Lennik's Schumann Études symphoniques. Each note, phrase and gesture was firmly in place, together with a winged Finale that didn't overstay its welcome as it often does. However, the individual qualities of Lennik's pianism blossomed throughout his Scriabin Fifth Sonata and a coruscating Ligeti 'L'escalier du diable'.
After hearing Masaya Kamei's delightfully 'old-school' Chopin Étude Op 10 No 2 and Liszt Norma Fantasy in the Preliminary round, I was surprised by his relatively austere and restrained Bach Chromatic Fantasy and Fugue. Yet he's one of the few pianists I've heard who does not get bogged down in the Fugue, getting slower as the music progresses. He liberated Liszt's 'Mazeppa' from its clattery shackles, and made the piece both listenable and enjoyable; that's no small feat! I expected sabres rather than velvet gloves from Kamei in the opening movement of Rachmaninov's Second Sonata. It turned out that the pianist was conserving his fiery reserves for an exultant Finale.
Clayton Stephenson began his Quarter final offering with an uncommonly relaxed and flexible account of the Prelude from Ravel's Le tombeau de Couperin, quite different from faster, dryer versions dominating the market. This pianist's extraordinary narrative and poetic gifts, his sense of proportion and genius for scaling dynamics characterised his captivating and original conception of Liszt's B minor Ballade. For once you could ascertain the pitches in those rumbling bass-register scales, and the agitato passages were carefully sculpted for maximum expressive effect and minimum vulgarity. In Prokofiev's Seventh Sonata, the pianist took great chances in his brisk and cheeky first movement, while keeping his spacious slow movement transparently afloat. Stephenson's smartly judged tempo for the finale allowed him to fully orchestrate the piano-writing's glittering surface, imparting shape and specificity to implied counter-melodies and inner rhythms. Given the way too many competitors sprint through this finale like an Olympic event, Stephenson's intelligent virtuosity should not go unnoticed.
As with his Quarter final Bach, Albert Cano Smit's dry-point articulation and gaunt transparency in the outer movements of Beethoven's 'Tempest' Sonata reminded me of Glenn Gould. He channeled his inner Horowitz in Scriabin's Poème, Op 32 No 1, and the familiar C sharp minor Étude, Op 2 No 1, uncovering left-hand counter-lines that hadn't occurred to me or, perhaps to Scriabin himself. Of Smit's two concluding Ligeti Études, I found 'L'escalier du diable' to be more playful and supple compared to the force and intensity of Denis Lennik's earlier performance.
In and of itself, Yuki Yoshimi's Mozart D major Sonata, K311, would score high points for glistening craft and gracefulness. Yet it didn't quite reach Yunchan Lim's elevated inspiration in the Preliminaries. Yoshimi had better luck with Brahms's Paganini Variations than Andrew Li earlier, exerting more control and poise (especially in Book I). As such, he truly redeemed himself in the wake of his rather generic Liszt Sonata in the Preliminary round.
Uladzislau Khandohi dug deeper into the Bach Chromatic Fantasy's detail than did Masaya Kamei earlier, although his drier Fugue disappointed with its predictable ritards at structural junctures and overly loud and mechanical trills. However, I hope the jury takes the cumulative sweep and vivacious freshness of Khandohi's Prokofiev Sixth Sonata into account. Imagine Sviatoslav Richter's reference-setting account with additional humour and caustic bite, and you'll get the idea.
Each time I've blogged about Yutong Sun, I invariably mention his thorough professionalism and unflappability, and how his pianism consistently satisfies year in and year out. However, his Quarter final programme often rose above these positive attributes. He imparted a unique sound world upon each of Carl Vine's Five Bagatelles, playing up the music's pronounced contrasts in mood and dynamics. The Chopin F minor Fantasy held interest for Sun's rapt concentration and effective hairpin rubatos in the opening section, while the march episodes emphasised the melodic line's urgent trajectory over the persistent basses. He built his concluding Bach-Busoni Chaconne from the bottom up, with strong bass lines anchoring the virtuoso decorative writing. The performance leaned more towards the architectural designs of Arturo Benedetti Michelangeli or Hélène Grimaud than the more rhapsodic traversals from Evgeny Kissin or Kun-Woo Paik, leaving me gratified, if not emotionally spent. 
To watch more videos of the performances discussed above, visit the Cliburn International Piano Competition website: cliburn.org
Gramophone is a Media Partner of The Cliburn International Piano Competition