The Chopin Piano Competition, day eight: 'What's in a name?'
Jed Distler
Tuesday, October 12, 2021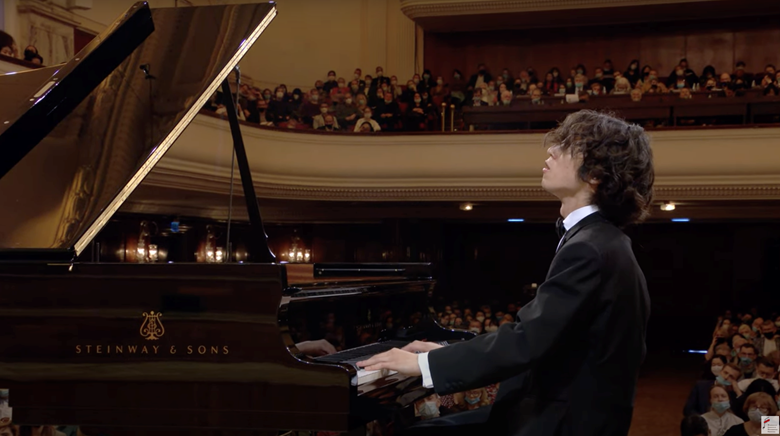 Have you noticed how classical pianists who achieve great acclaim, success and influence earn 'one name' status?
Consider Paderewski. Consider Rubinstein. You don't have to put the name Vladimir in front of Horowitz. Nor, for that matter, Jascha in front of Heifetz, or Arturo in front of Toscanini.
Interestingly, when it comes to jazz pianists, first name recognition is usually sufficient. Mention Chick, Keith, Cecil, McCoy, Herbie, Oscar or Bill to jazz fans, and they'll know exactly who you're talking about.
Not so with classical pianists. Ask piano mavens if they like how Vladimir plays. They'll reply, 'Vladimir who? Ashkenazy? Feltsman? Viardo? De Pachmann? Sofronitsky?'
However, there's a way to acquire one-name VIP status without waiting. You simply jettison your first or last name as you start your career.
The British pianist Solomon is a case in point. Volodos first came to attention as a one-name wonder. And Liberace was always Liberace! Somehow the ploy seems more gimmicky when one changes names midstream. Think of the violinist formerly known as Nigel Kennedy. Or the 2000 Chopin Competition Gold Medalist formerly known as Yundi Li.
Then there's Cateen. Don't worry if you haven't heard of him. He's a YouTube piano sensation in Japan, with hundreds of thousands of followers. Many of his videos feature piano arrangements of pop songs, or pop-oriented arrangements of serious classics. It's basically lightweight kitsch.

Cateen also happens to be one of the Chopin Competition's second-stage candidates. You'll find him presented by his real name, Hayato Sumino. Despite his YouTube persona, Mr Sumino is a genuinely accomplished pianist. He also holds a master's degree in science and engineering from the University of Tokyo. In other words, he's serious, as his rock-solid performance of Chopin's Second Ballade this morning amply demonstrated. That said, the Rondo a la Mazur Op 5 and E flat Waltz Op 18 seemed more congenial vehicles for the pianist's skittish side to take wing.

One couldn't imagine the fastidious and dedicated Yutong Sun in Sumino's populist guise. His Polonaise in F sharp minor Op 44 today at last revealed the artist behind the craftsman. Sun's interpretation had gravitas and substance, marked by subtle tempo modifications that nonetheless kept the basic polonaise rhythm in focus. His upward right-hand octaves meaningfully varied upon each reiteration, while a sense of improvisatory wonder informed the central mazurka-like section.
A few thoughts on familiar names and newer faces alike: Remembering Zi Xu's thoughtful B minor Sonata performance in the 2015 Chopin Competition's semi-finals, I anticipated his return this year. I also wondered if a pianist chose primarily lyrical first-stage pieces as a strategy that would bring more rewards when trotting out bigger guns as the competition proceeds.
That Xu is more of a poet than a barnstormer was revealed in the F major Ballade's outer sections, the trio of the Scherzo No 2 and the A flat Polonaise's transitional G major episode. By way of contrast, the 21-year-old Piotr Alexewicz's performance conveyed a more angular, powerful and dynamic sound world. By the way, check out Alexewicz's solo CD debut, featuring red-hot renditions of the Liszt B minor Sonata and Ravel's Gaspard de la nuit.

For me, Tomoharu Ushida provided the day's most pleasant surprise. During his time on stage, this pianist gave a masterclass in horizontal clarity and the spacing of notes in time, where every balance between the hands and every phrase transpired in just the right proportions. In the Fourth Ballade, his intelligent application of tempo fluctuation and strong left hand imbued the music with a freshness of character that managed to stand out even among the countless excellent Fourth Ballades we've heard since the competition's start. Ushida does not impress one as a colourist, although that's might be partly down to the brightness of his Yamaha. Would he sound more alluring on the Kawai, the Fazioli or the two available Steinways? Yet the bottom line is that Ushida never plays for effect, and consistently channels his considerable virtuosity towards serving the music. Maybe that's why he looked so relaxed backstage.
Gramophone is a Media Partner of the 18th Chopin Piano Competition - you can follow the competition by watching the live stream at the chopin2020.pl - and visit us every day for more analysis from Jed Distler.