The great German mezzo-soprano Christa Ludwig has died
Sunday, April 25, 2021
Born March 16, 1928; died April 24, 2021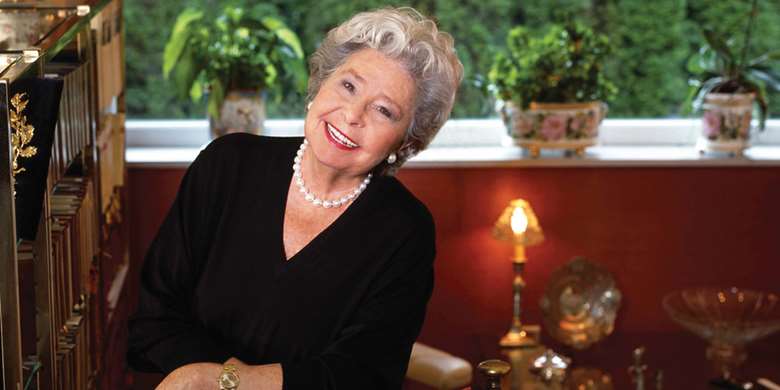 Christa Ludwig has died at the age of 93, one of the great singers of the post-war years, and an artist beloved of conductors as different as Otto Klemperer, Karl Böhm, Herbert von Karajan, Leonard Bernstein, Sir Georg Solti, James Levine and Seiji Ozawa. James Jolly recalls a glorious career.
The only time London audiences heard Christa Ludwig sing in English was in concert performances of Leonard Bernstein's Candide. She took the part of the Old Woman and brought the house down in the glorious 'I am easily assimilated'. It might have been the motto for a mezzo whose ability to get inside a host of different roles - and to work with such totally different artists as Leonard Bernstein and Herbert von Karajan - was extraordinary. It was a long career, well represented on disc and entirely reflecting her range and diversity. As a favourite mezzo of the producer 'Walter Legge she formed part of his tightly-knit company that was at the forefront of the musical renaissance in post-war Europe. Like her contemporary Elisabeth Schwarzkopf she worked in opera, oratorio and Lieder with equal command and her range within those genres was comparably broad.
Born in Berlin, Ludwig's exposure to singing started at birth - her mother, Eugenia Besalla-Ludwig, was a talented mezzo who, rather as her daughter was later to do, took on some of the more dramatic soprano roles such as Leonore (Fidelio) and Elektra (both of which she sang at the Opera in Aachen under a prodigiously talented young conductor, Herbert von Karajan). Ludwig's father was also an opera singer, a baritone who had sung Papageno at the Vienna Volksoper aged 18 and at only 21 sang in Pagliacci at the Met opposite Enrico Caruso (who thought Ludwig père was a tenor, a direction he later followed, singing Tannhauser and Lohengrin in Vienna). Not only did Ludwig learn much of her craft from her mother but also a great deal about diction and projection from her father who also taught singing, acting and public speaking.
With parents so steeped in the operatic world, Ludwig's career path seemed firmly set and in 1945 she received her first professional contract in Giessen with the company managed by her father. Because the opera house itself had been destroyed in the war, her work involved singing opera and operetta in factories and bars. For the 1946-47 season she was engaged by Frankfurt Opera where her early roles included Orlovsky (Die Fledermaus), Ulrica (Un ballo in maschera) and Niklaus (Contes d'Hoffmann). It was at this time that she also sang in her first Verdi Requiem, a work that was to remain a cornerstone of her choral repertoire. Her contract continued until 1952 when she joined Darmstadt Opera - a smaller house but one which afforded her the opportunity to sing major roles and work with the stage director Harro Dicks whose synthesis of music, word and action put Darmstadt's production firmly on the map.
It wasn't until 1955, however, that her international career really started to take off. In April that year she made her debut with the Vienna State Opera at the Redoutensaal as Cherubino in Le nozze di Figaro in a cast that included Paul Schöffler, Sena Jurinac, Irmgard Seefried and Erich Kunz. More important for her, though, than these glittering colleagues, was the conductor, Karl Böhm. In her career Ludwig worked with the greatest conductors of the day but three in particular left an indelible mark: Böhm, Karajan and Bernstein. In her memoirs (the wonderfully wise and readable In my own voice; Limelight Editions: 1999) Ludwig writes that 'Böhm guided me past many obstacles, and showed me the way out of the provinces and into the great world. He gave me the base on which to build an international career... [He] was one of the rare conductors who understood the voice... He knew what could be expected from a particular voice, he knew at what age and stage of development a singer could sing a certain role, and he knew when a singer would be ready for a role, even if she wasn't ready yet.' Later that year Böhm guided Ludwig through her Salzburg Festival debut as the Composer in Ariadne auf Naxos; then in the newly rebuilt Vienna State Opera her career started to show the breadth for which it would become famous: Octavian, Niklaus, Brangäne, Amneris, Eboli, Dorabella. Interspersed were Judith (Bluebeard's Castle) in concert and the Beethoven Missa solemnis. 
During the mid-1950s Ludwig performed a lot of contemporary music, indeed she acquired something of a reputation in the field. As well as creating the role of Miranda in Frank Martin's opera Sturm, she sang works by Honegger, Hindemith, Egk and Pizzetti. The wonderfully even, fluid tone that was her calling card must have been alluring to the composers of her time.
Salzburg was to remain a fIxture for the rest of her career and it brought her into closer contact with Karajan. Indeed, if Böhm was her mentor from the mid-1950s to the mid-'60s, Karajan was to be her guide for the next decade until she fell under the spell of Leonard Bernstein with whom she worked most closely during the 1970s. It was Karajan, as vocally acute as Böhm, who helped her to some of the higher, often dramatic soprano roles such as Kundry (which they performed together in Vienna in 1961), the Fidelio Leonore (1962), Venus (Tannhäuser, 1963) and the Dyer's Wife (Die Frau ohne Schatten, 1964). Ludwig tells a delightful story about Isolde. 'When I told Karl Böhm that Herbert von Karajan wanted me to sing Isolde with him, he raged, "This is criminal!" Then after a short pause to think things over, he continued, "But with me you could sing it.'''And it was Böhm who husbanded her into the role of Ariadne at Salzburg in 1964.
At her prime in the 1960s, when the majority of her greatest recordings were made, Ludwig's voice had a warmth, flexibility and evenness of colour throughout its wide range. There were no holes where the registers change, a problem that often besets singers who push up from the mezzo into the soprano ranges; there is a firmness of production throughout the voice that makes listening to Ludwig such a satisfying experience. Somewhat out of step with the repertoire for which she is famed, though gloriously done, is her Adalgisa to Callas's Norma in 1960. Her Octavian to Schwarzkopf's Marschallin (from 1956) is one of her greatest creations, full of impetuousness with a voice brimful with the sap of youth. Similarly her Dorabellas (both recorded with Böhm, 1955 and '62), a role she enjoyed in her youth, capture her effortlessly produced lines to perfection.
Ludwig's Fidelio Leonore, which she contributed to Klemperer's now classic 1962 recording, was at her own admission her 'problem child'. Being a true soprano role with elements of the lyric as well as the dramatic, it really lay outside her range, but with care she could encompass it. The 'Abscheulicher!' aria, the moment where she voices her resolve to rescue her imprisoned husband, is the crowning - but most testing - moment in the opera and in the opera house is particularly daunting. When recording, of course, things are much easier because the order in which arias are sung can be changed and in that EMI set it truly is the shattering moment it is supposed to be (interestingly Ludwig, with one disastrous exception, only ever sang the part on stage with her two guardian angels in the pit, Böhm and Karajan).
She made Wagner's Ortrud, Kundry and Brangäne very much her own. On Kempe's 1963 Lohengrin, Ludwig brings all her stage experience to bear on Ortrud, experience she gained largely from her mother who had also sung the part. She didn't care for the role of Brangäne considering her 'very stupid, and, because of that, very dangerous' but on the classic Böhm Tristan recording from Bayreuth in 1966 she is simply magnificent.
Leonard Bernstein came into her musical life in 1967 for a VPO performance of MahJer's Second. It was with Bernstein that she graduated from Octavian to the Marschallin in Der Rosenkavalier. And it was with Bernstein that she really came to terms with Mahler's world view. A disc of the Knaben Wunderhorn songs with her then husband Walter Berry is full of detail, colour and a sense of wonder. Ludwig believes 'that my own interpretation of Schubert's Winterreise was very much influenced by my work with Bernstein on Mahler's music.' Her devotion to Bernstein resulted in recordings of his Jeremiah Symphony and Candide.
Ludwig's work in oratorio and song ran in parallel with her operatic career and it is easy to understand why conductors wanted such secure, warm vocalism in their solo quartets. A regular performer of the Verdi Requiem and Beethoven Missa solemnis, Ludwig brings a wonderful poise. In Lieder, she worked with a host of impressive accompanists, from her beloved Erik Werba via Gerald Moore (the partner for her debut recital for EMI in 1957) to Irwin Gage, Bernstein, James Levine and Charles Spencer, communicating to the audience with fluency and ease. In an age that seems to have taken the mezzo voice to its heart, Ludwig's reputation, wonderfully captured on record, remains as a testament to her incomparable artistry and humanity.
Christa Ludwig - life and key recordings
1928

Born in Berlin, March 16 

1946

Stage debut as Orlovsky, Frankfurt

1952-54

Sings for two seasons with Darmstadt Opera (roles include Carmen, Brangäne, Composer, Dorabella) 

1954

One year contract at Hanover 

19S5

Joins Vienna Staatsoper where she remains for over 30 years. Salzburg debut as Composer under Böhm 

1956

Creates role of Miranda in Frank Martin's Sturm 

1957

Marries bass-baritone Walter Berry (marriage dissolved in 1971). Gives first Vienna recital 

1958

Sings Eboli under Karajan at Salzburg 

1959

US debut as Dorabella, Chicago. Sings Cherubino and Octavian at the Metropolitan Opera, New York 

1960

First appearance with Berlin PO (Beethoven Symphony No 9, Karajan)

1961

Sings Kundry at Vienna State Opera under Karajan

1962

Sings first Leonore (Fidelio). Karajan conducts. Records Leonore under Klemperer for EMI 

1966

Sings Brangäne at Bayreuth

1967

First concert with Bernstein (Mahler No 2 with VPO, Musikverein)

1968

Sings her first Marschallin (Vienna, Bernstein). Covent Garden debut as Amneris (Downes conducts) 

1970

First Lady Macbeth (Vienna, Böhm) 

1971

Last Leonore (Met, Böhm). Premiere of von Einem's Der Besuch der

1972

Marries director Paul-Emile Deiber

1973

Sings Dido in first US production of Berlioz's Les Troyens (Met, Kubelík)

1987

Sings first Geneviève in Pelléas et Mélisande (Vienna, Abbado)

1993

Gives farewell recital in Salzburg

1994

Farewell performance in Vienna

2016

Receives Gramophone's Lifetime Achievement Award

2021

April 24, dies, aged 93

Christa Ludwig receives her Gramophone Lifetime Achievement Award in 2016: