Editor's Choice: October 2023 | The best new classical recordings
Monday, September 11, 2023
This month's Editor's Choice of outstanding classical releases includes music by Parry, Kenneth Fuchs, Liszt, Fauré, Rodgers & Hammerstein, and more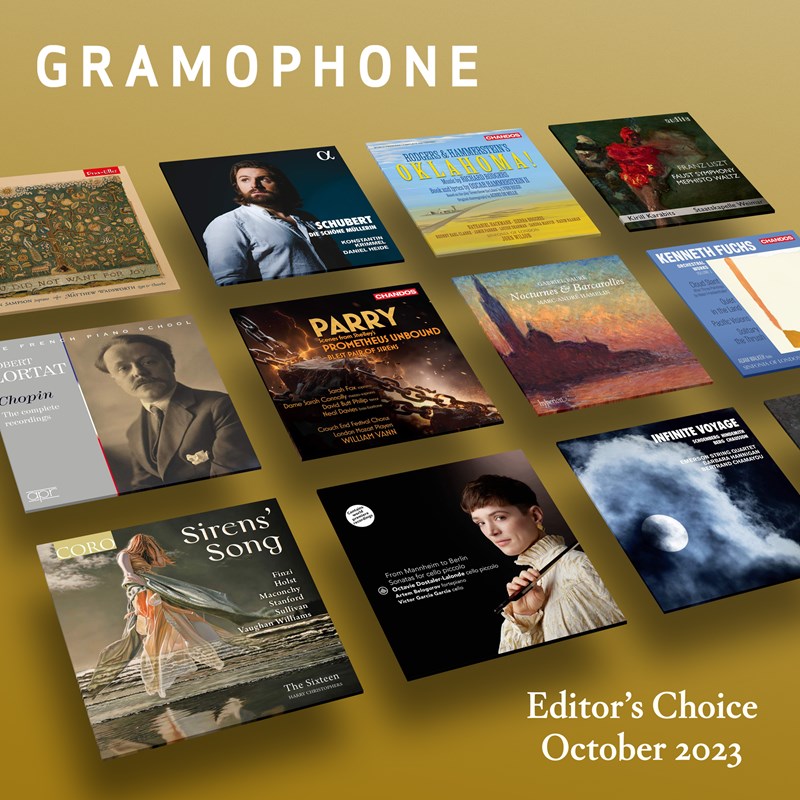 In every issue of Gramophone, Editor Martin Cullingford chooses 12 albums (10 new releases, plus one DVD/blu-ray and one archive recommendation) as his Editor's Choice. Below, you will find the albums selected as Editor's Choice in the October 2023 issue, beginning with the Recording of the Month. 
We've included links to the album reviews in Gramophone's Reviews Database, a digital archive of all of our reviews from 1983 to today. To find out more about subscribing to Gramophone and the Reviews Database, please visit: magsubscriptions.com
Recording of the month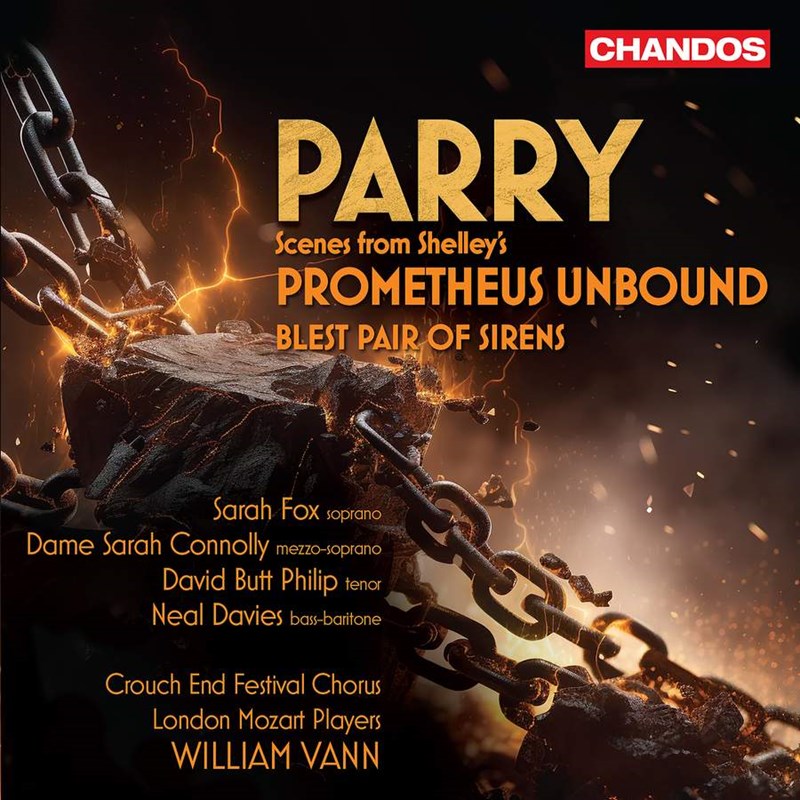 Parry Scenes from Prometheus Unbound. Blest Pair of Sirens
Sarah Fox, Sarah Connolly, David Butt Philip, Neal Davies, Crouch End Festival Chorus, London Mozart Players / William Vann
Chandos 
Parry's compelling response to Shelley's lyrical drama is given a superb performance of real conviction, conducted by William Vann and with a line-up of starry soloists.
---

Fuchs
 

'Orchestral Works, Vol 1'

 

Sinfonia of London / John Wilson 

Chandos 

The ever-excellent Sinfonia of London turn their virtuosity to new music, and to richly scored, beautifully crafted works by Kenneth Fuchs – all captured in super-stylish Chandos sound.
---

Liszt Eine Faust-Symphonie
Staatskapelle Weimar / Kirill Karabits 
Audite 
The atmosphere and unfolding narrative of Liszt's epic choral symphony are wonderfully and vividly presented here by Krill Karabits and his excellent Weimar musicians. 
---

'From Mannheim to Berlin'
Octavie Dostaler-Lalonde vc picc
Challenge Classics 
A fabulously enjoyable opportunity to enjoy the unique sound of the violoncello piccolo, an instrument Octavie Dostaler-Lalonde clearly understands intimately and relishes. 
---

'Infinite Voyage'
Emerson Quartet 
Alpha 
What a thought-provoking way to crown 40 years of excellence: joined by Barbara Hannigan and Bertrand Chamayou as guests, the Emersons sound as vital at the end as they did the start of their acclaimed career. 
---

Fauré Complete Barcarolles and Nocturnes
Marc-André Hamelin pf
Hyperion 
Hamelin's survey of Fauré's complete Barcarolles and Nocturnes allows us to hear and investigate these fascinating works in the most impressive pianism imaginable.
---

Rodgers
 

Oklahoma!

 

Sinfonia of London / John Wilson 

Chandos 

John Wilson's second appearance this month: Oklahoma! presented in full, and every single second infused with immense care, love and belief in its place as a pivotal 20th-century work. 
---

Schubert
 

Die schöne Müllerin

 

Konstantin Krimmel bar Daniel Heide pf

Alpha 

Konstantin Krimmel's poetically evocative voice powerfully conveys his interpretation of Schubert's tragic cycle, pianist Daniel Heide matching his compelling vision perfectly. 
---

'Sirens' Song'
The Sixteen / Harry Christophers 
Coro 
One of this country's finest choral ensembles brings us a collection of mostly a cappella, mostly 20th-century, British song. Another beautiful addition to The Sixteen's ever-impressive catalogue. 
---

'You did not want for joy'
Carolyn Sampson sop Matthew Wadsworth lute/theorbo
Deux-Elles 
These superb performers take music – and song styles – that span almost the entirety of classical music history and tie it together in a perfect, and perfectly beautiful, recital.
---
DVD/blu-ray

Janáček Katya Kabanová
Soloists; Vienna Philharmonic Orchestra / Jakub Hrůša 
Unitel Edition 
'Musically overwhelming,' writes Tim Ashley of this performance of Barrie Kosky's much talked-about production. 
---
Reissue/archive

Chopin 'The Complete Recordings'
Robert Lortat pf
APR 
Immaculate refurbishments – says our expert on historic recording, Rob Cowan, so praise indeed – of performances that offer a wonderful insight into this pianist's achievements of almost a century ago.
---