Richard Strauss's Der Rosenkavalier: which recording is best?
David Patrick Stearns
Tuesday, January 1, 2013
David Patrick Stearns discovers that finding the ideal Rosenkavalier recording is tricky
---
Welcome to Gramophone ...
We have been writing about classical music for our dedicated and knowledgeable readers since 1923 and we would love you to join them.
Subscribing to Gramophone is easy, you can choose how you want to enjoy each new issue (our beautifully produced printed magazine or the digital edition, or both) and also whether you would like access to our complete digital archive (stretching back to our very first issue in April 1923) and unparalleled Reviews Database, covering 50,000 albums and written by leading experts in their field.
To find the perfect subscription for you, simply visit: gramophone.co.uk/subscribe
---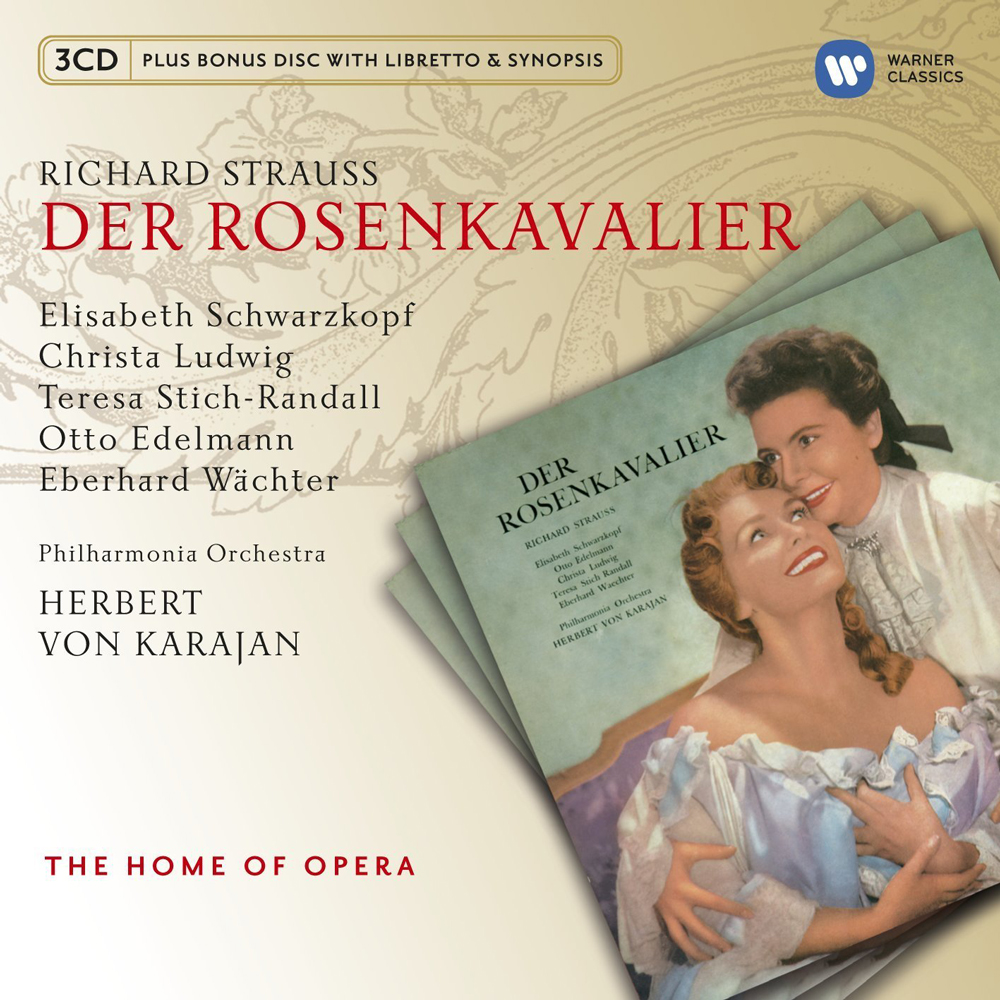 Few operas make such refined demands as Der Rosenkavalier – and reward them so richly. In contrast to Fidelio, which can defeat the most valiant performers, the Richard Strauss/Hugo von Hofmannsthal comedy is such a great showcase for voice, orchestra and stagecraft that its body of recordings is a succession of riches unlike any other, partly because it's a piece that performers can live with. Up until recent times (when even Renée Fleming hasn't made a complete studio recording), most major Rosenkavalier exponents are heard in three or more sets, often competing with themselves at different stages of their careers. Because the three leading female roles can often be sung by the same voice, sopranos often cycle from one character to another, starting with Sophie, the soubrette nouveau-riche bride being sentenced to marriage with the loutish Baron Ochs, and then transitioning into her rescuer, the young (usually mezzo-soprano) nobleman Octavian. The destination role is the Marschallin, fast ageing in her own eyes, who wistfully relinquishes her illicit affair with Octavian. The cathartic Act 3 trio, in which all three characters enter different stages of their lives, has been described by Dame Judi Dench as one of the most perfect stage moments ever conceived. Though comic baritone roles usually have limited stage time, Rosenkavalier's skirt-crazed, money-grubbing Baron Ochs invades all three acts. Even the single-aria role of the Italian singer is a prestige cameo, having been recorded by each of the "Three Tenors" (Domingo for Bernstein, Carreras for de Waart and Pavarotti for Solti and Levine), though none really nailed it.
One opera, many interpretations
Getting one's arms around this distinguished body of recordings becomes even more daunting with the surprising lack of interpretative redundancy. Though Strauss tailored his music to specific stage directions that kept the opera's staging standardised for decades, director Robert Carsen actually improves the Act 3 country inn scene by resetting it in a more modern sex club. The Italian Tenor can be heartfelt and sincere, a send-up of Italian opera, or (as with Helge Roswaenge in the live George Szell set) a portrait of self-degrading obsequiousness. Any questions around the Marschallin's emotional temperature are answered at the end of Act 1, when she has sent her young lover away and contemplates her age in the mirror. Lotte Lehmann dropped hers. Elisabeth Schwarzkopf recoiled at her reflection. Felicity Lott turned her back and, upon facing the stage again, somehow aged 10 years.
Missing the mark
So is it any surprise that nobody agrees on which recordings are classics? I ran into Gramophone critic Jed Distler in downtown Manhattan who said, "It's a no-brainer – Solti/Decca is the best conducted, or if you don't mind cuts, Bernstein/Sony". Neither looms high on my list. In fact, after careful listening, several venerable performers and sets fell from grace, starting with Marianne Schech (the Marschallin for Karl Böhm in Dresden and Hans Knappertsbusch in Munich): the voice lacks charisma and her characterisation is vague. The famous Paul Czinner film version (under Herbert von Karajan) pretends to be a live performance but is actually lip-synched (badly) – so that the normally animated Schwarzkopf swans blandly around the screen. Karajan's 1984 Salzburg video makes a similar mistake: though you see a true live performance, you hear his DG studio recording, and the two rarely sync. The 1954 Erich Kleiber set fell hardest: though often hailed for its authentic Viennese style, the conducting is charmlessly precise. And what is Viennese style anyway, in relation to Rosenkavalier? The composer forbade the operetta-ish sentimentality. What seems most Viennese to my ears is singing in which notes aren't attacked so much as they're alighted upon. Best examples: Hilde Gueden, Maria Reining, Jarmila Novotná.
Other dismissable sets use house singers who don't wear their vocal mileage gracefully, such as Hans Vonk's Dresden CD and the Palermo DVD with John Neschling, whose Marschallin (Elizabeth Whitehouse) is notable mainly for her resemblance to the opera's original 1910 unflattering costume designs. The Fabio Luisi-conducted video is a nice modern-dress production that opens up less formal physical possibilities for these characters, but other productions do that better, and the performance (a tour stop in Tokyo) feels jet-lagged. Those with tolerance for processed sound may be able to get through the Buenos Aires set under Erich Leinsdorf in which Sena Jurinac graduated from Octavian to the Marschallin. I couldn't. In one of the most recently released Rosenkavaliers – a live 1995 Covent Garden set under Andrew Davis – the formerly glorious Anna Tomowa-Sintow gets from note to note with great effort while Ann Murray's Octavian resorts to grotesque mugging. But the Italian tenor, Bonaventura Bottone, has never sounded so meaningful.
Getting it right
Therein lies the route to the Rosenkavalier pantheon: without deeper meaning, the opera is a sumptuous triviality. The right tone was set by the 1933 excerpts with Lehmann. Though sometimes described as overly earnest due to surface details like breathless portamentos, her main expressive device is a burning inner conviction. Most fascinating is Richard Mayr, an Ochs heartily endorsed by the composer. He effectively declaims more than he sings as a baron in his own thick-headed world, cluelessly wandering in and out of trouble. That's real. Not enough polish, however, can be fatal, as in the 1944 Munich radio performance led by Clemens Krauss. Singing is strident (after the Act 2 duel, Ludwig Weber's Ochs sounds like a wounded Fafner), and Krauss's wife, Viorica Ursuleac, was well into her vocal decline.
Rudolf Kempe's exuberance overrides rough edges in his 1950 radio recording from Dresden. Margaret Bäumer doesn't grate the ears as she sometimes can. As Baron Ochs, Kurt Böhme skilfully romances the microphone with spectacular linguistic and vocal precision. Comic surprise is everywhere. When you expect him to roar, he sings, and vice versa. His Ochs also has a dark streak, singing his folksy waltz to mock his hapless bride. In later live performances, he ended with a cackle.
In the early stereo era, three recordings dominate: Karajan (1956), Georg Solti (1968) and Böhm (1959). The first and the third might have been one and the same. Early EMI casting plans for Karajan had Schwarzkopf with Irmgard Seefried as Octavian and Rita Streich as Sophie. Instead, 28-year-old Christa Ludwig was Octavian, her rich mezzo appropriately contrasting with the virgin-white timbre of Teresa Stich-Randall, whose Sophie is still the most pitch-perfect on disc. Otto Edelmann's well-travelled Ochs is among the most vocally sonorous and is an infectious portrait of appetites out of control. Three years later, with Böhm on DG, Seefried is wonderful (her Octavian has a bratty streak, conveyed by use of straight tone) though Streich sounds too vocally invulnerable to be imperilled by Ochs. Dietrich Fischer-Dieskau gives Faninal a more important (and deserved) place in the opera, though Böhme's Ochs shows vocal decline and Böhm's neutral conducting personality matches Schech's non-interpretation all too well. Solti's cast is the most vocally alluring of all, with Yvonne Minton (Octavian) and Helen Donath (Sophie) in their prime, and Régine Crespin (Marschallin) close to it, even if her high soft phrases have to be sung forte with a suddenly distant microphone placement.
So the question posed by the two top-notch sets – Karajan and Solti – is who comes closest to the Rosenkavalier ideal. History is on the side of Crespin's seamless lyricism. The first Marschallin, Margarethe Siems, had an amazingly clean vocal line, to judge from excerpts she recorded in 1911. So why are Crespin and Minton less engaging in Rosenkavalier than in other repertoire? The word-based Schwarzkopf had her own brand of parlando, not unlike her manner in Hugo Wolf songs, easily morphing into pure lyricism or something more declamatory, giving her ultimate leeway for projecting any meaning at hand. That includes the character-driven humour. When the Marschallin is convinced her husband is outside the door, you can "hear" the whites of her eyes – supported by Karajan's unerring sense of span and scale.
Just because Karajan emerges as the top choice doesn't mean that all matters are settled. It's available in both stereo and mono editions, each made from different takes, the mono set having been remastered by Schwarzkopf herself a few years before she died. I like the cosier mono sound picture but the stereo version is interpretatively sharper.
Beyond Karajan and Solti
Solti and Karajan have unlikely descendants. On the Solti side, Bernard Haitink goes to a mellifulous extreme with a radiant orchestra that engulfs his singers, turning the opera into a dramatically inert tone-poem. On the Karajan side is Edo de Waart, whose Rotterdam orchestra sparkles shamelessly – is this Die Fledermaus? – with Frederica von Stade's light, honeyed mezzo capturing Octavian's impetuosity like none other. No recording so effectively captures the sense of two frightened teenagers – von Stade and Ruth Welting as Sophie – beyond their ken. Jules Bastin is an attractively baritonal Ochs. Had Evelyn Lear's Marschallin been caught on a better day, this would be the top studio contender. Karajan's return to Rosenkavalier in 1984, however, showed his dramatic compass was failing him. Though Tomowa-Sintow, Agnes Baltsa and Kurt Moll are dramatically alert and vocally resplendent, all of the opera's events feel like existential crises. It works your nerves.
The 1971 Bernstein recording is a rogue Rosenkavalier. Bernstein didn't conduct much Strauss and dipped into opera only occasionally. His cast was a bit upside down with the two stars having switched their usual roles: Christa Ludwig is a vocally stretched Marschallin and Gwyneth Jones a stentorian Octavian. Producer John Culshaw swathes everybody in a then-fashionable resonant acoustic at the expense of details. Yet the recording is a contender. As with Ravel and Britten, Strauss's scores are so tightly written as to inspire smart strategies rather than personal flights of imagination from conductors. But the irrepressible Bernstein can't help projecting a sense of "This is what it would mean if I composed it", from the broad-tempo post-sexual placidness of the opening scene to the defiant emotionalism of the Act 3 trio, which becomes an act of rebellion in an excessively formal world.
Live recordings
Now for the live recordings – a Rosenkavalier jungle indeed. Though many of them date decades back, most of them have only been released in the last 20 years. Their appeal rests not on the total package (which is inevitably iffy) but individual performers. At least the Octavians are fairly consistent. If the recording comes from Europe, Octavian is probably Sena Jurinac, always an intelligent, sparkling presence. In North America, it's usually Risë Stevens, whose Octavian seemed to grow wearier with every season. Fritz Busch's 1936 Buenos Aires set is heavily cut and has only a good-to-excellent female trio headed by Germaine Hoerner in her sole surviving recording but the ultra-charismatic Russian bass Alexander Kipnis is in thrilling comic form as Ochs. Also, Busch whips up one of the most emotionally intense readings of the Act 3 trio on disc. Lisa Della Casa always lacked the proper vocal weight for the Marschallin but, if you love that voice (as I do), you still want to hear her in this great music. She is best with Karajan in 1959 and 1960 – as opposed to Kempe in 1956. The Leonie Rysanek Marschallin arouses curiosity by virtue of her theatricality, though the orchestra (under Josef Krips) is so prominent in her one live recording, you mainly hear her vocal quirks. Though Knappertsbusch's deliberate rhythm negates the lightness of Rosenkavalier, his admirers will still want to hear his two live recordings, the best being his Vienna outing starring Reining (as opposed to his Munich recording with the dreaded Schech), even if Kurt Böhme is hamstrung by the slow tempi. In Scottish Opera's 1971 season, Janet Baker was an odd choice for Octavian (she generally displayed little patience for Viennese artifice) but the Ponto set, under Alexander Gibson, is stuffed with bonus cuts. Live recordings also reveal an artist's changing relationship with the opera. Lehmann's complete 1939 Met performance under Artur Bodanzky has a devastating vocal shiver during the "clock" monologue. And though Schwarzkopf believed her Marschallin was set in stone, her evolution was remarkable. Her instinctive 1952 La Scala performance under Karajan became, in 1964 at the Met, steeped in bitterness, a Marschallin driven not by vanity but by disillusionment over her wasted life. We glimpse this performance in a bonus cut on the 1960 Della Casa/Karajan set. The full opera (under Thomas Schippers) was published briefly by the shadowy Bensar label.
One of the great Strauss conductors, Fritz Reiner, has three live Met sets, two recorded in 1949 within weeks of each other with the same cast, including Erna Berger (using an almost childlike timbre for Sophie) and Eleanor Steber (whose effortless high notes and aristocratic mezzo-ish colour make her an ideal Marschallin). Naxos's November 21 performance is taken from TV while the marginally available Lys from December 3 has superior radio sound. By 1953, though, Reiner's mastery of the score had burgeoned. Every moment has dramatic authenticity, whether framing the singers with orchestral details or projecting the ceremonial mindset of the Marschallin's servant. If the mark of a great Rosenkavalier conductor is showing equal love for every bit of it, Reiner may have been the greatest of all. No doubt because his 1953 Marschallin is the miscast Wagnerian powerhouse Astrid Varnay, this (LP) set is extremely hard to find in complete form. Several live Viennese sets have significant pleasures, the best being Clemens Krauss's 1953 outing with the usual suspects in particularly fine form, especially Reining. George Szell's from 1949 has a lot of partisans, particularly since it's Jarmila Novotná's only recorded Octavian. Christa Ludwig's claim on the Marschallin is fully justified in the 1969 Böhm-conducted set, two years before Bernstein: her emotional precision in the Act 1 monologue borders on miraculous. Gundula Janowitz seems vocally overtaxed at Salzburg with Christoph von Dohnányi but is laudably cool in an RAI broadcast under Georges Prêtre.
Der Rosenkavalier on screen
Te Kanawa's reputation as a vocally lustrous but bland Marschallin is put to rest by Covent Garden's John Schlesinger production under Solti, and not just because she delivers real tears. She's a more assured screen presence for James Levine at the Met, enjoying great chemistry with Troyanos's ebullient Octavian and building her Act 1 crisis with skill. Sven-Eric Bechtolf's Zürich staging for Franz Welser-Möst has a spare, Japanese-style setting, perhaps to emphasise the world's emotional sterility. However, the female trio – Nina Stemme, Vesselina Kasarova and Malin Hartelius – is better heard than seen.
Even those who hate updated productions must see Robert Carsen's from Salzburg (conducted by Semyon Bychkov): he gives the opera greater credibility, the most outward sign being that Angelika Kirchschlager's Octavian is the only one who's convincingly male. Though Renée Fleming's warm, affecting Marschallin and Christian Thielemann's conducting are attractions in Herbert Wernicke's Baden-Baden production, with so much extraneous visual fuss and poor Sophie Koch (Octavian) costumed unflatteringly, I prefer Fleming's "Strauss Heroines" CD (Decca, 3/00) with Susan Graham as Octavian and Christoph Eschenbach in his best Furtwänglerian mode.
Carlos Kleiber fronts several Rosenkavaliers, mostly from the Bavarian State Opera, and it shows in the way the orchestra's phrases surge with meaning. The SACD set on Orfeo sounds terrific but, because the Marschallin (Claire Watson) is past her best, Kleiber's two videos are more complete representations of what he was about. In the 1979 version, nobody so elegantly conveys the Marschallin's inner transformation as Gwyneth Jones, scaling back her Wagnerian pipes for the role's intimacy. Though Lucia Popp's Sophie was vocally definitive, she is venerable here. The 1994 version is less orchestrally sharp but the staging has breathtaking veracity in a cast headed by Felicity Lott, whose Marschallin lacks aristocratic authority but may be the most emotionally generous since Lehmann. Kurt Moll's Ochs is a revelation, a financially desperate man driving life-and-death bargains. So the Vienna DVD is the best, particularly since poor VHS sound has been corrected for DVD. One hopes that Kleiber's troubled shade is finally resting easily.
Recommended Recordings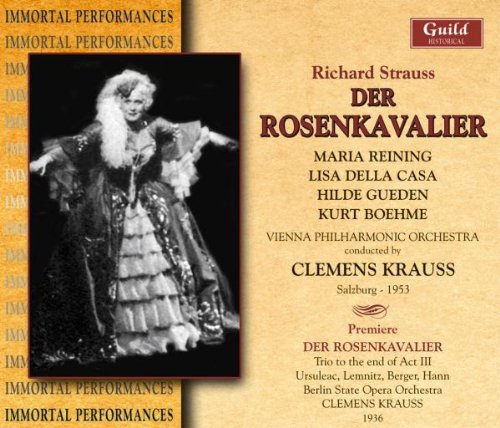 Best Live Recording
Reining, Della Casa, Gueden; VPO / Clemens Krauss (Guild GHCD2293/5) Buy from Amazon
These singers are heard together in so many live recordings they would seem to have lived together. In a sense, they did: this is what's meant by Vienna's great post-war opera ensemble, heard with a conductor who had the music in his bones and inspires a true performance, encouraging singers to be all they can be. Though tentative in other recordings, Reining is a revelation here.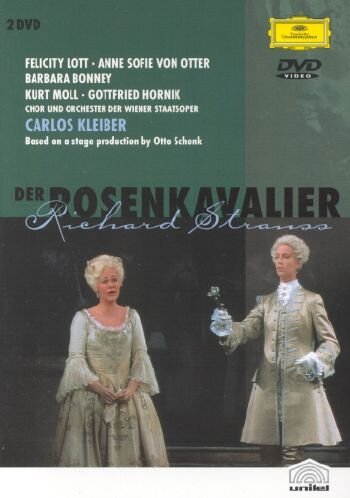 Best DVD
Lott, Von Otter, Bonney; Vienna St Op / Carlos Kleiber (DG DVD 073 008-9GH2) Buy from Amazon
The infectuous energy of Kleiber was starting to wane but he still inspires the orchestra to speak the truth vividly. The main advantage over Kleiber's previous Munich video is his singers: They're vocally superb but also photogenic and age-appropriate, and have psychological understanding of their roles, showing how great Hugo von Hofmannsthal's libretto is.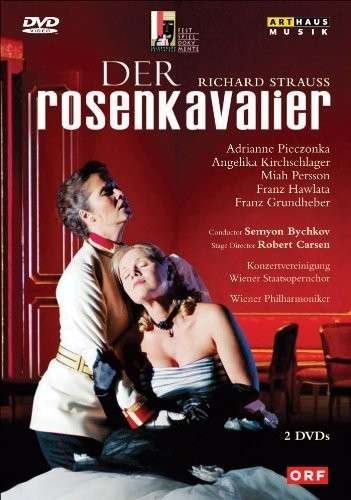 Best for Beginners
Pieczonka, Kirchschlager, Persson; VPO / Semyon Bychkov (ArtHaus Musik DVD 107 139) Buy from Amazon
Those who find the silver-wigged formality of Der Rosenkavalier off-putting may prefer this 1930s-ish update. The country inn of Act 3 is a modern sex club with naked people traipsing by. Octavian teases Ochs like a dominatrix, singing "Nein nein!" but implying a kinky "Ja ja!". Fine singing, with lively tempi from Bychkov.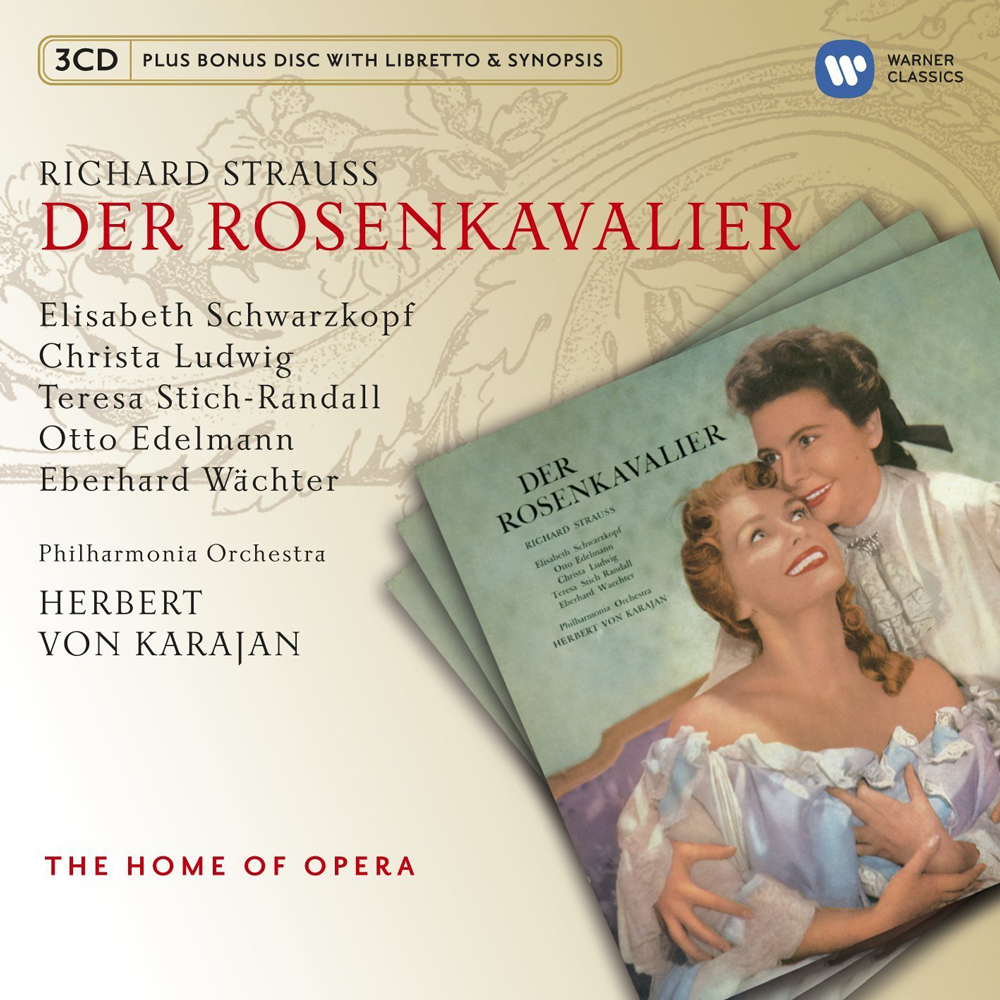 Top Choice
Schwarzkopf, Ludwig, Stich-Randall; Philh Orch / Herbert von Karajan (EMI 699824-2) Buy from Amazon
Returning to this classic recording after many years, the surprise is how it keeps getting better. The roles are perfectly cast, everyone is in their prime and the recording quality still feels state-of-the-art. Schwarzkopf's Lieder-like approach could be excessive in other recordings but here seems like the work of a genius. Available in mono, too, which feels rather cosier.