The best new classical albums: Editor's Choice, February 2021
Friday, January 22, 2021
A staggering new recording of Rachmaninov's Symphony No 1 and Symphonic Dances from The Philadelphia Orchestra and Yannick Nézet-Séguin is the Recording of the Month in the February, alongside a host of outstanding Editor's Choice albums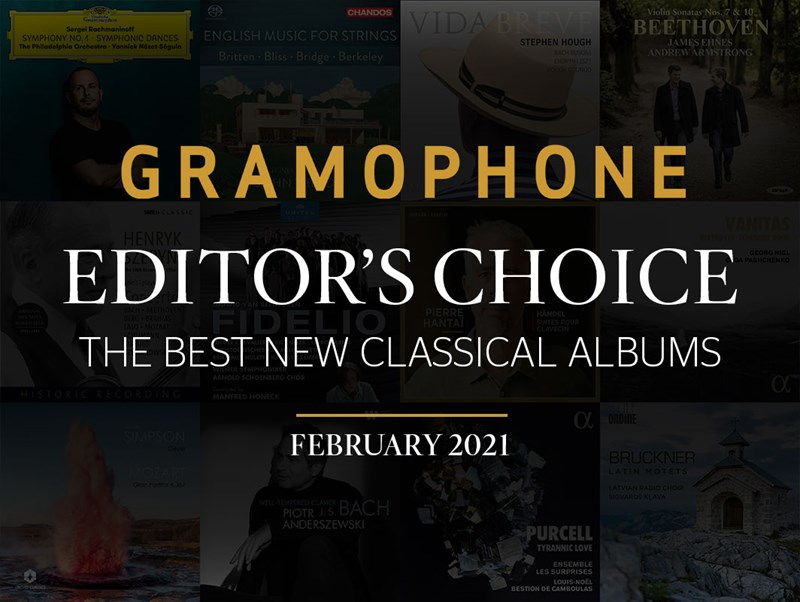 Recording of the month

Rachmaninov Symphony No 1. Symphonic Dances
The Philadelphia Orchestra / Yannick Nézet-Séguin
DG
Last issue, we explored the legacy of Rachmaninov and the Philadelphia Orchestra, and Yannick Nézet-Séguin proves himself not just a brilliant custodian, but a conductor creating an era of his own.
☆

'English Music for Strings'
Sinfonia of London / John Wilson
Chandos
Once again John Wilson draws the most glorious sound from his hand-picked orchestra, lavishing care and devotion on repertoire that could have been written for him.
☆

Beethoven Violin Sonatas Nos 7 & 10
James Ehnes vn Andrew Armstrong pf
Onyx
A brilliant sonata series closes on a high: James Ehnes and Andrew Armstrong have proved themselves players in perfect dialogue throughout this memorable addition to catalogue.
☆

Mozart Gran Partita M Simpson Geysir
Mark Simpson cl et al
Orchid
Another wonderful 'Gran Partita', from a particularly impressive line-up, is preceded here by a beautifully crafted work from composer and clarinettist Mark Simpson for the same forces.
☆

JS Bach Das wohltemperirte Clavier, Book 2 – selections
Piotr Anderszewski pf
Warner Classics
Thoughtful and thought-provoking programming by Piotr Anderszewski is paired with sensitive interpretation throughout, making for a compelling Bach album.
☆

Handel Harpsichord Suites
Pierre Hantaï hpd
Mirare
With his exquisite playing on a delightful sounding instrument (and one recorded with engaging clarity), Pierre Hantaï brings Handel's harpsichord suites stunningly to life.
☆

'Vida breve'
Stephen Hough pf
Hyperion
Stephen Hough follows his Beethoven concerto album with a more intimate, personal meditation on life and death, a journey bookended with Bach-based reflections, and all performed with his usual intelligence and flair.
☆

Beethoven. Rihm. Schubert Vanitas
Georg Nigl bar Olga Pashchenko pf
Alpha
A well-planned recital from Austrian baritone Georg Nigl of songs that draw on his voice's reflective and humane sound, with pianist Olga Pashchenko at one with him in this journey
☆

Bruckner Latin Motets
Latvian Radio Choir / Sigvards Kļava
Ondine
The acclaimed Latvian Radio Choir, their sound so immediately evocative and emotive, brings us beautiful Bruckner from the atmospheric acoustic of Riga Cathedral.
☆

'Tyrannic Love'
Ensemble Les Surprises / Louis-Noël Bestion de Camboulas
Alpha
A vibrant step into 18th-century English music from Ensemble Les Surprises sees the French group shine in works both familiar and lesser known from Purcell and peers.
☆
DVD/blu-ray

Beethoven Fidelio (1806 version)
Sols; Vienna Symphony Orchestra / Manfred Honeck
Unitel
Manfred Honeck leads his fine singers and instrumentalists in a Fidelio that, says critic Peter Quantrill, is not to be missed. 
☆​
Reissue/archive

'The SWR Recordings 1956-84'
Henryk Szeryng vn
SWR Classic
Rob Cowan's Replay draws our attention this month to 'an artistically exceptional box on SWR Classic' of violinist Henryk Szeryng.
☆
Never miss an issue of the world's leading classical music magazine – subscribe to Gramophone today